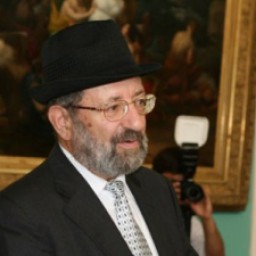 Biography:
Adolf Shaevich was born in Khabarovsk in the family of Solomon Abramovich Shaevich and Tatyana Lvovna Polyanovskaya. Soon after his birth the family moved to Birobidzhan. He studied at Khabarovsk Polytechnic Institute at the Faculty of Mechanics, from which he graduated in 1964.
In 1964-1972 he worked in Birobidzhan as mechanic in the Administration of Mechanization.
In 1972 he studied at yeshiva Kol Yaakov at Moscow Choral Synagogue. In 1973 he began his studies at the Rabbinical Seminary in Budapest, from which he graduated in 1980.
Since 1980 he was the rabbi of the Moscow Choral Synagogue and in 1983 was elected rabbi of the Moscow Choral Synagogue and Moscow. In this position he tried to mediate between the authorities and Jewish community. In his work he kept to official Soviet ideology.
In 1989 the All-Union Congress of the Council of Jewish Communities (VSERO) elected him chief rabbi of the Soviet Union.
In 1993 he founded CJROAR and was elected chief rabbi of Russia. Since 1996 he id also a member of the Russian Jewish Congress (RJC). Since 1997 he served as chairman of the Jewish Agency in Russia (EAR).
In June 2000 the Federation of Jewish Communities (FJC CIS) announced Berl Lazar chief rabbi of Russia, but CJROAR, RJC and other organizations continue to recognize Shaevich as chief rabbi.
He was awarded Order of Friendship and Medal of Honour.
He is married and has two sons.
Source: Wikipedia
Dossier:
In 2002 Adolf Shaevich (Congress of Jewish Religious Communities and Organizations of Russia - CJROAR) acknowledged that he worked with the KGB. Supposedly half of the Council for Religious Affairs was formed by KGB agents, and everybody knew it. "We worked with them and cooperated, there was no other choice", said Shaevich. He also said he was never a dissident and made no anti-Soviet speeches, always supported and approved. He always was a supporter of moderate traditional Judaism, the confession of 95% of Jews.
Source: Gazeta, 22 July 2002
In June 2000 the spiritual head of the Federation of Jewish Communities of Russia, Berl Lazar was elected chief rabbi. Adolf Shaevich bore the title since 1992 and refused to recognize the legitimacy of these elections and to resign. In this situation Shaevich spoke against his opponent Berl Lazar and Chabad movement supporting him with unprecedented sharpness, calling them a sect.
Observers claimed that the two rabbis were supported by different political forces. It was considered that Berl Lazar was supported by Boris Berezovsky, and Shaevich by Vladimir Gusinsky.
Boris Berezovsky decided to bet on the Hasidism as a promising confession with increasing influence in modern Judaism. In November 2000 he held in Moscow a founding congress of the Federation of Jewish Communities of Russia (FJC), which includes 105 communities. FJC was originally established in defiance of the Russian Jewish Congress of Vladimir Gusinsky, so that the split of Russian Jewry was a foregone conclusion.
Since that time in Russia there are two chief rabbis, called usually Chief Rabbi of Russia (FJC) and Chief Rabbi of Russia (CJROAR).
Source: Nezavisimaya Gazeta, 21 August 2002
In autumn 2010 press service of Shaevich spread his letter to Moscow Mayor Yuri Luzhkov. "During these years difficult for our country it is you who shaped the face of the Russian capital, which the absolute majority of its citizens is proud of" the letter said. "It is not only that it has become clean, beautiful and smooth running of the economy. All these years you promote creative energy of hundreds and thousands of projects in the arts and culture, sport (...) You are sincere in your thoughts and actions, pure and spiritually healthy, and this, in my opinion, is equally important to people as your talent in management, because it passes to people the confidence in achieving goals and optimism. "
Source: NEWSru, 17 September 2010