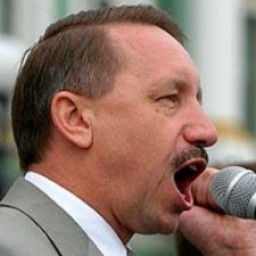 Bio:

Beglov was born on 19 May, 1956 in Baku.
In 1983 he graduated from Leningrad Engineering-Construction Institute having specialized in civil and industrial construction.
In 1979-1985 Beglov worked as an engineer, technician and manager for different construction organizations of Leningrad.
In 1986-1988 he headed the construction and building materials department of Leningrad City Council executive committee.
In 1989-1990 he headed socio-economic department of Leningrad Regional Party Committee.
In 1990-1991 Beglov was deputy head of Leningrad City Council executive committee on capital construction.
In 1991-1997 he was a chief engineer of Melazel German and Russian joint enterprise. In 1994 he received doctor's degree in technical sciences.
In 1997-1999 he was a senior researcher and doctoral candidate of St. Petersburg State Architectural University.
In 1999-2002 Beglov was head of Kurortny administrative district in St. Petersburg.
In 2002-2003 Beglov was vice-governor of St. Petersburg. He headed chancellery of St Petersburg city administration and was acting governor of St. Petersburg as well.
In 2003-2004 he was the first deputy presidential plenipotentiary in the Northwestern Federal District. At that time he graduated from the North-West Academy of Public Service.
On May 2004 he became assistant to the president, the head of the presidential control department.
On12 May, 2008 he was appointed deputy head of presidential administration.
He is married to Natalia Beglova, chairman of St. Petersburg committee on the registry office issues. Beglov has got three daughters. Yulia, his eldest daughter, graduated from the law department of St. Petersburg State University and used to be a head of legal support department of St. Petersburg Culture Committee.
In 2010 Beglov earned 4.2 million rubles, according to his income declaration. He owned two apartments and two land plots as well.
Awards:
Order For Merit For The Fatherland 4th Class (2006)
Title of Merited Builder of Russia (2004)
Letter of Commendation from the Russian Government (2006)
Honorary citizen of the Sestroretsk (2010)
The Order of St. Prince Daniel of Moscow I degree, awarded by Russian Orthodox Church (2011)
Sources: Wikipedia
Dossier:
In 1991, when Beglov started his work in the private sector and became a chief engineer and co-owner of Melazel joint enterprise, he got the opportunity to make an approach to the future president: Melazel company worked in partnership with St. Petersburg Committee on External Economic Relations, headed by Vladimir Putin. After Putin had taken the place of Boris Yeltsin, Melazel was re-registered as Olympia 2000. Beglov was also co-founder of Aerorekord, Ecotech, Baltikstroy enterprises and Styk production and transport company, as well as Delovoy partner publishing house.
Source: Kommersant-Vlast, 9 August, 2004

On July 2002 Beglov was appointed vice-governor of St. Petersburg. Experts believe him to be a compromise between governor Vladimir Yakovlev and presidential plenipotentiary in the Northwestern Federal District Viktor Cherkesov. Beglov was called chancellor by the journalists. It was also alleged that Sergey Sviridov, personnel deputy plenipotetary, requested nomination of Beglov. Legislative assembly was reported to approve Beglov's appointment as a new deputy governor only from the second attempt.
Source: Regnum, 10 July, 2002
In connection with Yakovlev's appointment as deputy prime-minister, Beglov was acting governor of St. Petersburg until October 2003, he deserted the post after the election of a new governor, Valentina Matvienko. While taking governor position, Beglov was a tool of the federal government, as he helped them to beat the opposition. As far back as early June of 2003, deputy governor Anna Markova publicly stated: "There is a monopoly on election campaign in the city. There is the only candidate and she put pressure on people, besides.'' Without further explanation Beglov replaced Anna Markova with Elena Rakhova who was personally loyal to him. At the same time Beglov was engaged in election arrangements already keeping in mind new amendments of St. Petersburg Legislative Assembly that allowed 20% turnout for validation of the elections.
Source: Versiya, 7 July, 2003

On December 2005, while addressing a meeting of heads of the regions included in the Ural Federal District, Beglov announced that governors would be personally responsible for implementation of the priority projects. Governor of the Sverdlovsk region Eduard Rossel and governor of the Kurgan region Oleg Bogomolov, as long as some other regional leaders, were disagree. They complained to Beglov about flaws of project control system and poor funding.
Source: REGNUM, 21, October, 2005

In the beginning of 2009, on Vasilevsky island of St. Petersburg, a mounted lift was set at the front door of the five-storey building where Beglov's family lived. In record time the project was completed at public expense. Construction and design costs were over 3 million rubles. The most interesting fact of the whole story is that Zhilkomservis utility company automatically included installation and operation payments in each receipt of the front tenants. Later installation costs were removed from the receipts, but service charge was left.
Source: Fontanka.ru, 15 April, 2009
As far back as 2005, head of the Bureau of CIS crime fight coordination Alexander Bokov along with president of the International Fund for support of the Cossacks Michael Kramer "sold" Volgotanker JSC to businessman Alexey Chegodaev. Chegodaev paid 4.5 million dollars in cash as an initial contribution. In 2008 Volgotanker became bankrupt, but Chegodaev was not paid his money back. On 31 December 2010, when the return deadline expired, Chegodaev applied to the Federal Security Service. On January 19, 2011 Kramer and Bokov were taken into custody. While being arrested, Kramer bluntly said: "Are you stunned? I 'm Beglov's and Medvedev's man! "
Source: Ruspres, 28 January, 2011