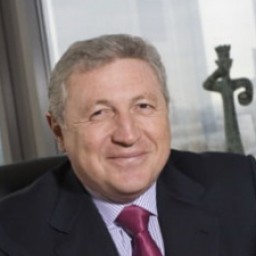 Biography:
Born in 1955 in Makhachkala.
In 1977 graduated from Moscow institute of the petrochemical and gas industry named after Gubkin with the degree in mining engineering and geophysics.
After graduation he worked in Central Geophysical Expedition (CGE).
Source: «Kommersant» № 211 (4266) from 11/12/2009
In 1980s Dzhaparidze held a number of supervising posts in «Central Geophysical Expedition» (CGE) - the research-and-production center, at that time was engaged in processing of the branch geophysical information to the digital form. On the basis of CGE in 1989 joint Soviet-Japanese enterprise MD SEIS was created.
Source: Vedomosti from 1/30/2008
In 1989 he held a post of the General Director of joint venture MD SEIS which was engaged in service technologies. The joint venture was created by CGE and the American geophysical company PGI. In the further joint venture MD SEIS was transformed into "PetroAlliance" and was owned by its managers, including Alexander Dzhaparidze supervising 20 %.
Since 1995 held a post of the president in "PetroAlliance". In the end of 2003 Schlumberger informed on intention to purchase of this company. Having agreed about sale of "PetroAlliance" Alexander Dzhaparidze didn't leave habitual business, and was engaged in development of created Eurasia Drilling Company supervised by him since 2002 till present.
Married, has five children.
Source: «Kommersant» № 211 (4266) from 11/12/2009
Elder son Georgy, sons-twins July and Vano, daughters Nana and Asya.
Plays tennis and mountain skiing. Has vine and ancient daggers' collections.
Source: Smart Money from 10/23/2007
Dossier:
Successful activity of Dzhaparidze as businessman is initially connected in many aspects with his close relations with top-managers of "Lukoil".
Dzhaparidze has got acquainted with Vahit Alekperov, the president of "Lukoil" company and then the deputy minister of the oil and gas industry of the USSR, in 1990 during one of business trips in the USA. In two years they became partners: first the American geophysical company PGI (together with CGE this company created MD SEIS USA headed by Dzhaparidze) got bankrupt and sold the actions of MD Seis USA, and CGE («Central geophysical expedition») sold the share to "LUKOIL International", affiliated structure of "Lukoil". New shareholders transferred 15 % of shares to the management team led by Dzhaparidze.
MD SEIS redeemed at Americans the out-of-date equipment and started to work with it in Russia. Subsequently the company was redeemed by Western Geophysical, and then Dzhaparidze headed "PetroAlliance", which co-owner was "Lukoil". Later Dzhaparidze got the shares of company belonging to "Lukoil".
Source: forbesrussia.ru from 3/1/2010
One of the most successful projects of Dzhaparidze was realized by means of "Lukoil". He had to convert a prospecting vessel for Caspian sea, but he had lack of time to find 20 million dollars for that. Dzhaparidze came to Vahid Alekperov; he gave a call to bank "Imperial" to Sergey Rodionov and simply asked to give money, without guarantees and property pledges. The bank gave money, the project was executed, and money was returned.
Source: derrick.ru from 1/30/2008
For the same reason – a close acquaintance with "Lukoil" – Dzhaparidze's name is connected with scandal about the death of the vice-president of "Lukoil" Vitaly Schmidt in 1997. After sudden death of the businessman because of heart attack in Liechtenstein, VHS Foundation Company, registered on behalf of the decedent one, for management of his property was created. The founders under invented Greek names were Simeon Vaynshtok, Deputy General Director of "Lukoil" Vahid Alekperov, and Ralif Safin, vice-president of "Lukoil". Soon in the different countries where Schmidt's actives were located, other documents appeared giving Lukoil access to them.
In Germany police became interested in such documents, and the Office of Public Prosecutor filed criminal charges concerning Schmidt's former assistant Anna Brinkman-Makovski. At a search the documents testifying how swindlers planned to divide Schmidt's actives were withdrawn from her. Anna Brinkman didn't hide her participation in frauds and declared that she operated under instructions of Vahid Alekperov and one of his employees, Alexander Dzhaparidze.
Source: Novaya Gazeta №13 from 4/3/2000
In 2002 the company YUKOS faced financial problems which were a consequence of infringement of the arrangement with the company "PetroAlliance" belonging to Dzhaparidze. YUKOS delivered oil to the USA for the sum of 50 million US dollars. The buyer was company Exxon Mobil. However another American company Dardana Ltd applied to the court to put freeze transfer of 17 million dollars into the account of YUKOS for this oil transaction, referring that YUKOS ran into debt this sum. Representatives of Dardana declared mass-media that Exxon Mobil made them advances, however the company denied it.
The case with YUKOS debt began in 1995 when affiliated company of the holding "Yuganskneftegaz" concluded the contract with joint venture "PetroAlliance" on providing services at Prirazlomny deposit. Services were rendered, but "Yuganskneftegaz" refused to pay for them. Then the American company Western Atlas, co-owner of "PetroAlliance", decided to collect money from YUKOS. Representatives of the respondent did not show up in the court, and the decision in favor of the claimant – about debt payment - was made. YUKOS appealed immediately, asserting that it does not bear responsibility for activity of "Yuganskneftegaz".
During this judicial suit structure of "PetroAlliance" changed a little, therefore in 2000 firm Dardana acquired the right to demand a debt.
Dzhaparidze himself declared to mass-media that for him the situation with YUKOS isn't palatable, as the company is the potential customer of "PetroAlliance" and consequently they try to resolve the conflict in every possible way. Nevertheless, it is possible to assume that Dzhaparidze had enough possibilities to resolve. Also it might be that a debt was remembered at his suggestion for any reasons (for example, he could execute in interests of "Lukoil"). Besides the fact that the case "emerged" after the largest delivery of oil for all Post-Soviet time directly to the USA, undertaken by YUKOS, is a little similar to coincidence.
And the main thing in this story is not so much loss of a part of the profit by YUKOS, as hurt reputation of the company abroad.
Source: "Vedomosti" from 7/22/2002
In the same 2002 "Lukoil" made decision to sell the service division "Lukoil-drilling" to become the customer of Dzhaparidze's company "PetroAlliance". In other words, "PetroAlliance" on the means and under the risk began to carry out investigation of deposits, drilling of chinks and etc. for "Lukoil". In case of successful rendering of service company "PetroAlliance" should receive the award for risk. It potentially allowed increasing in the future a share of "PetroAlliance" on the Russian service market from 5 % to 20 %. By that moment the share of contracts from "Lukoil" in "PetroAlliance" made 80 %. Also on the terms of risk "PetroAlliance" began to cooperate with Tyumen Oil Company.
Source: «Kommersant» № 72 (2441) from 4/24/2002
In 2003 of "PetroAlliance" became the participant of working group of Commercial and industrial chamber of the Russian Federation on Russia's accession to the World Trade Organization. Dzhaparidze explained a position of the company as despite possibility of higher competition, accession to WTO will give the service companies access to foreign technologies.
Source: ngv.ru from 4/14/2003
Later company "PetroAlliance" began the transaction with the world's largest service company Schlumberger Ltd. on sale of the shares in three stages, last of which happened in 2006. Dzhaparidze explained sale of the company again as access possibility to high technologies.
Source: «Kommersant» № 226 (2829) from 12/10/2003
On the obtained money from sale of "PetroAlliance" Dzhaparidze created company "Eurasia" which instead of "PetroAlliance" became the client of "Lukoil" after purchase of not profile active "Lukoil-drilling". This active was sold to Dzhaparidze not only because he found investors for purchase and agreed on conditions of "Lukoil", but also as an old tradition –Dzhaparidze had relations with top-managers of the company since 1980s, "Lukoil" also was one of founders of "PetroAlliance".
Source: «Smart Money» from 23.10.06
"Eurasia" and "PetroAlliance" often participated in the same projects as activity was accurately divided: "Eurasia" was engaged in drilling of chinks, "PetroAlliance" - all the rest. Dzhaparidze, without any share of "PetroAlliance", kept his General Director's post.
Source: «Smart Money» from 23.10.06
In November, 2007 "Eurasia" passed IPO.
Source: «Kommersant» № 211 (4266) from 11/12/2009
After crisis "Lukoil" cut the volume of the orders for chisel works twice, and profits of "Eurasia" were reduced. Dzhaparidze's declared mass lay-offs: staff of Naryan-Mar branch was reduced approximately to 500 employees. To avoid social explosion, they dismissed only one person from families where both spouses worked in "Eurasia". Other employees who lost job were transferred to Usinsk city.
Source: "Russian Forbes" from 05.2009
In 2008 "Eurasia" became the first company which declared payments of dividends following the results of year.
Source: «Kommersant» № 231 (4048) from 12/18/2008
In 2010 Dzhaparidze got in favor of a family member deposit receipts of "Eurasia"; therefore its share in the company increased up to 46 %. Details of this transaction in a press weren't informed.
Source: «Kommersant» № 8 (4308) from 1/20/2010