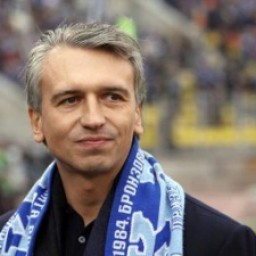 Biography
He was born on 13 December 1967 in Leningrad. After leaving high school in 1985, he entered the Leningrad Lenin's Shipbuilding Institute.
Subsequently, from 1996 to 1998, Dyukov took up the post of Financial Manager and Chief Executive Director of CJSC St-Petersburg Oil Terminal.
In 1998 he was economics director, and during 1999 acted as chief director, of JSC St-Petersburg Sea Port.
In 2000 he resumed his duties in JSC St-Petersburg Oil Terminal as Chairman of the Board of Directors.
In 2001 he took an IMISP MBA degree.
From February 2003 to November 2006 he was JSC AK SIBUR President.
Since November 2006 he has been Chairman of the Management Board of JSC SIBUR Holding, since 2011 – Sibur Holding Vice-Chairman of the Board.
On 23 November 2006 he was appointed Acting President of JSC Gazprom Neft.
On 30 December 2006 he was elected President of JSC Gazprom Neft.
Since January 2008 - Gazprom Neft Board Chairman and Gazprom Neft CEO
Source: Gazprom Neft


Dossier
The current Gazprom Neft Chairman Alexander Dyukov's career is closely associated with the names of influential St. Petersburg businessmen, the owners of the St. Petersburg Sea Port, IlyaTraber and Dmitry Skigin.
Since 1991, Alexander Dyukov worked as an engineer with Sovex, owned by Dmitry Skigin. In 1996, he became first Financial and then General director of the Petersburg Oil Terminal joint venture, which Traber (chairman of the terminal's Board of Directors) and Skigin (a member of the Board of Directors) controlled at the time.
In 1998, Dyukov left for St Petersburg Sea Port and shortly afterwards he became its acting CEO.
In replying to a query from Novaya Gazeta, Gazprom Neft Board Chairman confirmed that he knew Dmitry Skigin and Ilya Traber: "Skigin and Traber were members of the board at Petersburg Oil Terminal and St. Petersburg Seaport when I was a member of these companies' management."
The Audit Chamber investigation into St Petersburg Port's activities mentions some deals in which Alexander Dyukov took part: "Pursuant to the order No.545 <…> issued by A.V. Dyukov on 6 November 1998, movable ship property was sold to ZAO Port Fleet (for 3.1 million rubles) which was transferred to the company <…> for property complex management. <…> The transaction was executed in violation of current legislation: the issue was not approved by the St Petersburg City Property Management Committee (KUGI)," the report said.
Source: Novaya Gazeta, 20 April 2011
The most famous murder committed around Dyukov's employment was the assassination of the Head of the City Property Committee Mikhail Manevich, who was shot in his car on Nevsky Prospect on 18th August 1997. St. Petersburg Sea Port Capt. Michael Sinelnikov, his Safety Assistant Sergey Boev, the Head of North-Western Shipping Company (Severo-Zapadnoe Parokhodstvo) Yevgeny Khokhlov, the Personnel Head of North-Western Shipping Company Nicholas Yevstafyev, co-owner of North-West Customs Terminal Nicholas Shatilo, and CEO of the company Witold Kaydanovich were also killed then. The co-owners of Orimi Trade Group Company Dmitry Varvarin and Sergei Krizhan competing with Traber for OAO Petrolesport were killed as well.
The Antiquer himself didn't stand apart from the dirty work. For example, in Vyborg
Talekala Hotel (then named Yuzhnaya), he personally killed Alexander Polyakov, and then the guards drove the body into the woods. Two women, who were on duty in the hotel, became casual witnesses of the murder and were eliminated as well as Poliakov just to be safe.
Dyukov (probably) did not personally kill anyone. But there are not only killers in a self-respecting gang, but also tippers-off, thieves, gamblers, kitty fund keepers, and other competent professionals who have responsibility, along with accessories, in accordance with the Criminal
Code.
Source: Source: Ruspres, 20 march 2011
In 2007, Gazprom Neft President Alexander Dyukov took the lead of Okhta Center Board of Directors.
Source: domkom.ru 21 May 2007
The members of Arabtec Holding, which were entrusted the construction of 300-meter Gazprom City tower (Okhta-Center), are directly controlled by Jordanian-born businessman Ziad Manasir.
In 2009, it was announced that Arabtec started joint programs with so-called Bin Laden Group. Until recently, one of the managers of the Bin Laden Group was the international terrorist number 1 Osama bin Laden.
Source: Adapted from Emirates business 24-7, Zaks.ru and other media, 14 May 2009
From an interview with Olga Slutsker's personal driver, 2009: " This year, in March, Vladimir (Vladimir Slutsker, a member of the Federation Council of Russian Federation Assembly in 2002-2010, from Chuvash Republic Cabinet of Ministers - Rumafia) departed on holidays with the children to ski in Austria. The very next day after his departure, Olga brought into the house her lover Alexander Dyukov, and then they were having a good time in the house and in the bathhouse for two days. All this happened within sight of the guards and domestic workers. Everyone was shocked. Of course, as the husband returned from vacation with the kids, he found out this immediately. As far as I know, as soon as he learned this, he immediately filed for divorce.
Source: Parity-media 7 January 2009
For the services of specific kind, Class A officials, which included MPs, senators and even Ministers, turned to Ms. Slutsker as well. The clients were offered VIP-ladies. The best known of the 'ladies' were Tina Kandelaki, Anna Semenovich, Zhanna Friske and Alena Akhmadullina.
They say that Olga Slutsker not only acquainted powerful and wealthy men with young and beautiful women, but also vice versa. In those cases, Ms. Slutsker tried to find for her inconsolable friends beautiful sexual men who would make their life more fun and pleasant.
Source: Ruspres, 9 September 2011
In the spring of 2012 government sources reported one of the main and most active lobbyists of new appointments to be a Finnish citizen, a billionaire Gennady Timchenko, a man, who controls a significant part of Russian oil exports.
Specifically for this, the billionaire didn't leave Moscow last months, and his work schedule from early morning until late at night was open to catch opportunity to meet the key personnel.
Timchenko focused his major lobbying efforts not only on the future government key positions, but also on the key figures of native state monopolies. There are persistent rumors that Timchenko is pushing current Gazprom Neft Head Alexander Dyukov for Transneft Presidency, and he wants to put a loyal businessman Leonid Michelson instead of independent Alexis Miller.
Source: The Moscow Post, 11 April 2012