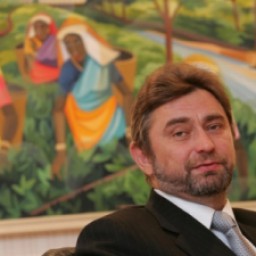 Biography:
Aleksandr Yevnevich (born in 1959, Vitebsk region, Belorussia) spent his childhood in Beshenkovichi village, where he finished a distance-training secondary school with specialization in mathematics. In 1979 he moved to Leningrad and was accepted to A.A. Zhdanov Leningrad State University. He graduated from the faculty of mathematics and mechanics in 1981.
1981-1994 researcher at Vedeneev All-Soviet Research Institute for Engineering Hydraulic Equipment, head of the researchers' unit, then - deputy head of the institute, responsible for economic affairs.
In 1994 Yevnevich, together with Sergey Kasyanenko and Dmitry Varvarin, set up Orimi Trade company, which grew intoa large tea and coffee supply company
In 1997 together with Aleksandr Kats (founder of Laverna Closed JSC, the largest retailer of building materials in St Petersburg) and Larisa Cherepanova set up Maksidom LLC.
1997 chairman of the board of Maksidom LLC
Yevnevich is a sponsor of Leonhard Euler Charitable Foundation for Mathematics. The foundation is affiliated with St Petersburg State University.
He is ranked 243rd in the list of Russian billionaires by Finans magazine. As of 2011 his wealth was estimated 13.1 billion roubles ($0.45b).
He is married and has got 2 children
Source: Delovoy Peterburg newspaper
Dossier:
The first outlet of Maksidom chain opened up in 1997. The founders of the company did not reinvent the wheel and copied the department store layout, choise of good and concept of the store from Western market leaders - BQ, OBI and Marktkauf.
Source: Delovoy Peterburg, 11 March 2009
Dmitry Varvarin, founder and owner of Orimi coffee and tea supplier, perished on 10 March 2002. He was short in head by a contract killer. Afterwards Sergey Krizhan, partner and close friend to Varvarin, was killed in close vicinity of St Petersburg. Members of his family were also killed in the raid. Krizhan owned three firms that were part of Orimi concern.
As usual the police did not find the hitman.
Successors for Varvarin's business projects were already there - Orimi's managers Sergey Kasyanenko and Aleksandr Yevnevich. Kasyanenko became chairman of the board, Yevnevich - the director general of Orimi. The former took over the tea trading, the latter set up Maksidom department store. They were partners only in tea business. Both head strong inclination to keep and develop Dmiry Varvarin's projects.
Source: Vslukh.Ru, 13 September 2007
In December 2007 methil mercaptan was released in two shops of Maksidom chain. Cylinders with gas were found in two other malls of the company. Methil mercaptan is a nontoxic gas with a smell like garlic. 68 workers of the shop were treated, and one shop was closed. Other shoppers were sickened by odor, though not serious.
It may be a rival's criminal attack on business, the analysts say. "I can officially say that the gas incident in Maksidom has nothing to do with a terrorist act," governor Valentina Matvienko of St Petersburg said.
Source: Delovoy Peterburg, 27 December 2005
In 2009 a charitable event called Gogol's alphabet took place in St Petersburg. Aleksandr Yevnevich and his daughter Maria did their best to win a picture called Snowstorm by governor Valentina Matvienko. They paid the highest bid for the picture at the auction - 11.5m roubles ($0.4m). Matvienko thanked Yevnevich in person.
Another picture by Matvienko was bought a year after. In 2010 Yevnevich paid 13m roubles for a Marble Bridge. "In a course of time these pictures will become rarities. One can double his money," Matvienko said to Yevnevich.
Yevnevich also took part in the auction and bid for president Dmitry Medvedev's photograph "The Castle of Tobolsk". His bid lost to billionaire Mikhail Zingarevich, owner of Ilim Group JSC. Zingarevich paid 51m roubles ($1.75m) for the picture.
Source: Komsomolskaya Pravda, 17 January 2010