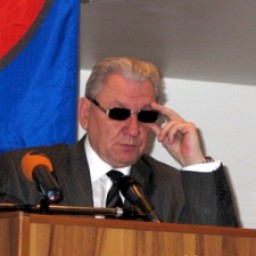 Biography:
Aleksander Filipenko was born on May 31, 1950 in Karagandea. In 1967 he graduated with honours from high school and began working in Petropavlovsk as radio adjuster at the Plant named after Kirov. In 1968-1973 he studied in Omsk at the Siberian Road Construction Institute named after Kuibyshev where he received his degree as engineer-builder of bridges. After graduation he was engineer industrial engineering department in construction of a bridge across the Ob river, a construction foreman, and chief engineer. In 1977 he was assigned to work in Khanty-Mansiysk Regional Committee of the CPSU as first instructor and later head of the construction department.
In 1982 he was first deputy chairman of the Khanty-Mansiysk Regional Executive Committee.
In 1983-1988 he was first secretary of the Communist Party in Berezovsky district. At the same time graduated form Higher Party School in Sverdlovsk, where he studied by correspondence, and served one year as second secretary of Khanty-Mansiysk regional committee of the CPSU.
In 1989 he was appointed chairman of Khanty-Mansiysk Regional Executive Committee.
In 1990 he was deputy of Tyumen Regional Council of People's Deputies.
In 1991 by the presidential decree he was appointed head of Administration of Khanty-Mansi Autonomous Okrug.
In 1993 he was a member of the Council of Federation.
In 1995 he was appointed governor of the Okrug, and a year later he won in the gubernatorial election, receiving support of more than 70% of the voters.
On March 26, 2000 he was re-elected as Governor of the Khanty-Mansi Autonomous Okrug, receiving support for 90.82% of the voters.
On February 21, 2005 President Vladimir Putin submitted the candidacy of Filipenko to the Duma of the Khanty-Mansiysk Autonomous Okrug - Ugra to appoint him governor of Khanty-Mansi Autonomous Okrug.
On February 24, 2005 Duma of the Khanty-Mansiysk Autonomous Okrug - Ugra adopted Filipenko as Governor of Khanty-Mansiysk Autonomous Okrug - Ugra.
On February 15, 2010 he left the position of governor in connection with the termination of the term.
In March 2010, he was approved to be auditor of the Accounting Chamber.
Awards:
Order of Merit for the Fatherland, II degree (2010)
Order of Merit, IV degree (2000)
Medal of Honour (1995)
Honoured Builder of Russia (1999)
Medal "For development of mineral resources and development of oil and gas complex of Western Siberia" (1982)
Honourary Certificate of the President of the Russian Federation (1997)
The Order of Friendship of Peoples (Bashkortostan, 2000)
Honourary Builder of Russia (1998)
In 2002 he defended his thesis and became a Ph.D in Sociology (degree awarded by Russian Academy of Public Administration under the President of the Russian Federation).
He is married and has two children and five grandchildren
Source: Wikipedia
Dossier:
In 2005 investigators initiated criminal cases involving close associates of Aleksander Filipenko. When the governor was in Moscow to meet with Vladimir Putin, regional prosecution's office announced the institution of criminal proceedings against Viktor Tkachev, the mayor of Nefteyugansk. As soon as Filipenko returned to Ugra, information on federal search for his deputy, Vladimir Karasev, spread in Khanty-Mansiysk.
Apart from Vladimir Karasev other officials were named among potential defendants in criminal cases including Victor Pichugov, head of the Nizhnevartovsk District, Valery Vesnin, mayor of Pyt-Yaha, Veniamin Panov, Director of the Oil and Gas Department of the regional government, and Hadzhi Amirov, head of Ugra Investment, Science and Technology Department. These people were among Filipenko's confidants, and the administration considered political attacks on them to be aimed at the head of Khanty-Mansiysk.
Source: Vremya Novostei, 17 February 2005
In 2007 in Khanty-Mansiysk a 56-story skyscraper saw the beginning of its construction. The 280 metres diamond-like building was one of the highest in the Asian part of Russia and was designed by the architect Norman Foster. Local media kept silent as to how ridiculous a building like that looks in Ugra taiga. According to Filippenko, "such business centres are a must." Net cost of this project was estimated at 150-200 million dollars. However, due to the crisis of 2008, construction was suspended.
Another ambitious project was to build a residential neighborhood in St. Petersburg. According to preliminary calculations, the block Ugra Krai of ​​207 hectares could cost up to 1 billion dollars. Valentina Matvienko, Saint Petersburg governor, had nothing to do but to thank her colleague Filipenko for "the governor's gift."
Source: Nasha Versiya, 21 January 2008
On January 31, 2008 on the web-site of Dmitry Medvedev, United Russia presidential candidate, a post contained an angry letter by Mikhail Gnetov, Khanty-Mansiysk regional Duma deputy assistant, who wrote about lawlessness during the mayoral election in Khanty-Mansiysk, saying that "Governor Aleksander Filipenko aims to make his son, Vasily A. Filipenko, who is now the chairman of City Duma, mayor of Khanty-Mansiysk ... For this purpose as his rival they chose an obviously poorly supported candidate, Andrey Bukarinov, chief of UKSa, and Filipenko's son will be the City Manager ... People do not have a chance to decide who want as the mayor. "
After 6 days the letter and comments to it disappeared. Moreover, all mentions of the fact that the documents ever existed there disappeared from Medvedev's web-site.
Source: Vek, 13 February 2008
In 2010 Filipenko leaving the post of Governor due to not being appointed for a new term was perceived ambiguously. His experience and eagerness allowed for hope that he would be reappointed. He was the one who managed to establish a balance within the region, in which operate almost all the oil and gas companies in Russia.
Source: Regions of Russia, 19 March 2010
On April 5, 2011 there was the inauguration of the new Mayor of Khanty-Mansiysk Vasiliy Filipenko. According to the charter of the municipality, he also became chairman of the City Duma.
Source: Ugra Inform, 05 April 2011