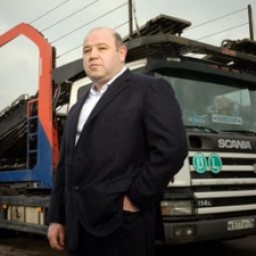 Bio:
The founder of Gema Group, Aleksandr Geller, who is a former Airborne Forces officer, started his car business in 1992, driving cars from Sweden to Russia.
By 2009, Gema holding company had incorporated nine car trading companies and car dealers, a commercial bank, a trading house, and some trucking and construction companies. Geller's business was very well organized, which let him overcome financial crisis difficulties. While most of car dealers were curtailing construction of car trading centres, Gema, in contrast, was finishing its own projects and buying up other companies' centres.
In 2009 Gema's revenues amounted to 21.1 billion rubles.
According to Forbes magazine, Gema ranked 122nd in the list of top 200 non-public companies
Source: Forbes

Dossier
The first car that Aleksandr Geller, the owner of Gema company, once sold in Russia, was a used SAAB. Geller himself drove it from Europe. In 1994 he drove to Russia tens of SAAB cars as a distributor of the Swedish company.
Forbes, 25 October 2007

In 2008 Oscar Akhmedov, one of the most famous car business executives, resigned as managing director of Gema Motors dealer holding where he had hardly worked for six months.
The reason of Akhmedov's resignation was not announced in public. But, according to market participants, Akhmedov probably quit because he did not agree with Geller on how to help Gema out of the crisis. It was not the first dismissal in the company. In autumn 2007 Vasily Zhegalov, a good manager perfectly proven in other companies, was dismissed.
RBC, 15 September 2008

The company's decline as a road carrier started in spring 2006. And in the first place it was caused by termination of the contract with the main partner, Ford concern. Then Geller directed to stop car transporting, which led to warehouses and parking lots blockage of more than 3,000 cars that belonged to the company. The drastic measures were taken due to the fact that Ford owed Gema $ 4.5 million.
The car maker filed $ 3.5 million counterclaims for damages caused during the transportation. Geller terminated the contract. Another reason for the breakup, according to market participants, was that the two companies had a disagreement on transportation issues and as a result, shipping time increased. The delays were related to Gema's lack of trucks at the time. Therefore, Ford Motor Company rejected its services.
Experts believed that the company's turnover decreased because Gema had developed a lot of non-core activities. Geller's reputation among the market participants leaves much to be desired because of his decision-making unpredictability. Geller is notorious for the fact that the promise he gave yesterday, can easily be cancelled today under certain circumstances.
Kompaniya, 23 August 2011

The auction for the metro advertisement space rented till 2016 lasted no more than ten minutes. The starting price was a half times higher than the former space price, and little known Auto Sell LLC became the winner. The new advertising contractor of Moscow Metro is registered at the same address as Gema holding run by Aleksandr Geller.
AutoMarketolog, 23 November 2011


Auto Sell company, incorporated in Gema holding company, owned by Aleksandr Geller, was registered six months before the auction. It had almost nothing on the balance account, but for 10 thousand rubles of authorized capital, and only one person was registered as an employee.
Despite the established auction terms, the new operator signed the contract a month later than he was obliged to and thus saved 200 million rubles, the monthly amount he had to pay to the city. Then, instead of 500 million rubles payments, mentioned in the contract, Geller sent a guarantee agreement to Moscow Metro state-owned company. And, most surprisingly, Ivan Besedin, the new metro chief, totally agreed with it. Moreover, Besedin prohibited to all the employees to disclose information about the fact that the rent money was not collected. What Moscow metro had got by the end of 2011 was just 79 million rubles of auction earnest money.
Gema and its affiliates got the opportunity to reach state funds by providing logistics, transport, warehousing and customs services, and being engaged in construction and maintenance of commercial real estate owned by the city.
Market experts suggested that the transaction was made "in the interests of third parties" masterminded, perhaps, by a major player of Moscow advertising market, or any of the officials.
The Moscow Post, 10 November 2011