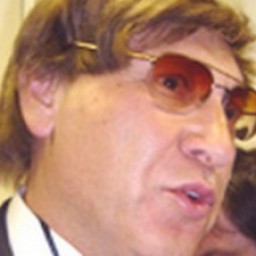 Bio:
Aleksandr Leyviman was born on January 29, 1949 in Chernovtsy. In 1972 he graduated from the Mendeleev chemical school as an engineer.
In 1972-1973 he was a deputy machine shop manager of Mosbytkhim chemical enterprise.
In 1975-1977 he was a senior research fellow of the Novorossiysk research institute of occupational safety and environmental protection in the building industry (NIPIOTSTROM).
In 1978-1992 he worked as a chief engineer at a design bureau under Chernovtsy University. He was also a chief engineer and deputy director of Chernovtsy chemical plant.
In 1992 he was a deputy director-general of the innovation foundation under Moscow City Hall.
Since 1993 he has worked for Sistema public financial corporation.
In 1996-1997 he headed Sistema-Invest public company.
In 1997 he was a chairman of the finance and investment committee of Sistema corporation.
In 1997-1999 Leyviman managed Inturist company.
In 1999-2002 he was the first vice-president of Sistema public financial corporation and a head of finance and investment department.
In 2003 he was appointed director-general of Sistema Mass Media public company.
Leyviman has taken out a patent for more than 40 inventions. He has 16 published works on science. He is a member of International Informatization Academy. Leyviman developed financial strategy of Sistema corporation.
In 2000 he took part in placing American Depositary Shares (ADSs) of Mobile TeleSystems company to the New York Stock Exchange.
Aleksandr Leyviman owns 2.65% stake of Sistema corporation. He is a board member of Sistema corporation, MGTS public company, Sistema-Telekom public company, Sistema-Gals company ; MBRR bank, Intourist company, Sistema - International Group closed company, Sistema Mass Media public company, Maksim advertising agency, etc.
Sistema Mass Media public company was established in 1998. It is a subsidiary of Sistema public financial corporation. At different times Sistema Mass Media was owned by more than 25 companies, including Kosmos-TV cable television company, Govorit Moskva and Public Russian Radio radio stations, Rossiya , Metro, Literaturnaya Gazeta newspapers, Smena magazine, Rosbalt news agency, Nasha pressa distribution group, Maksim advertising agency, Olimp and TV-proekt advertising companies, Narodnoye Kino trust, etc.
Leyviman is married and has a son, Vladimir.
Leyviman was ranked 233 in the richest list of Russia made by Finance magazine. His wealth is estimated at 13.7 billion rubles.
Source: Klub Effektiv

Dossier:


In 2010 Aleksandr Leyviman's Sistema Mass Media, that managed media assets of Sistema corporation, filed a lawsuit against Video.ru online store to the Moscow Court of Arbitration. Sistema Mass Media demanded over 24 million rubles for unauthorized sale advertising for Fellow Detectives 12-episode series owned by Russian World Studios company operated by Sistema Mass Media.
The amount demanded was all-time large for cases of copyright infringement. The highest possible statutory compensation for violation of intellectual property rights was 2 million rubles, so the company demanded 2-million amount for each episode of the TV film, put up in Video.ru online store.
Source: Vedomosti, 2 February 2010

Co-owner of Sistema financial corporation Alexander Leyviman and his son Vladimir started their own investment business abroad. In April 2011 they became owners of Atlant Capital SA Swiss management company.
According to Vladimir Leyviman, Atlant Capital SA will not only manage the assets of the family, but also provide foreign investors with a full range of financial services.
Given Leyvimanov's experience and business connections, he could easily get involved in the company the money of Russian businessmen and top managers of large companies. The share capital of Atlant Capital SA totals 100 thousand Swiss francs.
Source: Marker, 29 April 2011

In February 2011 it was announced that Lenfilm, one of the major Russian film studios, would be turned into a public company and join Sistema Mass Media holding that manages media assets of Sistema financial corporation. 25 % stake was supposed to remain in public ownership. The announcement caused public concerns about Lenfilm's future. Lenfilm was rumoured to be restructured for a different function and, what was even more important, its territory was said to be misused.
Meanwhile, experts believe that turning Lenfilm into a prosperous and stable organization requires not so large amount of money, as Sistema Mass Media stated. Yuri Sapronov, owner of Russian World Studios company, that along with Lenfilm was a co-founder of Lenfilm XXI film studio, referred to an international experience and said they would need about 300-500 million dollars.
Source: RIA Novosti, 27 September 2011

Cultural workers of St. Petersburg sent a letter to Vladimir Putin asking him to suspend privatization of St. Petersburg film studio that was about to be turned into private-public partnership. The state was supposed to hold a blocking stake, while the studio itself was to become a part of Sistema Mass Media. Film production was supposed to be moved from the studio at Kamennoostrovsky prospekt to modern and technically advanced Lenfilm XXI film production complex, built by Sistema Mass Media.
Since neither the Ministry of Culture, nor prime-minister Vladimir Putin, whom artists and directors appealed to, did not want to get involved in a scandal before the elections, the project was suspended. Corrections and reservations were made to tighten regulations of the property use for the joint enterprise, so that possible restructuring and misuse of Lenfilm's territory could be prevented
Source: Kompaniya, 26 September 2011