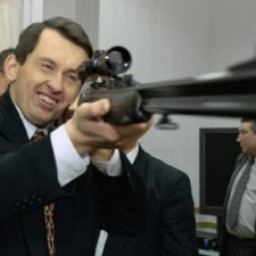 Biography:

Alexander Pochinok was born on 12 January, 1958 in Chelyabinsk.
In 1980 he graduated from the Chelyabinsk Polytechnic Institute.
In 1980-1982 – trainee researcher, research fellow at the Institute of Economics, the Ural branch of the AS USSR (Academy of Science of the USSR).
In 1982 – graduate student of the Institute of Economics. In 1986 he took doctor's degree.
In 1986-1990, - research fellow, stuff scientist, senior scientist at the Institute of Economics of the AS USSR.
In 1990 he was elected deputy of the RSFSR (the Russian Soviet Federative Socialist Republic), then he was a member of the RSFSR Supreme Soviet, a chairman of the Committee on the Budget, Planning, Taxes and Prices.
In 1993-1994 - Deputy Minister of Finance.
In 1993-1997 - deputy of the State Duma.
In 1997-1998 - head of the State Tax Administration.
In 1997-1998 – head of the department of finance and money-and-credit regulation.
In 1999-2000 - Minister of Taxes and Duties.
May 2000 - Spring 2004 - Minister of Labour and Social Development
Since spring 2004 – prime-minister's aide. On December 2004 he was appointed deputy plenipotentiary in the South Federal District. He was responsible for social and economical development of the district.
Since June 2007 – member of Federation Council representing the Krasnodar region.
He takes a position of the Principal Tax Administration counsellor of state (1997).
Member of Demokraticheski Vybor (Democratic Choice) and SPS (URF) (Soyuz Pravykh Sil – Union of Right Forces) since foundation of these democratic opposition parties.
Pochinock is married for the second time. His wife Natalya Gribkova – track and field champion of Russia – now works for Sberbank as a director of branch office management department. Pochinok has a daughter and a son by his first wife and a son by the second wife.
In 2010 Pochinok's income was 2,011,556 rubles. Strange as it might seem, but Pochinok has neither a car nor an apartment. But his wife owns 3 apartments that have an area of 231, 239 and 141 sq.m (she also got the fourth apartment in equity ownership) and two cars - Mercedes-Benz SL500 and Cadillac Escalade. Pochinok's wife earned 32,256,583 rubles in 2010.
Source: Wikipedia
Dossier:
In 1990 Pochinok was a deputy of the RSFSR representing the Academy of Sciences. He was a secretary, then a deputy chairman and later a chairman of the Supreme Soviet Committee on Budget, Planning, Taxes and Prices. He was a member of the Supreme Soviet Presidium and a member of Levy Tsentr – Sotrudnichestvo (Left centre - co-operation) political group and Reforma Armii (Army Reform) group. Reports say that Pochinok at that time criticized severely the policy of the first Russian president Boris Yeltsin and acting prime-minister Yegor Gaidar.

Source: Ogonek, 28.04.1997
In 1993 Pochinok personally took part in privatization process of the Chelyabinsk region. A person involved in the state property privatization bogus affair, Vladimir Golovlev, was murdered in 2002 soon after his giving evidence in court where he also had mentioned Pochinok's name.
Source: Novaya Gazeta, 15.09.2003
Reports say that the Central Bank of Russia had regularly issued small series (sometimes about 200-300 pieces) of so-called commemorative coins. Just after they are issued small series become numismatic rarity and market value of the coins tens or even hundreds of times exceeds their face value. Pochinok had a share in the profitable business for about ten years. He took advantage of his position and was the first to know about a new issue and thus forestalled up to one third of the number of the coins. His personal collection was estimated at about 150 thousand dollars. But he earned a few times as many by selling to other collectors the coins at the market value while he had purchased them at face value. He did not pay profit taxes, naturally.
Source: Kompromat.Ru, 05.03.2000
In 2004 head of Labour and Employment Agency Alexander Pochinok purchased the unique suite of furniture made of Karelian birch. Study furniture was bought at Tsennosti dlia izbrannykh (Valuables for the Chosen Ones) - Moscow luxury antique shop. It was a replica of the study at the famous Yusupovsky Palace in St. Petersburg – the place where Grigory Rasputin was murdered. A purchase for Pochinok's Rublevka country house cost him 80 thousand dollars.
Pochinok was reported to be a pushover for luxury and antiques. And he took them without choosing - everything that came to his hand. True collectors nicknamed him Sasha the Vacuum Cleaner for that.
Source: Zhizn, 17.11.2004
In winter 2005 Pochinok, the social and economical issues deputy of plenipotentiary in the South Federal District Dmitry Kozak, was mentioned in media reports with reference to the hunger strike of miners working for Shahtoprohodcheskoe stroitelnoye upravleniye (Mine construction management) - bankrupt limited liability company. He claimed that "the state should not be responsible for an employer who withhold wages" and that "they should have protested a year earlier, when the payment disruption began."

Source: Nezavisimaya Gazeta, 22.02.2005
On June 2007 Pochinok was appointed a member of the Federation Council representing the Krasnodar region. On November 2007 Pochinok initiated a bill of so-called "reverse mortgages" so that a law-income owner of the high price apartment would be able to receive regular payments having pledged the apartment.
Source: Nezavisimaya Gazeta, 29.11.2007
In 2011 member of the Federation Council Alexander Pochinok publicly criticized the shortcomings of the Labor Code of Russia. In his opinion it is necessary to redefine the concepts of "workplace" and "working time" there. "You can lie on a beach in Goa and work for a company in Ivanovo", - Pochinok said.
He also proposed to eliminate precise age-related retirement standards. "There are professions where a person uses up labour force at the age of 30. And some eighty-year-old people still happily work. One should fix the retirement day by oneself as well as form one's retired pay.' – Pochinok noticed.
Source: JustMedia, 30.08.11