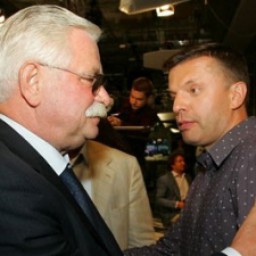 Biography:
Alexander Rutskoi was born in 1947 in Kursk into a family of military men. In 1964 he graduated from eight-year school.
I n 1971 he graduated from Barnaul Higher Military Aviation School of Pilots. In 1980 he graduated from Gagarin Air Force Academy. In 1990 he graduated from Academy of General Staff of the USSR.
In 1985-1988 Rutskoi joined Soviet forces in Afghanistan and participated in combat operations. He commanded an air assault regiment. On April 1986 his aircraft was shot down. On 4 August, 1988 Rutskoi was shot down again. He was captured by Afghan mujahedeen. On 16 August, 1988 Pakistani authorities conveyed Rutskoi to Soviet diplomatic mission in Islamabad.
In the spring of 1990 he was elected people's deputy of Russian Soviet Federated Socialist Republic representing the Kursk region.
On 12 June, 1991 - was elected vice-president of the Russian Federation.
On 19-21 August, 1991 during the coup d'état attempt he organized the defence of the government residence.

On 21 September, 1993 after Boris Yeltsin's decree on early termination of the Supreme Soviet power Rutskoi declared himself to accept the duties of the President of the Russian Federation. He operated on the defence actions at the government residence during the assault of 3-4 October 1993 and was arrested afterwards.
On 26 February, 1994 Rutskoi was released from a prison under amnesty.
On October 20, 1996 was elected governor of the Kursk region.
On October 2000 he ran for a second term but a few hours before the voting started Rutskoi was debarred from the elections due to breaking electioneering rules and producing false information on the revenue.
On November 2003 Rutskoi was debarred from the State Duma elections in Lgov electoral district of the Kursk region due to producing false information on the place of employment.
Awards:
Title of the Hero of the Soviet Union awarded with Order of Lenin and Golden Star special decoration (1988)
Order of the Red Banner
Order of the Red Star
Order of the Red Banner (Afghanistan)
10 Years of Saur Revolution medal (Afghanistan)
From the grateful people of Afghanistan medal (Afghanistan)
Title of Honorary Citizen of Kursk
Rutskoi had three marriages. He has three sons and a daughter. His eldest son Dmitry born in his first marriage graduated from Medical school .He operated on Kurskfarmatsiya public company illegally privatized by Rutskoi. Alexander, Rutskoi's second son born in his second marriage, studied at the Institute of Finance and graduated from Suvorov Military School. On December 1998 Alexander was put on a year-and-half probation for currency smuggling. In 1999 Rutskoi's third son Rostislav was born.
Source: Wikipedia


Dossier:
Rutskoi is the only officer in the history of the Russian army that was
captured three times. For the first time he was simply released. But for the second and the third time he was taken for a big shot.
Source: Komprinfo.ru, 25 May, 2011
On October 1992 Rutskoi headed the Inter-Ministerial Committee of the Security Council of the Russian Federation on crime and corruption control. On February 1993 Rutskoi published a 12-point detailed program against crime and corruption titled called "It is dangerous to go on at that rate''. By April 1993 "11 suitcases" of compromising evidence were gathered by the committee. Yegor Gaidar, Gennady Burbulis, Mikhail Poltoranin, Vladimir Shumeιko, Alexander Shokhin, Anatoly Chubais, Andrei Kozyrev were listed as guilty. Rutskoi used those ''suitcases'' for putting pressure on the executives before the crisis of 1993.
Source: Kommersant, 17 April, 1993
When interviewed Rutskoi professed that during the putch of 1993 he had called upon the military to bomb the Kremlin. He also confirmed presence of armed militants at the government residency on October. He caustically described Zyuganov's supporters as " weathercocks'' that went along with Kremlin policy. The reason for such a statement was the fact the on October 1993 Zyuganov called on to keep civil peace and not to rock the boat. Rutskoi as well bears a grudge against Mikhailov, a member of Communist Party who won Kursk region gubernatorial elections in 2000 while Rutskoi was debarred. Besides, Mikhailov's anti-Semitic remarks towards Rutskoi drew wide public response.
Sources: NEWSru.com, 10 November, 2000
When Alexander Rutskoi was a governor Rutskoi family in fact entirely privatized the Kursk region. "Rutskoi transformed the region into a family corporation" - Gennadi Zyuganov said, though formerly he was a traditional ally of the pro-communist governor.
The governor's brother Mikhail, the deputy chief of regional police department, was arrested for bribery. Rutskoi's second brother, Vladimir Vladimirovich, supervised food procurement. Vladimir Rutskoi along with several associates was charged with misappropriation of state money . Alexander Rutskoi's sons were engaged in oil products trading and pharmaceutical commerce while Rutskoi's father-in-law was deputy governor and was also responsible for public relations. Rutskoi himself was owner of RUA company, a joint founder of Kurskneftehim company specializing in centralized buying of oil products for rural areas. Rutskoi alone disposed budgetary funds. His especially odious projects were construction of the triumphal arch in commemoration of the 55th Victory anniversary that in fact cost over 200 million rubles instead of 83 million estimate and storage reservoir on Tuskar river that cost over 150 million. Funds for the construction were partially "borrowed'' from the payroll of government-financed institutions of the region that is Kursk people were compelled to contribute to those projects.
Sources: Moskovski Komsomolets, 27 June, 2000
In the application for including his name in electoral roll of 2000 Rutskoi stated he had owned an apartment in Moscow that had a area of 160 square meters while in fact its area was 440 square meters, as chairman of Central Election Commission of the Russian Federation Alexander Veshnyakov claimed.
The inspection also showed that Alexander Rutskoi had not declared his Volga car, as well as Land Rover. Rutskoi explained that he had sold Land Rover to his wife for 380 thousand rubles. But the money from the deal were not included in his income declaration.
Source: Strana.ru, 23 October, 2000
Removing Rutskoi from the election race of 2000 was attributed to Poltavchenko, the political ''killer'' of pro-communist governors. Poltavchenko sought redistribution of flow of funds in central Russia. Rutskoi was a victim of vertical power consolidation, yet not an innocent one.
Source: Nezavisimaya Gazeta, 2 October, 2006