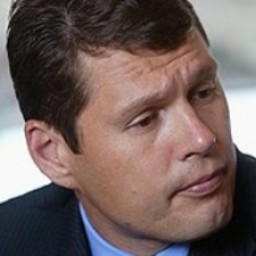 Bio :
Alexander Svetakov was born on 15 February 1968 in Moscow. In 1993 he graduated from Moscow Institute of Electronic Engineering, having acquired a profession of systems engineer. In 1993 he founded Absolute Bank. He has been director-general and majority shareholder of Absolute group of companies since its foundation.
In 2002 he established Absolute-Help charity fund. The fund supports the disabled and administers aid to orphanages and hospitals. Thanks to the fund, many children with disabilities have an opportunity to get quality wheelchairs and medical prostheses.
Svetakov is a major sponsor of Kremlin Cup tennis championship.
Each month Svetakov alternates two working weeks with two vacation weeks. He prefers to spend his free time at his country house.
Svetakov is divorced and has three children.
Source: Lyudi.Ru

Dossier:
In 1990 Yulia Svetakova worked at a barbershop There she met her future husband Alexander Svetakov. She helped him get through hard times and he married her. In 2009 she became Miss Fitness World Class. At divorce she received $ 40 million compensation.
Source: Spletnik, 2 November 2009

In 2005 Svetakov was reported to buy a helicopter. He needed it not for getting to the centre of Moscow from his country house, but for flying around his lands. Absolute's land plots are scattered in the Naro-Fominsk, Sergiev Posad and Podolsk districts of the Moscow region. Total area of the land is 20 000 hectares.
Source: Russian Forbes, July 2005

In 2007 Absolut Bank restructured its share capital. Alexander Svetakov was given 51.58% of shares. Formerly Svetakov, Gleb Galin and Andrei Truskov jointly owned 76% . After the restructuring Svetakov registered his stake as his own property.
Source: Vzglyad, 16 January 2007

In 2007 shareholders of Absolut Bank announced that the bank would be sold to KBC Belgian group of companies for $ 1 billion. They said they would invest the proceeds of the deal in real estate.
According Svetakov, current project portfolio of Absolute group consisted of five major projects for complex development of economy housing in the suburbs of Moscow, as well as the project for construction of suburban elite club settlement of 50 houses in the area of ​​50 hectares near Ilyinskoye highway.
Source: Kommersant, 30 May 2007

Svetakov was ranked 9th in the list of major owners of real estate in Russia titled Rentier -2011. Svetakov's rental income was about $ 125 million. His wealth was estimated at 1.15 billion dollars.
Source: Russian Forbes, 1 March 2011