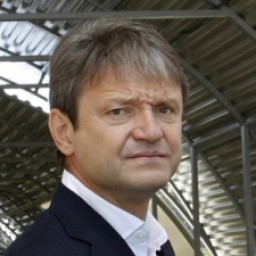 Biography
He was born on December 23, 1960 in the village of Vyselky. In 1983 he graduated from Kuban State Technological University, majoring in mechanical engineering. He completed his graduate studies at Kuban State Agrarian University.
He worked at Vyselky inter-farm feed mill as a heat engineering and chief engineer.
In 1986 he was elected first secretary of Vyselky district Komsomol Executive Committee.
In 1990 he was elected director of Vyselky feed mill. In 1993 the company was reorganized into joint-stock company Agrocompleks, Tkachev becoming its CEO.
In 1994 he was elected to the Legislative Assembly of Krasnodar region.
In 1995 and 1999 he was elected deputy of Russian State Duma from Tikhoretsky constituency. He served as chairman of the Committee for Ethnic Affairs, deputy chairman of the Agro-industrial group in the State Duma, and headed the Agrarian Union of Kuban.
On December 3, 2000 he was elected head of Administration, that is Governor, of Krasnodar Krai receiving 82.14% of votes. On March 14, 2004 he was re-elected for a second term.
On April 10, 2007 he put before President Vladimir Putin the issue of confidence by sending a statement to the President. On April 23 of that year at the session of the Legislative Assembly upon being suggested as candidate by the President, he was appointed the head of Administration of Krasnodar region for a new five-year term. The same day, he officially took office as head of the regional administration.
Awards:
Order of Merit for the Fatherland, IV degree (2005)
Medal for 850th Anniversary of Moscow (1997),
Medal of Merit for the All-Russia Census (2002),
Order of Honour and Glory, II degree (Abkhazia , 2003),
Honourary Certificate of the State Duma of the Russian Federation (2000),
Order of St. Sergius of Radonezh, II degree (2005)
He is the winner of the Prize of Peter the Great (ABOP, 2002)for the development and strengthening of the Russian Federation, of the National Award "for achievements in socio-economic and cultural construction" (2002), of the National Prize "Person of the Year" (2003), of the Prize "National Pride of Russia "in the nomination "For outstanding contribution to improving the image of the region "(2003), of the National Prize "Russian National Olympus" in nomination "Statesman of Russia - 2002-2003", of the award to" Leaders of tourist industry " in nomination "Person of the Year "( 2003). He is also winner of the Grand Prix of the "Person of the Year" (Museum-Exhibition Center "The history of domestic entrepreneurship", 2004)
In 2000 he defended his thesis in economics. He is president of football club Kuban.
He is married with two daughters. His brother Aleksey is a State Duma deputy, member of the party United Russia.
In 2009 Tkachev became the only Kuban official to publicize the income and assets. According to data published on the web-site of regional administration, in 2009 the governor of Krasnodar Krai earned 1.63 million rubles. He owns a cottage (338 square metres), a land plot (999 square metres), and house (238.3 square metres). His wife Olga earned twice as much, her income amount to 3.25 million rubles. She owns 100% of a Russian limited liability company with a capital of 23 million rubles and 0.44% of a closed joined stock company (company names were not disclosed).
Source: Wikipedia
Dossier
In 1990-1993 he headed the Vyselky feed mill. Prior to this, according to media reports, it his father, Nikolai Tkachev, who was the plant manager. In 1993 the plant was reorganized into a joint-stock company Agrocompleks. Tkachev became CEO of JSC, and his father was his deputy. In 1990-1994 the enterprise led by Tkachev grew from a relatively small plant into a large group of companies engaged in production, storage, and processing of agricultural products in Krasnodar region.
Source: Stringer, 09 August 2005
In autumn 2001, during the Duma debate over the reform of land legislation, Tkachev was a strong opponent of allowing the sale of land. He participated in farmers pickets in front of the White House. He said that "if land market is introduced in Kuban, people of Kuban will take up pitchforks to fight. And I will join them. In fact, I will be the first, I will lead this process! ".
Source: Regnum, 04 August 2003
According to unconfirmed information collected by media, by 2007 Tkachev had become the largest landowner in Europe, and according to some sources, even in the world. According to an anonymous source, he owned large plots of land located in Vyselky area in Krasnodar region.
Source: Sovershenno Sekretno, 13 January 2007
In March 2002 at the regional conference on migration Tkachev said that "To identify whether an immigrant is legal or illegal we only need to look at the surname, or rather at its ending. Surnames ending in "yan", "dze", "shvili", "ogly" are illegal just like those who have them." In 2003 Tkachev proposed to establish detention centers for illegal immigrants (he later dropped the project), and insisted on regional Duma adopting a law allowing law enforcement raids at night in areas where displaced persons live.
Subsequently, the governor said he was not a xenophobe and nationalist, and that he protected the interests of the indigenous population of Kuban, namely of Russian, Adyghe people, Ukrainians, and Belarusians. Tkachev noted that a qualitative change in the ethnic composition of the region could destabilize it and even lead to armed conflicts.
Source: Rossiyskaya Gazeta, 18 September 2003
In connection with the national policy of Tkachev, media reported the situation around Meskhetian Turks who in 1989 fled to Kuban from the Ferghana Valley (Uzbekistan), where local nationalists organized Turkish massacres. The authorities of Krasnodar Krai were unable to find a way to integrate 15 000 Turks, and in 2004 they emigrated to the U.S. (this case was recorded by the UN as a sole example of ethnically motivated mass emigration from Russia)
Source: Ekspert, 09 October 2006
Aleksander Tkachev's elder daughter, Tatiana, in 2006 married Roman Batalov, son of Krasnoyarsk businessmen, owners of a large trading house. Governor's son-in-law is the youngest member of the Legislative Assembly of Krasnodar region. Batalov, who was 23 years old, was elected as candidate from United Russia in 2007 and became first deputy chairman of the committee on property and land relations and also deputy CEO of Krasnodargorgaz Ltd.
Source: Kuban-Caucasus 21 February 2008
In March 2006 Agrocompleks, owned by the governor's father, Nikolai Tkachev, bought sugar factory Crystal, the largest in Krasnodar region, from Russian sugar company. Experts estimated the deal ar 15 million dollars.
Source: Kuban.Info, 27 March 2006
In 2006 several political analysts suggested that Tkachev may be one of the possible contenders for president of Russia in 2008. Tkachev's governor position in that case could be filled with Oleg Deripaska, owner of Basic Element, who lobbied Tkachev as successor to Vladimir Putin.
Source: Ezhednevny Zhurnal, 10 August 2006
In July 2010 the media reported that Anastasia Tkacheva, 22-year-old student of Kuban State University, the niece of Aleksander Tkachev and the daughter of Aleksey Tkachev, was the co-owner of two tube plants, namely Southern Pipe Plant (YUTZ) JSC (10% owned by Anastasia Tkacheva, revenue in 2008 reached 182 million rubles) and Pipes Insulation Plant (ZIT) (10% owned by Anastasia Tkacheva, revenues in 2008 reached 618.9 million rubles, net profit amounted to 7.7 million). She was also the owner of major developer company "Masterstroy Ltd. (30% owned by Anastasia Tkacheva), and Yugptitseprom company that invested 3 billion rubles in poultry industry (22.5% owned by Anastasia Tkacheva, project annual revenues reach 4 billion rubles).
Source: Vedomosti, 09 July 2010
In autumn 2010 there was an investigation into the murder of twelve people in the village of Kushchevskaya in Krasnodar region. It turned out that this village had long been under control of a criminal gang that had connections in the government and law enforcement agencies. On November 24, 2010 Tkachev, commenting on events in Kushchevskaya, said that "such criminal groups are everywhere to this or that extent and the police and officials of all kinds support them." He even admitted that events like that crime in the village could occur in any part of the region.
Source: RIA Novosti, 24 November 2010
In February 2011 Tkachev was involved in a scandal. He was accused of distorting the facts of his biography in an interview that he gave to a TV host Vladimir Pozner. Tkachev said that he had never been member of the Communist Party. "Tkachev was registered with the Vyselky party organization. We have information about him paying party member fees", said Nikolai Osadchy, head of the Communist Party faction in the legislative chamber of the region. Moreover, as of 2003 he was actually still a member of the Communist Party and at the same time headed the regional list of United Russia in the State Duma elections, after which he was expelled from the Communist Party.
Source: IA Rosbalt, 08 February 2011