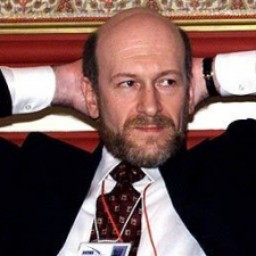 Biography:
Aleksander Voloshin was born on March 3, 1956 in Moscow. In 1978 he graduated from Moscow Institute of Transport Engineers (MIIT). In 1986 he graduated from All-Union Academy of Foreign Trade.
In 1978-1983 he worked in various positions in the locomotive depot of the marshalling section of Moscow railway.
In 1986-1992 he was senior researcher, head of a section, deputy head of research department for current situation at the All-Union (later All-Russian) Market Research Institute (VNIKI).
In 1993-1996 he was president of ESTA Corp. JSC
In 1996-1997 he was president of Federal Stock Corporation JSC.
In 1997-1998 he was assistant to Valentin Yumashev, head of Presidential Administration.
In 1998-1999 he was deputy head of Presidential Administration.
On March 19, 1999 he was appointed head of the Presidential Administration by the decree of President Boris Yeltsin.
On December 31, 1999 and May 27, 2000 he was reappointed to the same office by Vladimir Putin.
In 1999-2004 he was member of the Russian Security Council.
In 1999-2008 he was chairman of the board of directors of RAO UES of Russia.
On December 26, 2008 he was elected chairman of the board of directors of Norilsk Nickel.
Voloshin proposed the idea of ​​managed democracy as a system, "in which the problems that can be solved through democratic means are resolved by democratic means. Problems that can not be solved by democratic methods are solved by other methods. "
Voloshin is State Councilor of the Russian Federation, 1 class. In 2000 Vyacheslav Soltaganov, Director of the Federal Tax Police Service, awarded Voloshin honourary weapons, a revolver Taurus.
He is in his second marriage to Galina Teymurazova. On June 28, 2005 they had a daughter. Voloshin's first wife, Natalia Belyaeva, as of 1999 lived abroad. Voloshin has a son Ilya, born in 1976, in his first marriage. Ilya was educated in London; in 1996 he worked as a trader of securities in the bank Eurotrust and then he worked in a news agency AK & M, established by his father. In 2005, the media wrote that Ilya Voloshin was vice-president of Conversebank.
Source: Wikipedia
Dossier:
In 1986 Voloshin began to provide various organizations with information support on the export of automobile products for a fee. Then he met Boris Berezovsky, who was at that time head of automobile alliance AVVA. Subsequently, Voloshin became his close business partner and was personal stock exchange agent of the entrepreneur.
Source: Sovershenno Sekretno, 10 August 1999
In 1993-1996 Voloshin served as president of ESTA Corp. JSC. This company was thought to be a mediator in the 1994 sale of Berezovsky's group AVVA shares to Chara bank. Media also highlighted Voloshin's involvement in the transaction between ESTA Corp. and Credit-Moscow commercial bank. The bank sold government bonds in domestic currency amounting to 48,550 thousand dollars. Despite the fact that one of the bonds worth 100 thousand dollars, belonging to Agropromservis LLP, was seized as the property of defrauded investors, the investors of Agropromservis never received their money.
Source: Profile, 12 July 1999
In 1995 Voloshin was vice-president, and in 1996-1997 president of Federal Stock Corporation JSC (FFK). FFK was thought to be the main agent of the Russian Federal Property Fund (RFPF) for holding specialized cash auctions. It was also stressed that this structure lobbied the interests of Berezovsky and Roman Abramovich during privatization of the oil company Sibneft. Joint Stock Corporation Ltd. (OFK) was mentioned as linked too Voloshin. In September 1997 OFK was bought by Berezovsky's AVVA. In addition, in 1995-1997, Voloshin also served as president of AK & M. News Agency.
Source: RIA Novosti, 30 October 2003
In November 1997 Voloshin became assistant to Valentin Yumashev, Head of Administration of President Boris Yeltsin. According to media reports, Voloshin joined the Administration on the recommendation of Berezovsky, but there was a version according to which it was Yumashev who helped Voloshin to join the Administration. During that period Voloshin took part in writing the economic program of General Aleksander Lebed who was supported by Berezovsky. General Aleksander Lebed was then a candidate to become governor of Krasnoyarsk Krai and took the post in May 1998.
Source: Kommersant, 20 March 1999
On September 14, 1998, shortly after the August default and dismissal of the government of Sergey Kiriyenko, Voloshin was appointed economic issues deputy head of Presidential Administration. Voloshin regularly wrote memos to Yeltsin in which he analyzed in detail the activities of the Cabinet under the Prime Minister Yevgeny Primakov, and evaluated it mostly negative.
Source: Kommersant, 23 March 1999
In the beginning of his activities as head of Yeltsin's administration, Voloshin was charged not only with the preparation of the presidential address, but also with three major objectives: reduction of Primakov's influence, opposition to the plans of Communists in the Duma to declare impeachment to the president, and removal of Prosecutor General Yury Skuratov, who gained support of the Council of Federation and was no longer under control of the Kremlin.
Source: Nezavisimaya Gazeta, 31 December 1999
After Yeltsin appointed Vladimir Putin Prime Minister and made him his successor, Stepashin, Putin, and Voloshin became a team that, in case of coming to power, was to ensure the safety of the "family". Earlier media called Voloshin Putin's opponent in the Presidential Administration claiming that Voloshin had allegedly hoped to persuade Yeltsin make film director Nikita Mikhalkov his successor. Financing for the project had already been found in the face of the Ministry of Communications and Transneft oil company.
Source: Profile, 05 October 1999
In the short term Voloshin become very influential in the Kremlin. In March 1999 he was called the weakest man to head Presidential Administration, and in 2000 the media reported that after Voloshin began working in the Kremlin, top officials formed a kind of triumvirate consisting of Tatyana Dyachenko, the daughter of President Yeltsin, Yumashev, and Voloshin. Stubborn, tough and hardworking, Voloshin played the role of mediator for implementing decisions of the "power triangle". In his ability to weave complex intrigues he outwitted even Berezovsky.
Source: Profile, 12 July 1999
In 2000, according to media reports, Voloshin was adviser to Putin during his campaign and took part in the "shadow leadership" of the election headquarters, the official head of which was Dmitry Medvedev. None of the decrees or orders of the President were not issued without Voloshin endorsing it.
Source: Vedomosti, 07 March 2000
In 2002 Vyacheslav Aminov, Voloshin's adviser, was arrested while trying to bribe Nikolay Patrushev, the FSB director. According to rumours, a collection of amateur videos, compromising Voloshin, was seized from Aminov. This, however, did not prompt the dismissal of chief of Presidential Administration.
Source: Novaya Gazeta, 30 October 2003
The October 25, 2003 arrest of Mikhail Khodorkovsky, head of Yukos, led to a political crisis in the Kremlin. Voloshin, angered by the fact that he had not been informed of the planned arrest of Khodorkovsky, informed the President on October 25 about his intention to resign, and Putin did not try to talk him out of it.
Source: Kommersant, 29 October 2003
According to media reports, Khodorkovsky, after the onset of law enforcement agencies on his company, was counting on Voloshin's support, and if Voloshin had resigned earlier, after the July 2003 arrest of Platon Lebedev, the head of MENATEP, Khodorkovsky would have understood the signal and left the country.
Source: NEWSru.com, 28 July 2003
In July 2005 Berezovsky, who was hiding from prosecution in London, made accusations against Voloshin. He announced that in 2000 he and his business partner Badri Patarkatsishvili was sold to Roman Abramovich their stake in Sibneft, Russian Aluminum, and ORT TV network at a lower price. Berezovsky said that he was forced to sell his assets at unprofitable prices under pressure from Putin, Abramovich, and Voloshin. "In fact, they used racketeering against me," he said claiming that he had evidence revealing political motivation in the actions of the mentioned officials.
Source: Kommersant, 05 July 2005
In 2005 Voloshin was involved in a scandal which sprang because of the report of the committee headed by Paul Volcker, former chairman of the U.S. Federal Reserve. The commission responsible for investigating possible corruption in the implementation of the UN Oil for Food programme in Iraq (1996-2003), determined that Saddam Hussein received from foreign partners about 1.8 billion dollars in bribes for granting benefitial contracts and rights to purchase Iraqi oil. Volcker's list included 2,400 companies from around the world. Among the Russian mediators, which, according to Volcker's commission, paid bribes to Iraqi officials, there were, in particular, Liberal Democratic Party top official Vladimir Zhirinovsky, and Communist Party head Gennady Zyuganov, the representatives of the Russian Orthodox Church, and Voloshin.
For Voloshin the scandal was resolved in a good way. It turned out that his signature on the documents was forged, which resulted in a scandal about forging Voloshin's signature.
Source: Kommersant, 29 October 2005
In November 2008 Voloshin was involved in the settlement of the shareholder conflict in Norilsk Nickel Mining and Metallurgical Works. Vladimir Potanin, Interros investment company president and chairman of the board of directors of Norilsk Nickel (30%), and Oleg Deripaska (via Rusal he owns a blocking stake) became forced partners of the Mining and Metallurgical Works. As a result of their disagreement over the consolidation of the company, none of the parties could implement its plans, and Norilsk Nickel CEO Vladimir Strzhalkovsky even offered the state to buy out Rusal's blocking in the plant. However, in November Potanin announced that the conflict of shareholders was put an end to. It was reported that the parties intended to maintain a coherent policy on all major issues. Principle of parity would be introduced to the board of directors of the company, with Voloshin becoming a board member as a representative of the state. On December 26, 2008 during a Norilsk Nickel shareholder meeting Voloshin was elected chairman of the board of directors.
Source: Vedomosti, 27 November 2008
An annual meeting of Norilsk Nickel shareholders was held in late June 2010 to elect new board members. Vasily Titov, first deputy chairman of the board of trustees of VTB, became chairman of the board, whereas Voloshin was no longer even on it.
Source: Kommersant, 29 June 2010
In September 2010 Voloshin was elected chairman of the board of directors of Uralkali OJSC, the major shareholders of which are Suleiman Kerimov who owns 25%, Aleksander Nesis who owns 13.2%, Filaret Galchev who owns 13.2%, and Dmitry Rybolovlev who owns 10%.
Source: RBC, 20 September 2010
On April 1, 2011 Voloshin returned to the post of chairman of the board of directors in Norilsk Nickel, but at the meeting of shareholders, held on June 21, 2011, the post was given to Andrey Bugrov, Interros deputy CEO. Voloshin remained an ordinary member of the board of directors.
Source: The Russian Mafia, 21 June 2011