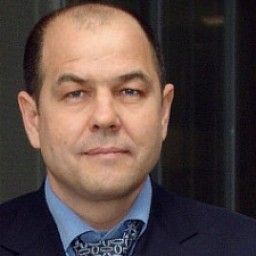 Biography
Alexander Zaribko (born in 1962, Pinsk, Byelorussia) is a graduate of Kaliningrad College of Military Engineers. His college mate, Nikolai Vlasenko, became his business partner.
In 1991 Zaribko established Viktoria Group. In 2009, Viktoria was among Russia's 25 largest retail businesses. Until recently, Zaribko owned a 32.92% in the company. In 2005, he sold and pledged a large portion of his shares and started his own retail project. He set up Almi Group, which bought up grocery stores in Russia and Byelorussia and launched a new chain of retail outlets. One of the first supermarkets was opened in Pinsk.
Zaribko plans to establish a football academy in Pinsk.
Source: labyrinth.ru, ibank.by
Dossier
In 2007, Renaissance Pre-IPO and Kazcommertsbank's East Capital, both investment vehicles, bought a 5% stake in Viktoria from the chain's founders Alexander Zaribko and Vladimir Katsman. The vehicles planned to sell the securities after Viktoria's public listing in 2009. Zaribko and Katsman invested over $50 million, which they gained from selling the shares, into their own commercial projects. Zaribko invested into Almi, a retail chain in Beylorussia and Moscow, whereas Katsman launched a restaurant in Kaliningrad.
When Viktoria dropped the listing plans in 2009, the businessmen prolonged their contracts with the hedge funds until 2011. Previous agreements stipulated a repayment for Zaribko and Katsman's 5% stake or selling another 11% of shares in Viktoria to the vehicles in case the listing failed. After Viktoria did not go ahead with the IPO, the vehicles agreed on restructuring Zaribko and Katsman's debt, because taking possession of the shares they had pledged was unprofitable for the funds. The funds wanted to find a buyer for the shares.
Russia Partners got interested in buying the securities, but the deal failed. Russia Partners wanted to get a controlling stake, but Viktoria's co-owner Nikolai Vlasenko refused to sell his shares. Moreover, Zaribko and Vlasenko became divided over the future of the company, which frightened off potential buyers. Nikolai Vlasenko was replaced by Zaribko as chairman of the board of Viktoria, following the conflict.
Source: Kommersant, 18 December 2009
During 2010, Kaliningrad-based grocery chain Viktoria was preparing for initial public offering in order to raise capital for growth. The company continued to consolidate its retail business. Viktoria bought a regional grocery chain in Tula, called Semeynaya Kopilka, and was considering the possibility of buying 5-6 regional chains. The company raised its market capitalization in order to attract a possible buyer. Late in February 2011, Russia's large food retailer Dixy Group acquired Viktoria. Nikolai Vlasenko, Alexander Zaribko and Vladimir Katsman became minority shareholders of Dixy.
Source: RBK, 16 January 2012
On 1 September 2011, in an accident on Novorizhskoye Highway, west of Moscow, a collision took place between a billionaire owner of a chain of supermarkets called Viktoria in a Mercedes S-Class and a sports motorbike, who died at the scene. According to a witness, the motorbike violated traffic rules and caused the accident. Investigators "believe that they don't have any reason to launch a case", said a spokeswoman for the investigative committee in the Moscow region, the RIA Novosti news agency reported. A police spokesman told RIA-Novosti: "Our investigators have ruled that there are no grounds for criminal charges against Zaribko". The video filmed by a dashboard camera on another car shows the driver apparently changing lanes at high speed, colliding with the biker and throwing him onto the hard shoulder before continuing without slowing down.
Source: Kolesa, 1 September 2011, The Moscow Times, 2 September
After Alexander Zaribko killed a biker, Viktoria chain disassociated itself with him. A representative of the company said, "Since 2 months ago, Alexander Mikhailovich has not been a co-owner or a director of Viktoria. Currently he does not fulfill his duties and has nothing to do with the company. The contract to sell his shares was signed with Dixy." However, on Viktoria's official web page, Zaribko is still mentioned among the directors of the chain.
Source: LifeNews.Ru, 31 August 2011
In September 2011, it emerged that Viktoria food retailer founders Nikolai Vlasenko, Alexander Zaribko and Vladimir Katsman received only a portion of $650 million, which Dixy paid for their regional medium-size chain. According to the agreement "about possible refund", 3 billion roubles ($100 million), that amounted to 15% of the deal, went to a depositary fund, established to cover for Dixy's possible monetary risks and losses in future. Dixy completed the deal to acquire Viktoria on 20 June. Viktoria was bought for 20 billion roubles (approximately $650 million) minus debts. After merger, three shareholders of Viktoria received a 13.1% stake in Dixy and expected to get 13 billion roubles ($422 million) in cash.
As of now, Vlasenko, Zaribko and Katsman received only 10 billion roubles ($324 million) with the remaining sum going to the deposit.
Source: rugrad.eu, 30 November 2011
In 2011, Alexander Zaribko's fortune tumbled, making him slip 118 spots in the ranking. Zaribko was tied at no. 376 with the net worth of 7 billion roubles.
Source: Finans, 14 February 2011