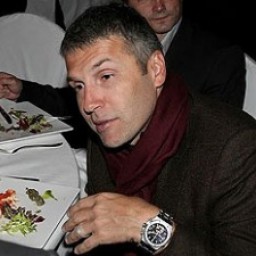 Biography
Aleksandr Zayonts was born on 10 January 1967 in Moscow. In 1989 he graduated from Moscow Chemical Technology Institute named after Mendeleev.
In 1994-1998 he was Tekhnosila vice-president
In 2000-2001 he was Kurant zerno CEO
In 2001-2001 he was Rusagro vice-president
In 2001-2001 he was head of a department in the Russian Federation Ministry of Agriculture
In 2003-2004 Aleksandr Zayonts was deputy CEO at NIVO
In 2004-2007 he was vice-president of M. Video
Since 2007 he has been co-owner of Domashniy Intetier LLP (Kika)
Source: Forbes
Dossier
In 2004 Zayonts began working for M. Video. Previously he served as vice president at Rusagro. According to the principal co-owner of Rusagro, Vadim Moshkovich, Zayonts is no longer a Rusagro co-owner, since in 2001 he sold his shares to Moshkovich, who disclosed no information as to the size of the package. Prior to joining Rusagro Aleksandr Zayonts served as vice-president at Tekhnosila. According to some information, he was also a Tekhnosila shareholder.
Source: TAXHELP, 10 August 2007
In October 2007 M. Video revealed the structure of its capital stock. This event shocked M. Video book-runners who were to contribute to the company's IPO. During the presentation of Renaissance Capital, one of the M. Video guarantors, it was announced that Tynkovan owned 61% of the company, 13.5% was owned by his brother Mikhail Tynkovan and the chain's CEO Pavel Breyev, and 12% belonged to a member of the board of directors, Aleksandr Zayonts. Zayonts sold his package during the IPO.
Source: RBC Daily, 16 October 2007
In late 2007 M. Video was the first and the last Russian company outside food industry to hold IPO. Shareholders, including Aleksandr and Mikhail Tynkovan, Pavel Breyev and Aleksandr Zayonts got 365 million dollars for 29.2% of shares. About $ 125 million went to Zayonts, who sold all his shares and left M. Video.
Source: LiveRetail, 09 December 2009
In June 2008 former M. Video co-owner Aleksandr Zayonts, who gained about $ 125 million during the company's IPO, announced launching a chain of Austrian company Kika Group stores in Russia.
Source: AdMe-Siberia, 27 April 2009
I n 2009 former M. Video co-owner joined Tervolina store chain board of directors. According to Aleksandr Zayonts, he received the invitation to join the board from the network owner Vadim Stepanov. According to the businessman, he did not plan to invest in the capital stock of the company.
In 2008 Tervolina saw little development. In September 2008 the Investigative Committee under the Russian Interior Ministry accused Stepanov under Part 4 of Art. 159 of the Criminal Code (fraud on a large scale), namely the theft of land in Odintsovo district near Moscow. The arrest of the company owner came about in the beginning of the crisis and the company closed down a few stores in Moscow and regions. It also had problems with liquidity. On 6 April Moscow City Court decided to release Stepanov on bail, and by September the businessman had money to invest in Tervolina working capital.
Housing Finance Bank, owned by Kirill Pisarev and Yuri Zhukov, longtime friends of Stepanov's and PIK founders, provided a credit line for Tervolina up to $ 10 million. Subsequently the loan could be converted into shares of the company. Zhukov was especially interesting in entering the capital of the retailer, told acquaintances of the entrepreneur. In September Gregory Shirin, director of Clever Asset Management Fund owned by Zhukov, joined Tervolina board of directors.
Shirin claimed that the company's liquidity problem was completely solved. Sberbank prolonged terms of loans it had provided. But there is a need for the company to work on the strategy of further development. It was this issue that Aleksandr Zayonts was to assist in. In addition to membership on the board, the businessman headed a committee on strategy. Gregory Shirin said that Zayonts had many ideas, in particular, those concerning store format and assortment.
Source: Magazin Magazinov, 2 November 2009
Former M. Vodeo top-manager and co-owner Zayonts joined the board of directors of Magnit store chain. He was elected by the shareholders in a vote held at an annual shareholders meeting.
Source: Arendator.ru, 28 June 2010
In spring 2009 Domashniy Interier bought a franchise of Austrian furniture company Kika, one of the largest companies on European furniture market. At that point Kika seemed interesting to the businessmen as it was new for the Russian market. Kika provided an opportunity to buy a broadest range of household items, including bed linen, in one store. The initial franchise agreement for Kika was a long term one. A chain of 5 stores was established in 2 years. But soon Domashniy Interier owners claimed that the franchise had low performance index in Russia. At first Domashniy Interier was buying most of the items from Kika, but over time some categories saw a 100% change in assortment as, allegedly, mane European Kika suppliers were interested in entering Russian market which resulted in direct supplies to Domashniy Interier. Thus, Kika turned into an unwanted mediator. However, furniture market experts did not deny the possibility of Kika terminating the franchise due to the changes Domashniy Interier introduced in the assortment in its effort to adapt the format to Russian market thus altering the whole business, which Kika saw as new business having nothing to do with the format of the initial franchised brand.
Source: kupi-franshizu.ru, 04 October 2011
In 2011 Domashniy Interier LLC, a chain of furniture and household items supermarkets, among the co-owner of which there were former M. Video top-managers Mikhail Kuchment and Aleksandr Zayonts, terminated a franchise agreement with Austrian Kika.
Source: RIA Novosti, 28 July 2011
In 2011 Finance magazine list Zayonts ranked 481st, his fortune at 4.9 billion rubles. Compared to the 2010 list, he lost 72 positions.
Source: Finance, 14 February 2011