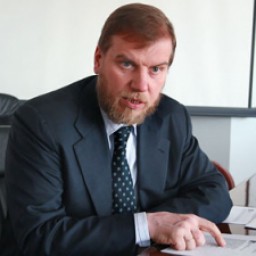 Biography:
Aleksey Ananiev was born on August 24, 1964 in Moscow.
He graduated from Moscow Maurise Thorez Institute of Foreign Languages. He holds a degree in translating (Portugese and English).
1987-1989 He worked as a translator from Portugese in USSR Youth Organization Committee (a body resposible for international relationships of Soviet youth organisations)
1987-1992 deputy director general of Soviet-Dutch joint enterprise "Tekhnoserv"1992 he founds "Tekhnoserv A/S" (renamed to "Tekhnoserv" in 2008) and becomes the chairman of the board of directors and head of advisory council. The company imported second-hand computers, mainly manufactured by IBM.
1995 together with his brother Dmitry he found Promsvyazbank
1998-2002 member of the board of directors of Tambov Meat Product Joint Stock Company
2001-2003 member of the board of directors of Minsk Trade Firm (Closed JSC)
2000-2002 member of the board of directors of Pnevmostroymashina JSC
2005 He obtained Executive MBA degree from the School of Business of the University of Chicago.
2006 - present day chairman of the board of the directors of Promsvyazbank
He is ranked 38th in the list of "Top 100 businessmen of Russia". His wealth comprises $ 1.6 billion (2010).
His brother Dmitry Ananiev is a member of the Federation Council of Russia. Since September 2006 he has represented the legislative body of Yamal-Nenets Autonomus National Area.
Aleksey Ananiev has a reputation of 'Orthodox oligarch'. He helps around the perish church and sings in a church quire. He is a renown Russian Orthodox Maesenas and a church patron. He adverises himself as 'an Orthodox banker'.
According to Forbes magazine, Promsvyaznedvizhimost, a subsidiary of Promsvyazbank, owns 60000 hectares of land in Moscow Region.
Source: Wikipedia
Dossier:
According to the World Bank Group, in 2001 Promsvyazbank controled 50% holding in «Pressa-1» printing establishment that prints a number of Russian newspapers and magazines. The remaining stake belonged to the presidential secretariate.
In 2002 the Ananievs acquired the majority holding of «Arguments&Facts» Publishing House. Soon the house stopped publishing a supplement to the weekly newspaper «AiF-Love», because the owner considered the materials which were being published obscene.
Source: Nezavisimaya gazeta, 30.11.2005
It is considered that the Ananiev brothers entered the Council of Federation in 2006 with some assistance from Mr Sergey Mironov, whom they then treated as their godfather in politics. This fact leaves room for speculations that Promsvyazbank was somewhat involved with funding Just Russia party.
Source: Company, 06.29.2009
In October 2007 law enforcement agencies carried out searches in the Promsvyazbank headquarters, one of its Moscow offices and in Promsvyaznedvizhimost (closed JSC), a subsidiary company of this finance and credit organization.
The officers were looking for paperwork concerned with the scandal around the headquarters in 7, Derbenevskaya qyay.
Law enforcement agencies received a claim filed by Mr Leonid Belkin, the owner of the building and head of Property marketing consulting group, Ltd. According to Mr Belkin, starting with June 2007 there were attempts to illegally bring the building into ownership of the former landlord Fora-Farm, Ltd. A body within the Ministry of Internal Affairs initiated a criminal case over fraud under art.159 of the Criminal Code of the Russian Federation. A number of people are suspected, including a high-profile member of the Promsvyazbank staff, Mr Andrew Starikov. Investigators were certain that the bank was only a financial tool in this case.
Instead of publicizing the official grounds for the searches conducted in Promsvyazbank, mass media gave several unofficial ones. For example, there were speculations that the searches were aimed at disrupting the bank's plans about a planned IPO. Another rumour was that the searches were part of the election campaign. Some witnesses claim that the searches of brothers Ananiev's bank were initiated by United Russia party as Promsvyazbank's owners, members of Just Russia, are their rivals on the upcoming elections.
Source: online newspaper Wek, 10.31.2007
In 2002—2003 a number of businessmen took interest in the land of the collective farm Leninsky Luch, located in Krasnogorsky and Odyntsovsky districts near President Vladimir Putin's residence Novo Ogaryovo. As a result the land was illegally taken from the collective farm and sold.
Some sources claimed that the land was sold to entities controlled by Mr Alexander Sabadash, senator of the Chuvash Republic, Mr Leonid Lebedev, owner of Sintez, and the Ananiev brothers, owners of Promsvyazbank. Aleksey and Dmitry Ananiev sold the land to Mr Iskander Makhmudov and Mr Andrew Bokarev, owners of Kuzbassrazrezugl. Mr Ananiev's representative did not comment on the situation. And Mr Bokarev's representative affirmed that the land had been bought from Promsvyazbank.
In 2003 the Moscow region investigating office initiated a case over 714 hectares of land embezzlement from the Leninsky Luch collective farm. And on October, 30, 2008 Krasnoyarsk city court ruled illegal a number of transactions which brought 347 hectares of Leninsky Luch land in Krasnogorsky district into the ownership of Niva (closed JSC)and Pleshcheyevo (closed JSC).
Source: Vedomosti, 02.19.09
In 2007 Mr Oleg Mikheev, owner of Volgoprombank, faced claims of tax authorities. Enterprises controlled by Mr Mikheev were suspected of tax dodging, which resulted in searches conducted in the bank. This situation triggered a loss of depositors and attracted the attention of the Central Bank. A regulator ordered the bank to take urgent measures to avoid bankruptcy.
"Central Bank's regulations gave very little time for the transaction. We signed the paperwork at night and of course it was not fully reconciled", says Mr Mikheev.
He sold 86.88% of Volgoprombank's shares for as little as 79 million rubles, which is several times cheaper than their market price, yet with an obligation to further pay out a premium. The lawmaker says he did not receive the mentioned premium.
Source: Marker newspaper, 01.26.2011
In January 2010 Promsvyaz Capital B. V. Owners, the Ananiev brothers, filed a lawsuit against Mr Oleg Mikheev, a State Duma member. They claimed that Mr Mikheev had violated the privacy policy that was part of the sales agreement of the Volgoprombank and demanded him to pay 139 million rubles. The lawmaker questioned the legality of the Volgoprombank - Promsvyaz Capital B.V. sale in an effort if not to regain the ownership than to at least collect 6.5 billion rubles from the Ananiev brothers that he considers to be entitled to receive as compensation. Source: globalmsk.ru, 01.27.2011
In St. Petersburg in February 2011 the Investigating office officers accused Mr Andrew Mansky, a co-owner of Deka JSC (a major manufacturer of kvass in Russia) and Nevsky Bereg brewery, of a large scale fraud. The officers say that the businessman involved in organized crime took out Deka's brands like Nikola or Bolshoi Kvass to off-shore financial centres. Mr Konstantin Barinov, the co-owner of both enterprises, is the victim in this case.
Mr Konstantin Barinov and Mr Andrew Mansky both owned half of the Deka shares. They developed Nevsky Bereg brewery mostly on loan money where they often used their Deka stocks and assets as collateral. In August 2010 the shareholders and the major lender, Promsvyazbank JSC, signed a tripartite agreement on the loan restructuring. The total debt of Nevsky Bereg ran up to 2 billion rubles, 1.265 billion overdue. However in October 2010 the production capacity of the brewery was seized by security agency employees contracted by Mr Andrew Mansky.
At the same time a meeting of the board of directors of Nevsky Bereg that took place in Promsvyazbank facilities made the CEO, Mr Konstantin Barinov, redundant. Soon after it turned out that the businessman was deprived of his Deka shares as well.
According to Mr Barinov, "Mr Andrew Mansky colluded with Promsvyazbank. Once Nevsky Bereg was taken over, the bank lifted its claims against Deka that had been filed to the Arbitration Court of Petersburg and Leningrad region. The bank also withdrew its claims filed against Mr Mansky to the courts of general jurisdiction". Mr Mansky as well as Mt Barinov was a guarantor to the loans pending on Deka and Nevsky Bereg. Mr Barinov ended up being the only person liable for the debt although the business had already been taken away from him and his personal assets had already been arrested.
Source: Kommersant St. Petersburg, №28 (4568), 02.17.2011