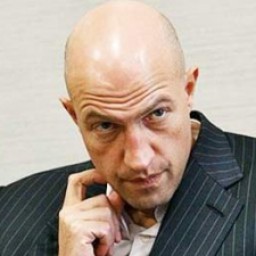 Biography
Reznikovich was born on 15 April 1968 in Moscow. His father is a theater director.
In 1986-88 he served in the army, at first in a sport unit, and then in the anti-missile forces.
In 1991 he graduated from the Economics Faculty of Moscow State University.
In 1993 he received his MBA in Georgetown University, USA, and business school INSEAD, France.
In 1992-1993 he worked for Procter & Gamble in Italy and Transworld in the U.S..
In 1993-98 he worked for consulting firm McKinsey & Co in Italy and the United States.
From December 1998 to 2000 he was a partner in McKinsey & Co. Reznikovich established EMAX, engaged in a new business direction, namely development of Internet centres in Russia.
In February 2001 he became director of EMAX and CAFEMAX.
In 2002 he became Alfa Group board member, responsible for business development and control over asset management. In the same year he joined bodies controlling telecommunications assets of the group.
In June 2005 Reznikovich was appointed chief executive officer of Altimo.
From June 2008 to April 2010 he also headed VimpelCom board of directors.
He is married to Anastasia Chukhrai and has two daughters, one of which is Chukhrai's daughter from her previous partner.
In 2011 Reznikovich's fortune was about $ 250 million.
Source: Forbes
Dossier
Reznikovich revealed details of his early career quite unwillingly. It turns out that when in 1991 he intended to pass the external examination to finish university in Russian and to go off to study in the USA, he was asked to take about twenty exams. Reznikovich thought it was "physically impossible", was released in a sabbatical, and went to the U.S. without his degree. There at first he engaged in teaching fencing in a children's summer camp and worked in the university which he intended to enter.
Source: Snob.ru, A. Reznikovich member profiles.
By 2005 problems in Alpha's telecommunications business had grown so much that Reznikovich's appointment as chief executive officer was regarded as an attempt to improve on the negative attitude to the consortium before the sale of its Russian assets. Market analysts could not point out any merit of Reznikovich as a manager, but they noted that he did not have the scandalous reputation most Alpha executives did in the West. It was extremely important for Alpha to have asset sales talks performed by a person whose professional reputation was unsoiled.
Source: Novaya Gazeta, 30 May 2005
In 2007 Reznikovich's Altimo holding bought from an Iranian businessman Mohammed Mohammedi 49% of the local mobile operator for $ 11 million, pledging to invest $ 300 million in its development. The remaining 51% stake in mobile operator, in accordance with Iranian law, remained with local investors. Holding tried to keep the deal a secret. The secrecy was due to the fact that the U.S. government imposed sanctions against the Iranian government hostile to them. Moreover, the very transaction was made on a loan taken out of Iranian Bank Saderat, suspected in financing the Arab terrorist group Hezbollah. Because of this, any organization doing business with Bank Saderat could be embargoed by the United States.
Source: Cnews, 02 July 2007
In summer 2007 at Kinotavr festival in Sochi presenter Anastasia Chukhrai was visibly pregnant. She gave no direct answer to paparazzi questions concerning the father. But one of her friends betrayed the secret of Chukhrai's pregnancy. The father was Reznikovich, whom Chukhrai married shortly before the festival in secret from the press. Before that Anastasia Chukhrai was in a relationship with Aleksandr Mamut, the owner of Troika-Dialog, from who she has a daughter.
Source: Express Online, 15 June 2007
VimpelCom said Monday that its board approved a revised $6.5 billion combination with Naguib Sawiris's Wind Telecom, but Telenor's three board members voted against the deal, accusing Alfa of deception, effectively ending a truce between VimpelCom's two leading investors.
"At least from our side, we do not see any conflict, any scandal or whatever," said Alexei Reznikovich, chief executive of Alfa`s Altimo telecom holding company, in an interview. "It`s not anything closely or remotely resembling a divorce."
Still, Mr. Reznikovich declined to make any concessions to Telenor, and he hinted that Mr. Sawiris might gain board seats, strengthening his position in VimpelCom at the expense of others on the board.
Source: The Wall Street Journal, 20 January 2011