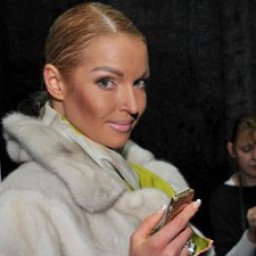 Bio:
Anastasia Volochkova was born on 20 January 1976 in Leningrad into a family of a table tennis champion of the Soviet Union and Europe and a guide.
In 1994 she graduated from the St. Petersburg Academy of Russian Ballet and started her career as a prima ballerina of Mariinsky Theatre.
In 1998 choreographer Vladimir Vasiliev invited Volochkova to the Bolshoi Theatre. She got the leading part of Swan Princess in his new Swan Lake production.
In 2000, after the tour on Great Britain, Volochkova got an engagement to English National Ballet in London and at the same time danced minor parts at Bolshoi Theatre. However, in March 2000 Volochkova returned to Moscow and signed a contract for leading parts at the Bolshoi for the next season. By that time Volochkova had changed into a socialite and tabloid star, and was a constant guest of numerous TV shows. She became the face of Chopard jewelry.
In 2000-2005 a conflict between Volochkova and the Bolshoi Theater administration recurred periodically. In September 2003 Volochkova was officially fired from the Bolshoi Theater. Despite the fact that the court decided for Volochkova, she had to leave the Bolshoi voluntarily.
Since 2005 Volochkova has started a solo career: she acted in films, television series and commercials.
In 2007 Volochkova participated in Ice Age, the programme of Pervy channel where professional figure skaters trained and performed with celebrity amateurs. Volochkova's first partner was Anton Sikharulidze. In 2009, during the third season of the show, she skated with Maxim Marinin.
In 2009 Volochkova applied for mayor election race in Sochi, but she was denied registration.
On 17 June 2010 Volochkova wrote a thesis and received MBA degree at Moscow Graduate School of Economics.
In 2003-2011 Volochkova was a member of Edinaya Rossiya ruling party.
Volochkova was married to businessman Igor Vdovin. She has daughter Ariadna by him, born in 2005.
Awards:
Honored Artist of Russian Federation
People's Artist of Karachai-Cherkess
People's Artist of North Ossetia-Alania
Winner of Serge Lifar International Ballet Competition
Golden Lion, the highest prize of Venetian Festival
Benois de la Danse, the prize of ballet competition under the International Dance Association in Moscow
According to Forbes, in 2010 Volochkova earned 800 thousand dollars. Volochkova herself claimed that her income had been much grosser. However, the exact figures were not voiced.
Source: Wikipedia

Dossier:
In 2000, Volochkova was forced to leave Bolshoi Theatre. Officially, the contract was not renewed "on creativity grounds." Despite this fact, Volochkova was invited to Sleeping Beauty production of the English National Ballet by choreographer Derek Deane. In 2001 she danced the leading part in Carmen Suite choreographed by Alberto Alonso in London.
Source: Nezavisimaya Gazeta, 15 June 2000


In 2001 Volochkova was invited to the Bolshoi Theatre again to take part in Swan Lake at the request of choreographer Yuri Grigorovich. Volochkova was said to be his strong favourite. Volochkova's official website reported that Swan Lake production "drew an unparalleled wide public response and contributed to Anastasia's immense popularity and success of her other projects in Russia." However, critics were far less enthusiastic : "Beautiful, stately, cold and self-sufficing in every pas. The only thing she did was self-admiring."
Source: Kommersant, 6 November 2001

In April 2002 Volochkova was awarded with Benois de la Danse prize established by Grigorovich in 1992. She was the winner of Best Dancer nomination. During the award ceremony a scandal broke out. When the winner was announced, the audience started laughing, clattering and whistling. Even "Shame!" shouts could be heard.
Source: Moskovskaya Pravda, 28 May 2002

It was rumoured that Volochkova had got public recognition due to her powerful admirers. At different times she was said to have an affair with billionaire and president of Stroimontazh corporation Sergey Polonsky, State Duma deputy and co-owner of Nafta-Moskva oil company Suleiman Kerimov and businessman Vyacheslav Leibman, whom Volochkova was said to lead away from her friend Ksenia Sobchak. British lawyer Anthony Kerman, the vice-president of the English National Ballet, got popularity for Volochkova with his money. Kerman left his wife and two sons and became Volochkova's shadow.
Source: Komsomolskaya Pravda, 9 October 2003

At the end of 2003 Bolshoi Theatre offered Volochkova a four-month contract instead of annual one. Volochkova refused to sign it and some time later accused theatre directorate of oppression. After that Volochkova filed a lawsuit against the administration of the Bolshoi Theatre and was reinstated by a court decision. However, the conflict was not settled. The Bolshoi offered Volochkova only solo parts, as they allegedly could not find her a suitable partner, congruous to her body constitution. Volochkova insisted on her former repertoire. Besides, she was said to demand taking part in certain performances because its dates were suitable for her.
Volochkova considered remarks about her height and weight as an insult and in spring 2004 she went to law, but lost the case.
Source: Gazeta.ru, 15 April 2004
Despite Volochkova's popularity, critics rarely spoke of her favourably. Moreover, they repeatedly drew attention to her flawed technique – low jumps, simplification of choreographic figure, broken plastique, bad turnout and so on. At the same time, when interviewed, Volochkova was called "a legend" and "prima ballerina of russian ballet"
Source: Kommersant, 5 December 2007

In spring 2009 after Volochkova had nominated herself as a mayor candidate in Sochi, it became known that the election committee had denied her a registration because she had not stated her date of birth while signing a bank cheque for the election deposit. Volochkova called this reason absurd and illegal and announced she would file an appeal against the decision. However, Sochi district court and Krasnodar regional court confirmed the decision of the election committee.
Source: Vesti.Ru, 3 April 2009

In January 2011 Volochkova posted to her blog nude pictures of her taken during her Maldives vacation. "When at such a magic place like Maldives, one doesn't want to dress up. On the contrary, one is eager to pull off all the clothes and merge with nature," Volochkova commented. But this "magic place" is a Muslim country. It is strictly forbidden to swim naked there and even topless sunbathing results in a fine of $ 1,000.
Posting photos was not an impulse of heart, though, as in March 2011 Volochkova deliberately added more pictures to heat public interest.
Sources: News.ru, 13 January 2011
In January 2011, Volochkova wrote a blog post and announced quitting Edinaya Rossiya. Volochkova explained she was disappointed, as the party had not supported her at hard times, party leaders ''came to me only when they needed publicity, only to make me be noticed under their party banners. " "As a matter of fact, what is it, your party? I am more than your party myself! ", she said when interviewed by the party portal.
Volochkova stated that one of the reasons she had stopped her membership was negative reaction of ''party old bags'' to her nude photo shoot. Another reason was that she had been deceived about the letter on Khodorkovsky's conviction which she had signed without reading. "I signed it. And then, when the whole country was up in arms against me because I was against Khodorkovsky, I cried, you know! Because I was really cheated. And maybe this is the reason, by the way, why now I want to say goodbye to this f ... Edinaya Rossiya . Because everything is false there and because I've just been cheated. In fact, I have great respect for Khodorkovsky, because he cared about people and children, and I'm sorry for Khodorkovsky's mother. "
Sources: an interview to radio Svoboda, 2 February 2011

On 11 February 2011 Volochkova came down on deputy head of presidential administration Vladislav Surkov. She said it had been he who had put pressure on Pervy channel and NTV channel and made them take off the air all the programmes she had taken part in. Nevertheless, Let Them Talk programme, devoted to Volochkova's 35th anniversary, went on the air on 20 April 2011, several months after it had been made.
Source: BBC Russian Service, 12 February 2011

On 26 March 2011 Volochkova posted an announcement that her email had been hacked. Volochkova rashly blamed Edinaya Rossiya for that. Later she deleted that post, all the more because, as she stated, there had been almost nothing compromising in her e-mail box. Volochkova said that the only exception had been pictures of ballet director of the Bolshoi Theatre "holding someone's cock in his mouth." Ballet director Gennady Yanin was actually fired after porn pictures of ''the man looking very much like Yanin'' had appeared on the Internet. Volochkova succeeded in her revenge.
Source: Lifestyle, 26 Mrach 2011