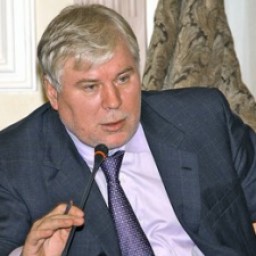 Bio:
Anatoly Kucherena was born on 23 August 1960 in Myndra village of Calarasi district, Moldavian SSR.
In 1991 he graduated from a law school in Moscow.
In 1995 he founded and headed Argument law firm. In 2003 it was transformed into the Bar Kucherena and Partners.
Since 2001 he has been the head of a legal practice and notariat department at Moscow
State Law Academy.
In 2003 he defended his doctoral thesis on contribution of the Bar to development of civil society in Russia.
Since 2006 he has been the chairman of the RF Public Chamber for public scrutiny of police activities, law enforcement bodies and the reform of the judicial system.
Sources: kucherena.ru; Polit.Ru, 1 February 2007

Dossier
Prominent lawyer and member of the Public Chamber Anatoly Kucherena is going to take away his two-year old daughter Anastasia born out of wedlock from his former mistress Olga Maidan. Kucherena is ready for a "settlement", though. He offered Olga, who at the time lived in Sochi with her daughter, temporary registration at one of his flats in Moscow and monthly maintenance of $ 10 thousand. Only under these slave-like terms Olga is allowed to stay with her daughter.
Source: FLB, 22 December 2005

The litigation between 45-year old lawyer Anatoly Kucherena and his 30-year-old mistress Olga Maidan, who ran away from him along with her daughter to Sochi where her parents lived, has been lasting since autumn 2005. The Central District Court in Sochi held that Nastya was to stay in Moscow with his father. The court disregarded petitions of her mother, who on doctors' advice still feeds her daughter from breast in the morning and at night. At the court documents there were no records on the fact that Kucherena was married. The judge did not even asked about reaction of his 48-year-old spouse, who had no children, to a little girl by the mistress of her husband.
A few days ago Krasnodar regional court confirm the verdict: the two-year old girl would live with her rich daddy.
Source: Express-gazeta, № 14, 7 April 2006

All-Russian Conference of interest holders was held on November 30 in Moscow. Over a thousand leaders of initiative groups of victims from 57 regions of Russia gathered together. Interest holders resisted populism and so-called solution of the problem and attempts to gain popularity on people's trouble. As they considered, this was the reason for member of the Public Chamber of Russia and head of special working group on defrauded interest holders Anatoly Kucherena to report that he had developed a law which would settle the problem with real estate investors through monetary compensation. However, the "Savior of the dispossessed" failed. "The conference is against hasty legislative actions proposed, in particular, by the working group of the Public Chamber and some members of United Russia. They are populist and can cause nothing but disappointment and new problems. The idea of ​​returning to defrauded co-investors their money at par means a deception. People need not devalued money, they need houses! ", the resolution said.
So-called human rights activist and fighter for the rights of the disadvantaged Kucherena lost control. He jumped up from his seat and began to shout insulting words to the speakers. His clients will appreciate that as it is shocking behavior Kusherena is loved for. And the fact that, while studying "24 ways of cheating shareholders "and developing the new law, Kucherena became experienced in real estate business will attract new clients. For instance, recently, according to the Urals media, Kucherena was invited to defend former mayor of Kushva city of the Sverdlovsk region Igor Titov accused of state fund embezzling and illicit transfer of ownership of state apartments for a bribe. Kucherena's fee was $ 70 000.
Source: solomin, 13 December 2006

Much has been written about Yuzhnoye Butovo so to add more one should start with Anatoly Kucherena who along with well-known journalist Nikolai Svanidze is engaged in legal, or now rather political, aspect of the case.
It is unlikely, of course, that conscience was suddenly awakened and they got concerned about such a long-forgotten concept as equity. The matter is likely that a client was found who invested money in undermining Luzhkov's authority.
Source: Novosti Press Agency, 30 June 2006

Yesterday Khamovnichesky court in Moscow paid a defamation claim filed by Moscow Mayor Yuri Luzhkov and Chairman of Moscow legislature Vladimir Platonov against member of the Public Chamber Anatoly Kucherena. The judge held that Kucherena's phrase "Do not threaten us with reprisal" delivered during the conflict about Yuzhnoye Butovo in summer 2006 caused them damage totaling $ 130 thousand rubles.
Source: Kommersant, 6 March 2007

Well-known lawyer and social activist Anatoly Kucherena made a scene to traffic police after he had seriously violated the rules of the road.
Kucherena was driving his Mercedes on Minskoye highway. He was going back to his country house in Gribovo village. At the 26th kilometre of the highway he saw a column of cars waiting for a train to pass at the rail crossing. He did not want to wait and turned to oncoming lane, overtook all the cars and slipped away just in front of the moving train.
Few minutes later he was stopped by traffic police. Kucherena yelled to the officers "Do you know who I am? Well, I can really make you hell! All of you will get the sack! ". He phoned chief of Moscow region traffic police General Sergeyev . Police officers were given hard time for detaining Kucherena after he had shown them special deputy card entitling its owner to avoid inspection.
Life News has got a document stating that Kucherena produced the card which can only be used by intelligence officers. Meanwhile, another people fell prey of the scandal. Apart from traffic policemen who dared to stop "Kucherena the Great", their commanders suffered, too.
Source: Life.Ru, 11 October 2010; 12 October 2010