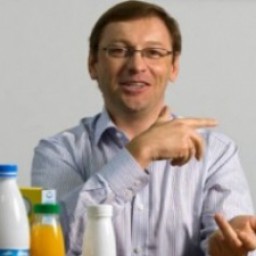 Bio :
Andrey Beshmelnitsky was born on 25 March 1967 in Voroshilovgrad city, now renamed as Lugansk . In 1984 – 1991 he was a professional football player. In 1989 he graduated from a teachers' training school in Stavropol.
In 1992 he headed a private company in Stavropol that was engaged in advertising and printing industry.
In 1994 he was a deputy director of Stavropol office of Inkombank public company.
In 1995 - 1998 Beshmelnitsky was a president of Agroinkom company and worked as a project manager for Inkombank.
In 1998 he headed an agricultural department of RaboInvest company and agricultural department of Moscow office of Rabobank bank.
In 1999 he was a deputy director-general and later was appointed director-general of Omsky Bacon group.
In 2000 he was appointed director-general of Planeta Management.
Since 2002 he has been director-general of Unimilk public company.
He was ranked 146 in the list of «the richest businessmen of Russia in 2011" made by Forbes magazine. His wealth was estimated at $ 650 million.
Beshmelnitsky is married and has two children.
Source: Mega-Stars


Dossier:
In 1993, owing to his connections, Beshmelnitsky was appointed deputy director of Stavropol office of Inkombank public company. Three years later he moved to Moscow and got engaged in buying up food companies for Inkombank. In 1997 he was reported to help Inkombank with purchasing of Omsky Bacon holding company, one of Russia's major producers of meat and meat products. His career there ended with complete financial collapse of Incombank after the default in 1998.
Source: Forbes Russia, 2 November 2004

On 24 November 1997 first deputy governor of the Omsk region Andrei Golushko said that "having deceived the shareholders", directors of Inkombank and Omsky Bacon made an agreement ''in collusion''. As a result, Inkombank purchased controlling stake of Omsky Bacon, the largest pig-breeding enterprise in Russia, only for 12 million rubles, whereas the property of Omsky Bacon was estimated at 1313 million rubles at the time.
On 28 November the governor of the Omsk region met with manager of the West-Siberian regional office of Incombank Siman Povarenkin. The next day he announced by the radio that about 20% of bank shares would be controlled by the local administration and local authorities would get the chairman's seat and veto power over social issues. None of this happened. In August 1998 financial crisis broke out and ''killed'' Inkombank.
On 16 November 1998 Property Fund of the Omsk region sold 19.96% shares of Omsky Bacon to Trussardy Lnvestments Limited company, registered in the Bahamas, for over 8 million rubles. As it became known later, retired president of Sibneft Andrei Blokh masterminded the deal, since he quitted Sibneft to start his own business.
On 21 May 1999 new board of directors were elected by shareholders of Omsky Bacon. Four of its seven members were Moscow representatives. Alexander Podgursky was appointed director-general, but Andrei Beshmelnitsky virtually managed the company.
On 8 September 1999 acting prosecutor of the Omsk region Viktor Grin filed a lawsuit to the arbitrage for annulment of the agreement between Property Fund of the Omsk region and Trussardy Investments Limited . On 28 October the court satisfied the claim and the company was prohibited from any share operations, including voting. Thus Andrei Blokh at once lost his controlling stake. Meanwhile, managers of Sibneft were actively buying up the shares of the company. Officers of tax and law enforcement agencies came to Andrei Beshmelnitsky almost every day. Shareholders were overwhelmed with leaflets that called upon to sell securities not to Trussardy Investments Limited, but to the Siberian oil company that was going to establish an "agro-industrial complex." Public campaign was set against Blokh's team.
As a result, on 1 February 2000 Blokh's managers officially quitted the enterprise. Management of Sibneft took over the company.
Source: Zakhvat.ru, 19 February 2011

After Beshmelnitsky and Blokh had quitted Omsky Bacon, they founded a new company called Planeta Management . In February 2002 it was reported that Oleg Tinkoff's Darya company that produced frozen products would make an alliance with Planeta Management, and that alliance was not supposed to have a common management company.
At the time Andrei Blokh was reported to meet with Roman Abramovich again and invite him to participate in the business. As a result, Planeta Management purchased Darya company, as well as Alyans retail company that owned 45 stores in Nizhny Novgorod, and more than a dozen refineries and dairy plants in Russia.
In spring 2003 activity of Planeta Management slowed down. Perhaps, this was the reason for divorce between shareholders of Sibneft and Blokh and Beshmelnitsky. In October 2003 enterprises of the Planeta group came under the direct control of Millhouse Capital, while Blokh and Beshmelnitsky received Unimilk dairy. The fact that it had not been originally planned was confirmed by Andrei Beshmelnitsky's guarded public statements: "We have different mentality. I'm from food industry, while they are oilmen. We have different experience, different perspectives, so not to conflict and not to make a compromise, we decided to part. We parted in a very quiet, peaceful and civilized manner. "
Source: Kommercheskie vesti, 17 June 2006

In June 2010 Unimilk and Danone French company announced the merger between their dairy assets in Russia and the CIS. Russian company got 42.5% of shares. Although French businessmen gained a majority of voting stock in Danone-Unimilk company, Andrei Beshmelnitsky was appointed chairman of the board of directors.
As a part of the deal, the owners of Unimilk received about 120 million euros.
Andrei Beshmelnitsky purchased shares of Rigas piena kombinats, the leading company of Latvian dairy market, on the money he had earned from that deal.
In early February 2011 Nadezhda Kryzhanovskaya, a member of Beshmelnitsky's team, joined the board of directors of Rigas piena kombinats. Beshmelnitsky confirmed his participation in the business of RPK. "The stake is large enough to influence strategic development decisions'', he said. A source close to the businessman said that the purchased shares were "at list enough for the blocking stake."
Source: MAonline.ru, 03 May 2011