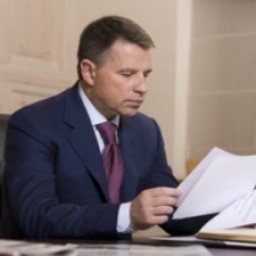 Bio:
Andrei Komarov was born on 11 October 1966 in Chelyabinsk. In 1990 he graduated from Moscow Institute of Chemical Engineering, now renamed as Moscow State University of Environmental Engineering, with a degree in technology and low-temperature physics, having acquired a profession of mechanical engineer.
In 1984 – 1986 he served in the army.
In 1989 – 1992 he was a manager and then an assistant director of Satyricon theatre in Moscow.
In 1992 – 1994 he worked as commercial manager for Segment small business in Moscow.
In 1992 - 1996 he chaired the board of directors of Taganay Metal Werke closed company that was engaged in production and export of steel and metal-roll, and also headed the North Caucasian transport company.
In 1994 – 1996 he was the director-general of Griff Gmbkh closed company in Moscow.
In 1996 - 2003 he was a deputy director-general responsible for strategic planning and later he chaired the board of directors of Chelyabinsk tube-rolling mill.
In 2003 - 2004 he was the chairman of the board of directors of Chelyabinsk tube-rolling mill closed company, formerly known as Joint tube mills Moscow closed company.
In 2003 -2005 he was a board member of Chelyabinsk tube-rolling mill company.
Since 2002 he has been a member of the International Union of Metallurgists and co-chairman of tube industry development foundation that brought together major Russian tube manufacturers.
In 2005 Komarov was elected chairman of the Public technical regulation council under the RF Ministry of Industry and Energy.
Since 2005 he has been representing Chelyabinsk region in the Federation Council of the RF Federal Assembly.
Since 2006 he has been a member of the Federation Council Committee on Natural Resources and Environment.
Since 2007 he has been a board member of ecologically sustainable development centre.
In 2009 Komarov sold Chelyabinsk zinc plant to Igor Altushkin and Andrei Kozitsyn and received guarantee fund totalling 5 billion rubles from the government.
He is married to Marina Komarova and has three children.
Source: Wikipedia

Dossier:
While being a student, Komarov started his career as a manger at Satyricon Moscow theatre. In the 1990s Komarov worked as the commercial director for Segment trade and intermediary firm that sold tubes, cars and ... women's underwear, according to SmartMoney . Later Komarov got engaged in logistics and metal trading.
Source: United Press, 19 September 2007

In 2006 Chelyabinsk tube-rolling mill disclosed the fact that Vladimir Khristenko, 25-year-old son of Viktor Khristenko, the Minister of Industry and Energy, worked for the company. The company officially announced that he had been appointed chairman of the supervisory board of the first foreign asset of the company, MSA a.s. Czech tube fixtures manufacturer.
Source: Kommersant, 4 September 2006
In June 2006 fiscal police seized financial records of Chelyabinsk tube-rolling mill as the company refused to meet a bill for of 1.125 million rubles. Investigators suspected that owners of Chelyabinsk tube-rolling mill, Andrei Dementiev, Andrei Reus and Andrei Komarov, Viktor Khristenko's supporters had been involved in fraud. It turned out that Khristenko's fellow businessmen took control not only of Chelyabinsk tube-rolling mill, but also of a number of companies involved in cashing money. According to information available, these companies were located in Pervouralsk, Kyshtym, and Chelyabinsk.
Source: The Moscow Pos, 9 September 2011

In 2007 a scandal erupted in Chelyabinsk labor market. For lack of qualified personnel, management of Chelyabinsk tube-rolling mill started sending personal letters to employees of other companies and offered them a job. Not only the managers of other plants were outraged, as their staff had never been so boldly enticed before, but also Chelyabinsk citizens were indignant at the fact that some letters were sent to people who died many years ago. Investigators are going to found out the way Chelyabinsk tube-rolling mill got HR data.
Source: URA.Ru, 21 July 2007

In 2007 Chelyabinsk tube-rolling mill became the centre of public attention again. Owners of the company were negotiating € 220 million loan for construction of steel-smelting complex with European Reconstruction and Development Bank. The bank was ready to loan the money under the stipulation that major part of Pervouralsk citizens would consent to construction of a noxious factory.
Several public organizations of Pervouralsk opposed the construction and even made a complaint to European Reconstruction and Development Bank. In response Chelyabinsk tube-rolling mill company urgently established its own social organizations so that its members could sign a consent to the construction on behalf of Pervouralsk citizens.
As a result, European Reconstruction and Development Bank received a letter of complaint from Environmental Security Centre of Pervouralsk opposing to the steel-smelting complex. Environmentalists claimed that Green city foundation and My Homeland - Pervouralsk movement had been established in order just to make semblance of people's consent.
Source: Novy Region, 7 May 2007

In 2010 son of Minister of Industry and Trade Viktor Khristenko, executive director of Rimera oil service company operated by Chelyabinsk tube-rolling mill Vladimir Khristenko resigned from his position. Vladimir Khristenko failed to make Rimera company a major participant of oilfield services market.
Source: RBK daily, 3 March 2010

In 2011 Chelyabinsk tube-rolling mill became nonpublic company. Major shareholders Andrei Komarov and Aleksandr Fedorov bought out their assets from the market and thus consolidated more than 95% of the shares. They also planned to make a compulsory offer to minority shareholders, which would save the company from exchange assessment that could be improper because of insignificant free-float of the company and could deter potential strategic investors.
In 2011 shares of the company were the most illiquid among Russian emitters. This fact adversely affected market value of Chelyabinsk tube-rolling mill. Because of the assessment of the Russian market, the company failed to make initial public offering on the London Stock Exchange twice. Both times the company assessed itself at 2.0-2.7 billion dollars, while in the Russian market it was valued at about $ 400 million and $ 1 billion respectively. Having heard much about capitalization in Russia, foreign investors refused to participate even at the lower cost range.
Source: Kommersant, 13 October 2011