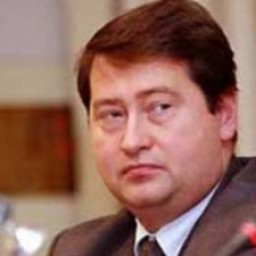 Bio:
Arkady Yevstafyev was born in Saratov. In 1982 he graduated from the faculty of mechanics and mathematics at Saratov State University with a degree in applied mathematics. In 1986 graduated from the KGB High School. In 1990 he graduated from the Diplomatic Academy under the Ministry of Foreign Affairs of the USSR. He was a professor of the Department of Mathematical Cybernetics at Saratov State University. He worked for the KGB Office in the Saratov region. After his graduation from the Diplomatic Academy he was appointed second secretary of the information department of the Ministry of Foreign Affairs. He supervised journalists of Great Britain, Denmark and Scandinavian countries.
In 1991 he worked for press service of the RF Government.
In 1992-1995 he was an adviser and a press secretary of Anatoly Chubais, then deputy prime-minister.
From April 1995 to March 1996 he was deputy director-general of Public Russian Television company.
In April 1996 he joined Boris Yeltsin's campaign staff.
From August 1996 to 2000 he was director-general of Protection of private property centre.
In 2000 he was deputy director-general of Mosenergo energy corporation. Yevstafyev was in charge of public relations.
From September 2001 to April 2002 he was acting director-general of Mosenergo
In April 2002 he was appointed director-general of Mosenergo
On 6 June 2005 he resigned.
In September 2011 he was elected head of Saratov regional office of Just Cause political party.
Awards:
Order For merits to the Fatherland 2nd grade (1995)
Yevstafyev was a co-founder of Montes Auri closed corporation , Montes Auri Trust closed corporation, Montes Auri Holding closed corporation , Montes Auri Managing company of share investment funds closed corporation, National Barter Corporation Trust limited liability company.
Yevstafyev is married and has three daughters.
Source: Wikipedia

Dossier:
On 1 December 1992 Yevstafyev became adviser and press-secretary of Anatoly Chubais who was the chairman of the State Property Committee and then became first deputy prime-minister. It was Yevstafyev who suggested an idea to allocate money from the funds of the State Property Committee for promotion of privatization process. At first, the Committee paid for a good press. Then they went further and invited some deputies of the Supreme Council to popularize privatization for a fee. But deputy Sergei Polozkov gave rise to a public scandal as he considered the contract as bribery. The Committee stopped the promotion.
During 1996 presidential election campaign Yevstafyev and Sergei Lisovsky, then head of the election campaign, were detained at the Government House when they carried out famous ''photocopier box " with half a million dollars in cash in it. Chief Military Prosecutor's Office opened a criminal case, however a year later it was discontinued. Deputy prime-minister Oleg Soskovets, FSB director Mikhail Barsukov and head of the presidential security service Alexander Korzhakov, who were driving force of the detention, got fired.
Source: Rossiyskaya Gazeta, 28 February 2006

In 1997 Yevstafyev got involved in " writers' case ". Yevstafyev along with his co-authors were accused of having illegally received royalties from the book titled The history of privatization in Russia. Yevstafyev got about 90 thousand dollars.
In November 1997 he was questioned by investigators of Prosecutor General's Office. Then presenter Sergei Dorenko claimed that Yevstafyev had sought to bribe managers of Moscow office of Reuters agency, where Yevstafyev's wife Irina worked, and to persuade them to confirm legality of the royalties. In December 1999 ''writers' case'' was closed under an amnesty.
Source: Kommersant, 6 June 2005

On 27 March 2002 Moscow police opened fraud case against Arkady Yevstafyev after minority shareholder of SBS-Agro bank Natalia Stepanova had applied to the law enforcement bodies. She stated that in 1998 SBS-Agro bank had been declared bankrupt because Civil Society foundation managed by Yevstafyev had not returned a loan to the bank. Yevstafyev's house was searched. Yevstafyev himself went to a hospital, while Anatoly Kucherena represented him as his lawyer.
In June 2002 the case was closed due to lack of evidence.
Source: Kommersant, 15 June 2002

In 2011 oligarch Mikhail Prokhorov appointed Yevstafyev as chairman of the regional office of Just Cause party. After a scandal at the party congress Yevstafyev remained loyal to Prokhorov to the end and quit the party along with him.
Source: Chetvertaya vlast, 23 September 2011