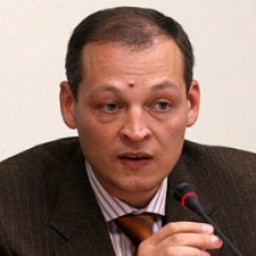 Bio:
Airat Khairullin was born on 1 August 1970 in Kazan. In 1991 he graduated from Kazan Agricultural Institute, having acquired a profession of economist and manager of agricultural production.
In 1991-1994 he was the director of Edelweiss Group privately owned enterprise in Kazan.
In 1994 - 1996 was the director-general of Firma Edelweiss LLC.
In 1996 - 2003, he was the director-general of Krasny Vostok company in Kazan.
In 1999-2003 Airat Khairullin as well as his brother was elected deputy of Kazan City Council and people's deputy of the Tatar republic.
In 2003 he was elected to the State Duma of the fourth convocation.
In 2005 he sold Krasny Vostok brewery to Efes Turkish corporation for $ 390 million and got engaged in dairy business.
In 2007 he was elected to the State Duma of the fifth convocation as a candidate from United Russia.
In August 2008 he was appointed president of the National Union of Milk Producers.
Awards:
Manager of the Year in the category of Food Industry (1999)
Letter of commendation from president of the Republic of Tatarstan Mintimer Shaimiev for contribution to the development of agriculture in the Republic (2003)
Order For merits in development of brewing industry awarded by the Union of Russian beer producers
Merited Worker of Agriculture of the Republic of Tatarstan (2004)
Silver medal for merits in agriculture awarded by the RF Ministry of Agriculture. (2006)
Medal For arrangement of All-Russian Agricultural Census 2006 awarded by the Federal State Statistics Service (2006)
The winner of All-Russian professional competition The best ones of dairy business in Russia (2008)
Khairullin is married and has two sons and a daughter.
In 2010 Airat Khairullin earned 212.177 million rubles. He is said to be one of the richest people in Tatarstan. His wealth is estimated at 46.49 billion including all the assets, while his net capital is $ 600 million.
Source: Lobbying.ru

Dossier:
Khairullin brothers earned their initial capital by selling fruits, cigarettes and beer. While being a student of the economics department of Kazan Agricultural Institute, Airat arranged fruit delivery from Uzbekistan. His brother Ilshat, who in the late 1980s worked as a deputy head of the district food service in Kazan, helped him in selling fruits.
Khairullin got along with president of the Tatar Respublic Mintimer Shaimiev. He supported Khairullin brothers during the default in 1998. Krasny Vostok company kept a large amount of money in Inkombank . However, in 1998 the bank did not allow the company to withdraw the money intended for new equipment from the account. Shaimiev had an appointment with president of Inkombank Vladimir Vinogradov and asked him to return money to Khairullins.
Source: Nezavisimaya Gazeta, 30 November 2005

In 1996 Airat Khairullin became the director of Krasny Vostok brewery. He claimed he had become an owner, but that was not true. In April 1996 he was hired as a manager and owned only 2% of brewery's shares. However, by the end 1996, owing to his City Hall connections in Kazan, he had got about 60% of the shares.
In February 1996, shortly before Khairullin's appointment as director-general, director of the brewery Aibat Aibatov was shot dead at the front door of his house. In 2003 the crime was solved. It turned out that businessman Boris Bulatov, who had quarrelled with Aibatov about money from Coca-Cola production line, ordered his murder. The circumstances of the crime were not fully discovered then. It became known that the killer had been a member of Hadi-Taktash criminal group, that supervised many shops in Kazan, including Khairullin brothers' one.
Source: Kommersant, 15 September 2005

Khairullin brothers, especially Airat, were notorious for their phenomenal greed. For instance, Airat did not want to pay 1.2 million rubles of tax arrears and closed down a large plant in Nizhnekamsk city.
In the late 1990s yearly wage of Krasny Vostok's workers was about 50 thousand rubles, whereas their productivity was estimated at 180 thousand dollars per employee per year.
Source: Kommersant, 20 September 2002

In the late 1990s Khairullin's most cynical undertaking was expanding his malt business to the Kursk region. Being supported by governor of the Kursk region Alexander Rutskoi, Airat Khairullin made about 90% of enterprises engaged in growing of barley dependent on his brewing empire. In March 2000 Krasny Vostok purchased controlling stake of Gorshechenskoe, the largest cereal company in the Kursk region, that was heavily in debt. Instead of investing, Khairullin declared the company bankrupt and renamed it, having obtained "good assets" thus. Numerous complaints for production violations and tax evasion against Khairullin were hushed up by his good friend Rutskoi.
Source: Tribune, 8 June 2000

While conducting his PR campaign, Khairullin often made dubious statements. He was reputed as one of the most unscrupulous lobbyists of beer industry. For example, in 2002 he said, "Only beer can save our nation from degradation."
Source: Vechernyaya Kazan, 25 May 2002

In October 2011, when United Russia was registered as a participant of elections to the State Duma, the Central Election Committee published an income list of party's candidates. Airat Khairullin turned out to be a co-founder of 44 commercial enterprises. No other candidate owned so many stakes in different companies.
Lenta.ru, 21 October 2011