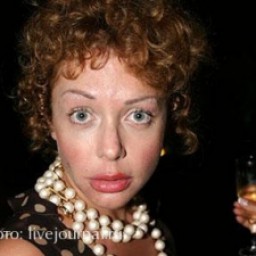 Russian journalist, society reporter, columnist of Izvestia, Gazeta.ru, GQ magazine. Blogger and writer.
Biography
Born January 20, 1975 in Leningrad. Graduated from physic-mathematical school, after that worked in Smena. Then moved to USA, but came back to Russia soon. Graduated from Leningrad State Institute of Theatre, Music and Cinematography, department of general stage management (now St-Petersuburg Theatre Arts Academy).
1998 – moved to Moscow and started to work as a journalist, using a pen-name Bozhena Rynska. 2003-2004 – worked in Kommersant as a freelance journalist. From 2004 – worked in Izvestia, made a society column in this newspaper and wrote articles for it during 5 years.
2008 – the Astrel publishing house published Bozhena Rynska`s book "Thanks God, I`m VIP!". The edition was 10 000 copies.
January 2012 - Bozhena Rynska got 89 position in "100 most influential women of Russia" – top list, made by Ogonyok magazine, Echo Moskvy radio station and RIA Novosti news agency.
Rynska`s blog, according to RBK, in September, 2013 was at 41 place in the LiveJournal`s popularity rating. The style of the blog is much more pert than most of Rynska`s articles. Sometimes its posts look really biased:
http://becky-sharpe.livejournal.com/2078217.html - the foreign sendings taxation
http://becky-sharpe.livejournal.com/2070118.html - Volgograd terrorist attack
http://becky-sharpe.livejournal.com/2065051.html - the Internet trade limitations
http://becky-sharpe.livejournal.com/2051063.html - the FSS officers on the opposition`s protest actions
http://becky-sharpe.livejournal.com/2049703.html - the criticism of vice-head of President Administration Alexey Gromov
http://becky-sharpe.livejournal.com/2040925.html - "Dozhd" TV-channel`s broadcast about "Sosny" cooperative
http://becky-sharpe.livejournal.com/1948979.html - the falsifications during the Moscow mayor elections and "machinations" with mobile ballot boxes
http://becky-sharpe.livejournal.com/962268.html - Feshin`s picture`s licitation
Rynska`s blog contains a lot of advertisement of the luxury and expensive furniture and clothes. The blogger confirms that there`s an advertisement in her blog and calls the companies she advertises her "sponsors".
According to media, Rynska had lots of love affairs. In February,2012 she married Igor Malashenko, TV journalist, politologist and the director general of the international Russian-language TV-channel RTVi.
Profile
Rynska became popular after several scandals which hit the headlines. The celebrities like the writer Tatyana Tolstaya, the actor Nikita Jigurda and the photographer Sergey Stishov were involved.
Source: TimeOut, 05.10.2010
http://www.timeout.ru/journal/feature/15190/1/
2008 – publically advocated the arrested UKOS ex-vice-president Vasiliy Alexanyan. According to other bloggers, she did it trying to marry UKOS-RM ex-president Nikolay Bychkov.
"Her heroism is more than pragmatic. That glamorous kitty is shrewd, she wouldn`t do anything without getting a benefit. Don't overestimate her. She`s going to marry some UKOS exile and leave to London and Nice".
Source: Ruspres 03.07.2008
http://www.rospres.com/crime/2088/
2011-2012 - Bozhena Rynska took part in protests "For Honest Elections" and became well-known as sex-symbol of Russian opposition. She was arrested during the unapproved protest at Triumph Square. After going at large she wrote in the blog that she wants to find the policemen who arrested her and poke their eyes out with awl. She called them "animals" and "beasts". According the results of pre-investigation check, the Investigation Committee considered Rynska`s words to be unimportant and safe for the society.
"The Investigation Committee withdrew from journalist Bozhena Rynska's criminal prosection. In 2012 the probe was launched into her for extremistic utterance and insult aimed at the policeman. The investigators came to a conclusion that Bozhena`s words "I`ll tear your jaw!" are not indecent, the epithets like "animals", "beasts" and intension to poke out policemen`s eyes are too insignificant to be socially dangerous".
Source: Lenta.ru, Izvestia, 4.04.2013
February 2012. Moskovsky Komsomolets without citing any sources stated that Bozhena Rynska's real name is Evgenia Lvovna Kuritsina. The newspaper had a claim with warning about a possible court action. The newspaper was complained by notarized power of attorney from Bozhena Lvovna Rynskaya. Moskovsky Komsomolets refused to publish the refutation, but the story had no significant aftermath.
Source: Moskovsky Komsomolets, 13.02.2012
http://www.mk.ru/social/article/2012/02/12/670610-bozhena-ryinska-vyihodit-zamuzh-za-igorya-malashenko.html
September 11 2013 Bozhena and her husband Igor Malashenko, according to Moscow police, attacked an NTV reporter and cameraman in Bozhena`s house`s yard at Lesnaya st.. They took away the reporter`s microphone and beat him. Rynska and Malashenko charged that they couldn`t get rid of the importunate journalists, who were waiting for them near the house. Novaya Gazeta characterized the NTV journalists` methods of work as "far from professional" and Bozhena`s behavior as a "furious animal`s reaction".
Source: FLB, 11.09.2013
November 15, 2013, according to police Bozhena Rynska attacked and beat 62-years old Evgeniy Abramov at the parking. The hypothetic cause of the conflict was a parking lot.
January 21 Moscow police completed the investigation of the case and submitted the case to the court.
Source: BFM.RU от 21.01.2013
http://www.bfm.ru/news/244209?doctype=news