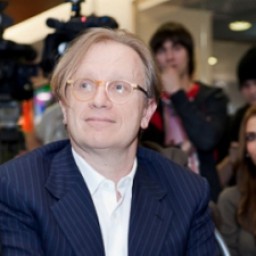 Biography:
Born in 1954 in Leningrad. He graduated from the Leningrad Institute of Aircraft Instrumentation. He travels a lot on business. He is fond of playing tennis. Wife - Veronika Belotserkovskaya, owner of PH "Dog"; he has four children.
Owner of Unicum and a shareholder of Ritzio Entertainment Group. Group of Companies Unicum specialized in the production and distribution of gambling machines and casino equipment, entertainment centers and arcades. It owned a plant producing gambling machines in St. Petersburg. The structure of the group consisted of leasing company "Slot-Leasing", consulting firm Unicum-Consulting and the company-developer of intelligent Casino Systems in Progress (SIP) (in Austria).
100% of the Unicum belonged to Boris Belotserkovsky. Belotserkovsky is one of the two major owners (partner - Oleg Boiko) of the group of companies Ritzio Entertainment. It owns a gaming networks "Volcano", "Million", X-Time in Russia and Kazakhstan, "King" and "Metro-Jackpot" in Ukraine, Labirints and City Casino in the Baltic countries.
Source: slon.ru
In 1978 he worked as a computer adjuster in the union "Selkhoztehnika". In 1980 he sold the computers and made cake candles.
Source: "Delovoy Peterburg" on 10/06/2008
1987 - 1989 "Retur", Director of Marketing
1990 - Group of companies "Unicom", the president and owner
Source: slon.ru
Since 2003, he has owned a factory for the production of slot machines in St. Petersburg.
In 2005, shortly before the State Duma amendments to the law on licensing, Unicum started the issue of payment terminals and shopping (vending) machines.
Source: "Business Petersburg" on 06/10/2008
Dossier:
In 2005, the State Duma Alexander Lebedev and Andrei Samoshin introduced a bill on betting and gambling establishments. They offered to locate all the casinos and gambling houses no less than a mile beyond the city. Belotserkovsky expressed bewilderment over the bill, he said the game industry provides jobs and pays taxes.
Source: "Novye Izvestia" from 15.06.2005
In 2005, the State Duma deputy Valery Draganov issued a bill according to which only big players should stay at the market of gambling. In 2006, Draganov signed a bill developed by deputies from United Russia - Viktor Pleskachevsky and Vladimir Resnik. They proposed to make a casino out of three cities only: Moscow, St. Petersburg and Sochi.
The first bill by Draganov gained great popularity among the major players in the Russian gaming business, as it was extremely advantageous for them. In particular, the bill required bank's guarantee of not less than 300 million rubles and equity capital not less than 150 million rubles. The same applied to the minimum gaming rooms in the casino area - 800 sq m. The organizer of the gambling hall was to have a large number of gambling machines. All these conditions meant that only largest networks could stay afloat.
Draganov indicated in the requirements for placement of gambling establishments that they can not be opened in schools, kindergartens, medical institutions, or adjacent to them (we know that they had never been placed there).
At the time of making the bill one of the largest gambling networks was Ritzio Entertainment, its principal owners were Belotserkovsky and Oleg Boyko. It includes 681 video arcades, 7 and 2 casino entertainment centers in Russia, the Baltics, Kazakhstan and Ukraine. It was clear that Draganov lobbied the interests of the network. Therefore, he soon announced that he intended to withdraw the second bill, a more radical. He stated this in the pages of "MK" on a commercial basis. The publication was paid by Ritzio Entertainment.
Source: "Stolichnye Novosti" of 09.02.2006
Then the bill followed, which meant the eviction of gambling establishments on the reservation in 2009. Only four gaming networks met its requirements, the first one was the Ritzio Entertainment Group. The holding company included a network of "Volcano", brands "X-time", casino "Desperado" and regional "Million."
Source: "Izvestia" on 16/11/2006
Ritzio shareholders were preparing to move into four zones: the Kaliningrad Region, Primorye, and the Altaisky region on the border of the Rostovskaya region and Krasnodarsky krai. First a network of grocery stores was launched, and then - a grill-bar "Grand Pri" under the brand name which they also decided to develop as a network of gambling clubs. Prior to that, in 2002, Ritzio had already launched a network of pubs restaurants Temple Bar.
Source: Kommersant № 105 (3681) from 20.06.2007
In 2007 Finstar Properties, controlled by Oleg Boyko, announced its plans to build a shopping area in Russia, Ukraine and Kazakhstan. Boyko said that Belotserkovsky could have also become his partner together vwith Sergei Kuzmin and Vladimir Sherman. Boiko was also interested in the development of retail, unlike Belotserkovsky. However, the latter was interested in projects in the real estate market.
Source: Kommersant (Voronezh) № 129 (3705) from 24.07.2007
In 2007, Ritzio was the first who thought about realigning its clubs. Part of the clubs, in addition to shops and restaurants, were turned into flower pavilions. Belotserkovsky also decided to invest in this project and confirmed his participation in it.
Source: Kommersant № 161 (3737) on 09/06/2007
In December 2007, the publishing house "Sobaka", owned by Belotserkovsky and his wife Veronica, bought 50% of female Internet portal eva.ru. Prior to that, the PH attached the site woman.ru. PH "Sobaka" also manages the Internet assets of timeout.ru, film.ru, videoguide.ru, and publishes a magazine "Time Out". Belotserkovsky expected to increase the female audience that is growing faster than men's, and purchases more.
Source: Kommersant № 227 / P (3803) on 10/12/2007
In 2008, Belotserkovsky became interested in advertising and entertainment on the aircraft board. He invested in the company In-Flight Entertainment Group, which provides services of publication of magazines for airlines, installing video equipment, and advertising in shops and airline offices. Controlling stake in In-Flight passed to the companies of Belotserkovsky - PH "Sobaka" and "Entertaym". Other founders - the advertising agency Solyd Ent. and producer of digital content "More".
At the same time Belotserkovsky continued owning the holding "Unicum", which previously had been producing slot machines, but now it produces mainly POS terminals and vending machines.
Source: Kommersant № 149 (3966) on 22/08/2008
In June 2008, Belotserkovsky gave an interview to "Business Petersburg" in the St. Petersburg TV channel "VOT!». Then he announced his retirement from the gambling market, claiming that it makes him heartburn. After that, top management began to leave the company Unicum, and then it was dissolved, while ceasing to perform its obligations to clients under the already signed agreements and commitments for loans. Prior to that, the collapse of the company had been prevented by the joint of "Unicum" with the company Boyko Smartgames.
After that, Belotserkovsky tried to close the 17th international exhibition of gambling and entertainment equipment, this is the only event that brings together major players in the gaming industry. The reason was Belotserkovsky's financial obligations to the Crocus Expo, because the front company by Belotserkovsky was the sole customer for this event.
The exhibition did take place, because it was important for "Smile-Expo" which was involved in its organization.
Belotserkovsky also said in an interview that now he is engaged in payment terminals, vending machines and growing lawn grass. He offered several employees of "Unicum-gaming" to come to his newly created structure.
"Belotserkovsky and Boyko divided the assets in "Unicum-gaming" in half.
Source: solomin on 09/09/2008
According to Belotserkovsky, the reputation of the gambling business in Russia has been undermined by the appearance of "pillars" - machines for the poor, where you can throw coins at 5 rubles. According to him, it was a deception in its purest form.
He also opposed the construction of gambling zone in Krasnodar, considering it inappropriate. According to Belotserkovsky, an American company conducted market research that showed that there was no reason to construct a gambling zone in Krasnodar.
According to Belotserkovsky, his "lawn" business has grown quickly.
Source: "Delovoy Peterburg" on 10/06/2008