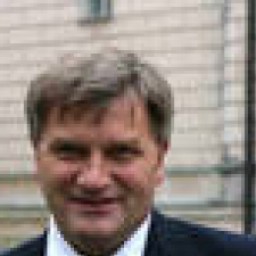 Bio:
Boris Teterev was born on 5 November 1953 in Riga. In 1980 graduated from Riga Medical School as a gynaecologist. In 1980-1989 he worked at Riga hospitals.
In 1989 he founded a cooperative in Riga.
In 1991 he got engaged in car export from the Far East.
In 1993 he was invited as director of Russian subsidiary of Musa Motors company, Latvia.
He moved to Moscow and rented a tiny office. Until 2000 he lived at rented apartments, too.
In 1995 owners of Musa Motors had a conflict. Then they split the business, and Teterev bought out the Russian office of the company from one of the partners.
In 2004 he became a co-owner of Loko-Bank.
In 2010 Teterev and his wife founded a family charitable foundation.
Awards
Letter of Commendation from the Cabinet of Latvia for a significant contribution to preserving the cultural heritage of Latvia (2010)
Three Star Order (2011)
Teterev is married to Inara Teterev.
In 2011 his wealth was estimated at 6.1 billion rubles.
Source: d-pils.lv, 21 February 2005
Dossier
Musa Motors company was named after Musa, a small river in Latvia, on the banks of which the founding fathers of the company once opened a repair shop. But some Russians believed that Musa was the name of the owner, who was obviously Chechen. Prankers often phoned Moscow office, imitated Chechen accent and spoke broken Russian. Teterev was not actually upset about that. "Even at the golden age of gangsters we managed to work without their supervision as everyone thought that we had already got a patron ... Two or three years ago I was in Sochi. Major oilmen were brought together there. They sat at the table and started a conversation. I introduced myself, and was immediately asked if I was Chechen ... And when I explained everyone laughed. Few minutes later another oilman came. They asked him ''Do you know Musa Motors company?'' He said ''Yes, I do. And I have offical information that its owner is Maskhadov's nephew"
Source: Hour-Daily, 13 September 2002


In 1997, when Musa Motors was Volvo's sales leader, masked gunmen broke into a salon of the company. They told the staff to lie on the floor and seized 200 cars. "Our business had been stopped for six months. During this time a new participant appeared on the market", Teterev told.
Source: Forbes.ru, 2 November 2004

In April 2008 Teterev sold 75,1% of Musa Motors to Inchcape Plc, the UK car holding for 450 million dollars which was a record for Russian car trading business. Until 31 December 2010 Inchcape Plc were to buy another 24.9%.
Teterev was said to be the most fortunate businessmen as he managed to sell his business just before the crisis that reduced prices several times. Shortly after the transaction Teterev purchased a stake in Inchcape, being ''surprised by their low prices" and thus stayed in car business, as a rentier, though.
Source: Kommersant, 27 November 2008


In October 2009 Nemo Real, the developer of a controversial real estate project in Jurmala , Dune (Kāpa) entertainment complex with ski slopes, said that a new investor was invited to the project. It turned out to be Teterev who grew rich owing to his car trade business in Russia. According to Nemo Real, Teterev invested 50 million euro which accounted for one third of the project costs.
Teterev himself denied his involvement in the deal and claimed that he did not negotiate on the project at all and his name as investor was probably being used for "a major fraud scheme. " He also said that forged warrants or ones not withdrawn in time could be used in that fraud.
Source: rus.db.lv, 28 October 2009

In the course of proceedings in Riga court certain circumstances came to light. Teterev's defenders found it strange that the documents certifying Teterev's participation in the project had been transferred to investigators in a paper bag at the outdoor meeting. Teterev's trustee Elena Lapsa claimed that she had phoned Teterev and convinced him of profitability of the project. During the conversation Teterev allegedly instructed her to make the deal. Further investigation revealed that Elena Lapsa had made no transactions since 2005 and her power of attorney had not been renewed.
Source: Business & Baltics, 17 July 2010

On 20 December2009 Elena Lapsa was attacked by unknown people who broke her nose and sent her greetings "from Boris."
Source: b_insider LJ, 12 January 2010

In January 2011 the Supreme Court of the Republic of Latvia invalidated the deal between Teterev and Nemo Real.
Source: kriminal.lv, 18 January 2011