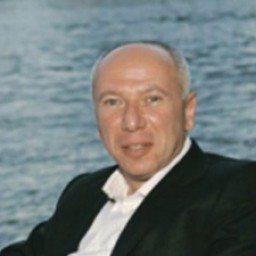 Biography:
David Davidovich (born on 29 August 1962, Moscow) graduated from the All Soviet Distance Training Polytechnic Institute. He was trained as an electrician and an engineer.
Early 1990s oil trader for Mikhail Fridman's Alfa-Eko company
In 1995 he joined Roman Abramovich's Runikom trading company. Davidovich became Abramovich's junior partner and his right hand.
In 2000 he became the deputy head of Russky Aluminy (RusAl) company, and was charged with buying alumina refineries and aluminium plants.
2001 deputy chairman of Nizhny Novgorod-based Gorkovsky automobile plant (GAZ cars)
In 2001 he chaired the Russian subdivision of Milhouse Capital. The company manages the assets of Roman Abramovich and his partners.
2003 member of the board of Slavneft-Ural oil company
In 2004 Davidovich bought Roman Abramovich's meat proceeding holding called Prodo. Prodo manages such brands as Dariya, Klinsky, BonBekon and others.
Annual net production of Prodo Group is 150,000 tons of meat items. The company can cover for the need in meet of 3m people, on the basis of the average annual consumption of meat.
His wealth is estimated $1.6b by the Forbes magazine.
He is married and has two children.
Source: Vedomosti
Dossier:
Davidovich is reported to have joined Sibneft in 1996 with a project of his own. He became the assistant to Roman Abramovich in Runikom, where he was responsible for the supply of oil products, marketing and security and timelessness of payments.
Davidovich carried out a number of important tasks that Abramovich charged him with. In 1997-1998 he ran commercial department in Rosneft. Later, the analysts blamed him and the management of this state corp. for unprofitable operations of oil supply for Omsk refinery. Later Davidovich implemented the new sales strategy for Gorkovsky automobile plant, which Roman Abramovich and Oleg Deripaska half-and-half acquired. Together with unsinkable financial director of Sibneft Irina Panchenko, Davidovich was sent to the board of directors of RusAl. He had the reputation of person who dared saying "no" to Deripaska.
Source: Russian Forbes, May 2007
In spring 2003 investigators of the interior ministry (the MVD's own investigative committee) searched the office of RusAl and Bazovy Element as part of investigation into the criminal case, opened by the police following businessman Andrey Andreev's written statements. Andreev accused the shareholders of RusAl of illegal acquisition of his business by this company.
Andrey Andreev was an owner of controlling stakes in Ingosstrach insurance company, Avtobank, Ingosstrach-Rossiya and a lot of other companies. The shares were sold in September 2001. The purchase-and-sale contract was signed by Natalya Rayevskaya, the chairman of the board of Avtobank, and a certain Roman Gamzayev (the sellers), and David Davidovich, member of the board of RusAl, and Dzhabrail Shikhaliyev, member of the board of Nafta-Moskva investment company (the buyers).
Hardly the contract had been signed, Andreev made a statement that the deal had been illegal and reported the case to the police. Rayevskaya said that she had been forced to sign the contract, despite not having right to do so.
Source: Vedomosti, 18 April 2003
In summer 2003 the MVD's investigation committee dropped investigation into the allegedly illegal acquisition of Andreev's shares in Avtobank and Ingosstrach by RusAl and Nafta-Moskva.
Source: Vedomosti, 2 July 2003
In autumn 2006 Russian State Property Maintenance Agency (the Rosimushestvo) filed a lawsuit against Mikhail Kasyanov, the former prime minister. The plaintiff claimed that Kasyanov had been involved in a scam to get state dacha called Sosnovka in his ownership at knockdown price.
Kasyanov paid 4.5 million roubles for a large area of land (less than a thousand roubles ($35) for 100 square metres). The real market price for the land was $23m. Landiz company, that sold the land plot, was affiliated with Roman Abramovich. The police interrogated former commercial director of Sibneft and head of Moscow office of Milhouse Capital David Davidovich. He revealed that the land had belonged to him and Davidovich himself had offered Kasyanov to buy it. At this price it was a giveaway. However, Davidovich found nothing wrong in it.
Source: Moskovsky Komsomolets, 12 September 2006
People close to Roman Abramovich poked fun at David Davidovich for his stinginess. His wife looked as if she were a woman of modest means. Davidovich was also mocked for imitation of the behaviour of the mobster of the 90s.
Source: Russain GQ, May 2009
In 2007 Omsky Bekon received 200m roubles ($700,000) of state help for renovation of pig complex. Another 182m roubles went to Sibirskaya poultry farm. Both companies were part of Prodo Management company (David Davidovich was a director general of the company). Co-owner of Prodo, who held a senior management post in the company, was Aleksey Polezhayev, younger son of the governor of the Omsk region. According to the reports, Omsky Bekon siphoned off the assets while the government invested into the company.
Source: solomin, 20.06.2008
David Davidovich, owner of Omsky Bekon (Prodo Group of companies), was on a modest 782nd place on the list of the world's billionaires. His wealth is estimated at 1.6b dollars.
Source: Obozrevatel, 10 March 2011