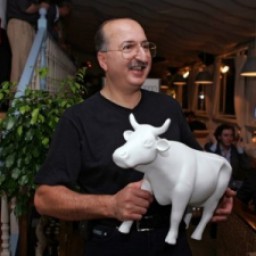 Biography:
David Yakobashvili was born in 1957 in Georgia. He studied at Georgian Polytechnic Institute in Tbilisi. He has a degree in construction and finance. He first engaged in business in 1982 in the Soviet period selling pigs. Later, he began to import vehicles from the U.S. and tried deal in tours for foreigners.
In 1988 he established a beauty salon called Zhenshen
In 1992 he became the co-founder of casinos Metelitsa and Cherie
In 1992 he was one of the founders of Wimm-Bill-Dann (WBD), chairman of the board of directors.
Since 2000 he is member of the Bureau of the Management Board of Russian Union of Industrialists and Entrepreneurs.
Since 2001 he is chairman of the board of Trinity, member of the Bureau of the Congress of the Jews in Russia, and member of the board of the Public Association of Entrepreneurs Delovaya Rossiya. He was also chairman of the board of directors of Prospect and Eastern European insurance agency.
Since 2004 he has been member of the Bureau of the Management Board of Russian Union of Industrialists and Entrepreneurs.
Among the rich Russian millionaires he ranked 111th. According to Forbes magazine, in 2011 Yakobashvili's fortune was estimated at of $ 950 million.
He is married with one child. The family loves in France. His wife is a cousin of Gavreel Yushvaev, one of the founders of Wimm-Bill-Dann.
Source: Delovaya Gruziya
Dossier:
WBD is one of the few examples of Russia's largest businesses that expanded not as a result of redistribution of Soviet state property, but on its own, from scratch. The company was founded in 1992 by two young men, Sergey Plastinin and Mikhail Dubinin. Of course, they need money and protection. The tandem was lucky. They were supported by David Yakobashvili, who at that time was not one of the prominent men of the young domestic business. Gavreel Yushvaev was the latest to join the company. He is better known as Garik Makhachkala. In 1989 he was released from prison after serving a nine-year sentence for robbery.
Source: Vsluh.Ru, № 1 (13) 2004
Before incarceration Gavreel Yushvaev with David Yakobashvili was engaged in different businesses, including gambling, motor vehicles selling, and outdoor advertising. Then he participated in the establishment of WBD. But, according to the partners, he never actively participated in the management of the company, preferring to deal with farming in Moscow suburbs, in the Kuban and in Volgograd, and with real estate.
Source: Vedomosti, 27 April 2005
By 2004 Gavreel Yushvaev and David Yakobashvili quietly built an agro-industrial empire around WBD. They owned four dairy farms (including farms Gorky 2 and Naro-Osanovsky) in Moscow and a few dozen farms in Volgograd region and the Kuban. They owned a total of more than 20 thousand cows, 6500 pigs, and 20 thousand hectares in Moscow suburbs. Another 250 hectares of land they rented. According to Yakobashvili, he and Yushvaev invested in acquisitions, development of dairy production and cultivation of grains more than $ 100 million. Another 80 million were leveraged and reinvested from profits.
Later, when it became known that a hundred square metres plot of land in Odintsovo district was worth 20 thousand dollars, it was announced that part of the land "unfit for agricultural business" Wimm-Bill-Dann owners would hand over for construction.
Source: Vedomosti, 07 October 2004
The media wrote that Leonid Stavisky received the position of Zvenigorod mayor so that he slowly sold all the best plots of land of Zvenigorod and in the region. At the initiative of Stavisky Zvenigorod was no longer a historical city, and from then on nothing could prevent selling plots in the historic sites.
Media wrote that the land in Zvenigorod, first of all, was bought on personal assets of David Yakobashvili. After behind-the-scenes distribution of land in Moscow suburbs among the so-called landlords it was Yakobashvili who got the lands.
Source: InterRight, 10. February 2011
According to media reports, until 2008 David Yakobashvili was a neighbor of Dmitry Medvedev at number 1, block A, Minskskaya Str., situated in an elite residential complex Zolotye Klyuchi-1. In this house lived as Semion Weinstock, president of Olympic state corporation; Victor Fedotov from Uralsib Capital; Tatiana Bogomolova from Rosnefteksport; Victor Polstovalov from LUKOIL-Yugra; and His Holiness Patriarch Alexy II.
Source: Novaya Gazeta, 10 January 2008
In late 2010 the U.S. Securities and Exchange Commission (SEC) launched an investigation on suspicion of insider trading in Wimm-Bill-Dann. The acquisition of a 66% Wimm-Bill-Dann stake for $ 3.8 billion by PepsiCo was announced on December 2. Quotations immediately soared by a third. The day before the deal, trading volume grew both on U.S. and on Russian exchanges. According to SEC, there were some suspicious transactions on the NYSE from the account of SG Private Banking, which allowed unknown buyers to earn $ 2.7 million.
The first trial resulted on a decision to identify unknown persons who initiated the transaction. A total of 150-200 people know about the upcoming transaction, but it was the buyer who had all the information about the terms. Experts believe investigation should look for the unknown persons in PepsiCo, not in Russia.
Source: Slon.ru, 20 December 2010
In summer 2011 David Yakobashvili visited Forum Seliger as chairman of the board of dDirectors of Bioenergy Corporation, which is part of the holding Lonas Technology. He read a lecture to Nashi about the economic cooperation between Russia and other countries.
Source: Nashi.su, 06 July 2011