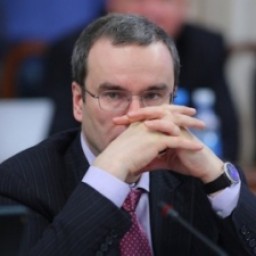 Biography:
Dmitry Zelenin was born on November 27, 1962 in Moscow. In 1979 he graduated from specialist English language school № 69. In 1986 he graduated from the Faculty of Management and Applied Mathematics of the Moscow Physical-Technical Institute and became a postgraduate student of the institute.
In 1986-1988 he worked at Automated Systems Scientific Research Institute (NIIAS) at the department of microelectronic on-board systems.
In 1989 he participated in the establishment of Microcard and Girvas cooperatives and later of Microdin Company, specializing in software and computing supplies. Since 1990 he was member of the board of directors of Microdin.
From 1990 to 1993 he was deputy head of the inter-sectoral commercial bank Resource Bank.
From 1993 to 1995 he was deputy chairman of the Russian joint-stock commercial bank RATO Bank.
In 1994 he was member of the board of directors of ZIL and Perm Motors.
From March to December 1995 he was president and chairman of the board of trustees of MKB Resource Bank.
From January to September 1996 he was CEO of Interros JSC.
From 1996 to 2000 he was first deputy CEO of RAO Norilsk Nickel. From 2001 to 2002 he was first deputy CEO, senior vice president, member of the board of trustees and that of the board of directors of GMK Norilsk Nickel, a member of the board of trustees of RAO Norilsk Nickel.
In December 1999 he founded and headed the public organization Association of managers and has been its president since then.
In October 2002 he was appointed deputy chairman of Russian State Committee for Physical Culture and Sports. In this position he supervised the financial, economic, logistical, and investment policy in physical culture and sports.
On December 21, 2003 he won the lections for the position of Tver region governor. He took office on December 30, 2003.
In 2007 he was re-elected governor of Tver region after the Russian President Vladimir Putin submitted his candidacy for a second term to the Legislative Assembly of Tver region.
Awards: Medal For Distinction in an Emergency Situation (Russian Emergencies Ministry, 2010)
Zelenin published 29 scientific researches. In 2006 he defended his Ph.D. thesis in economics on "Managing innovation development of regional industrial complex."
In 2010 Zelenin's income amounted to 73.77 million rubles. He owns, as before, in joined property with his spouse an apartment of 88 square metres, a house of 624 square metres, and one third in a flat of ​​97 square meters. He has owned a 1969 Cadillac DeVille, a 1958 Buick Limited, a 1990 Jaguar XJS, a 1965 Rolls-Royce Phantom 5, and two trailers.
The governor's spouse owns two plots of land (2975 and 633 square metres) and a residential building (197.5 square metres). Mrs. Zelenina earned 99 million rubles. She owns a BMW 740.
Zelenin is married to Alla Albertovna Zelenina. The Zelenins have four children: two daughters, Alina (1997) and Galina (1999), and a son Artyom (2001). In 2006 the family adopted from a Tver orphanage an 18 months old boy Roma.
Source: zelenin.ru
Dossier:
In 1990 Dmitry Zelenin officially joined the board of directors of Microdin which had been established on the basis of numerous trade cooperatives. In addition, the holding company also included Resource Bank, RATO-bank in and Prominvestbank (only Prominvestbank exists in present).
In 1992, according to some reports, Mikrodin group privatized ZIL for only 4 million dollars. Then part of the property of the plant was sold off. A few years later ZIL was resold to Moscow government for about 5-7 million dollars. In 1993 Microdin got hold of a stake in Motorostroitel (former factory named after Sverdlov), one of the largest companies in the Western Urals. After a few years this stake was also resold. And in 1995 Microdin privatized then profitable plant, Khimvolokno. The new owners made an offshore company in charge of marketing, and two years later the plant lost its working capital.
Source: Profile, 06 September 2004
At this stage, according to media reports, Zelenin enjoyed protection of Dolgoprudnenskaya gang. A number of its representatives with which Zelenin was liked directly were later eliminated, probably as unnecessary witnesses of the development of his business. After Dolgoprudnenskaya criminal group, Zelenin had protection from a number of other criminal groups working with the Bureau of Information Technology (BIT). BIT was notorious for its ties with corrupt RUBOP officials and criminal dons of Solntsevskaya gang.
Source: Kompromat.Ru, 21 June 2004
Before New Year 2009 there was a rumour in Courchevel chalets and hotels. Allegedly, Prime Minister Vladimir Putin strongly recommended Russian officials not to come to the resort. And yet officials still came. Dmitry Zelenin, governor of Tver Region, arranged theme parties for friends. Yuri Rozum, the pianist, helped to hold a musical evening in which also participated Aleksander Malinin, the singer. In addition, almost every evening a big company played the game called mafia in Zelenin's chalet. Dmitry Zelenin had to leave for Moscow only for one evening at Christmas, allegedly summoned to the Kremlin.
Source: Kommersant, 11 January 2009
In April 2009 Putin visited Tver Carriage Works. The Prime Minister had to personally listen to uncomfortable questions of employees. The situation never escalated to what later happened in Pikalevo, but it was Tver where the first really loud "warning bell" rang informing the federal government about the impending social consequences of the crisis.
Source: Vokrug Novostei, 17 June 2009
On October 12, 2010 Zelenin said in his twitter that when he was at an official reception in honour of President of Germany Christian Wulff there was an earthworm in his salad, photo of which was attached to the report. A few hours later Zelenin deleted the entry, but the news had already spread on the internet causing wrath of the Kremlin. Sergey Prikhodko, Assistant to the President for International Affairs, called the governor's act irresponsible and stupid and offered to dismiss him "in dementia." Victor Khrekov, spokesman of the Department for Presidential Affairs, reported that the information would be checked, and if it was not confirmed, Zelenin would be taken measures against "in accordance with applicable law."
Source: Power, 22 October2010
On June 16, 2011 Dmitry Medvedev signed a decree on the termination of office for Zelenin. The document noted that the Governor had filed in resignation. "My resignation is a thoughtful decision," he explained. However, according to media reports, Zelenin refused to resign until the last moment. He hoped to persuade the President and the Prime Minister to let him keep the position until the end of the term in summer 2012. Medvedev was initiator of resignation, and Zelenin, "counted on the support of Vladimir Putin", a source close to United Russia top officials informed the newspaper. According to him, before the retirement there were long time negotiations with Zelenin. He was offered a place in the State Duma of the current and the next convocation, but the governor refused that option. Boris Nadezhdin, member of the Federal Political Council of The Right Cause, also suggested that Zelenin entered his party.
Source: Lenta.ru, 17 June 2011