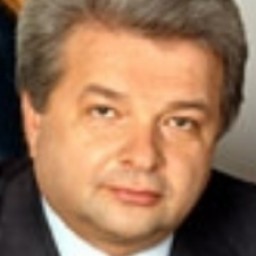 Bio:
Dmitry Zubov was born in 1954 in the Gorky region.
In 1977 he graduated from Ordzhonikidze Moscow Aviation Institute. Zubov is a doctor of economics.
In 1978-1979 he worked as a foreman at Lukhovitsky machine building plant.
In 1979-1983 he a was secretary of the Komsomol comittee.
In 1983-1986 he headed the All-Union Komsomol leaders training school.
In 1986-1988 Zubov worked for youth department under the Komsomol Central Committee.
In 1988-1989 he was a head of the All-Union Centre of Youth Residential Complex.
In 1989-1991 he was a deputy director-general of the All-Union Cinema and Television Centre for Children and Youth.
In 1992-1996 he was a director-general of Alon closed company, then he was a manager of Moseksimbank, Ai-Bi-Ai-Sistema public company and Promhiminvest closed company.
Since 1999 Zubov has worked for Sistema public financial corporation. Since 2000 he has been a deputy chairman of the board of directors.
Source: Sistema public financial corporation

Dossier:
In April 2008 little-known Mostovik Omsk scientific and production association got a multimillion-dollar contract for designing and construction of large ice arena in Sochi.
It is noteworthy that the tender, that provided Omsk builders with a lot of Olympic money, was to be held in January but was carried over to March. Official representatives of Olympstroy state company refused to explain their decision.
Experts believe that resignation of vice-president Olimpstroy responsible for finance and former head of the Ministry of Taxes and Levies Vladimir Gusev meant that unofficial distribution of Olympic funds had started. Gusev was replaced with retired general Anatoly Grebenyuk. Reports say that Grebenyuk was actively supported by director of Sistema company Vladimir Yevtushenkov. Sistema public financial corporation did not take part in the tender itself. But this powerful corporation was reported to exploit little known regional building companies. According to experts, Dmitry Zubov, the chairman of the board of directors of Sistema-Gals public company, Sistema-Hals joint implementation project and Sistemny proekt closed company, was responsible for this operation.
Source: Press attashe.Ru, 15 April 2009

In August 2007 Ukrainian prime-minister Viktor Yanukovych was reported to spend his vacaton in the Altai Mountains at the expense of Sistema public financial corporation. This fact drew attention of political opponents of Ukrainian prime-minister. Yulia Tymoshenko asked the Security Service of Ukraine to verify the information. Yulia Tymoshenko's Blok party sought a public explanation from Yanukovich . They inquired about his relations with Sistema, since Sisitema might be concerned with privatization of Ukrtelecom.
Ukrainian media were provided with certain documents, namely, accommodation scheme for the prime minister and his people of Tursib health resort and registration form of charter flight to Altai. The documents confirmed that Sistema had borne the whole cost.
According to the accommodation scheme posted on the Internet, on 5 - 8 August 2007 twenty cottages of different comfort standards were reserved for Yanukovych at Tursib recreational centre, including ten suites for VIPs, an apartment for Yanukovych and five junior suites for service staff. Two cottages were occupied by the pilots who later brought Yanukovych to a distant private сottage in the mountains. Viktor Yanukovych himself was settled in two-storey apartment, cottage No.14 on scheme. Vladimir Yevtushenkov occupied a cottage No. 15. A cottage No.4 was assigned to Yevtushenkov's right-hand man, Russian tycoon Dmitry Zubov. Presumably, the neighbouring cottage was occupied by Mikhail Prokhorov.
But the most interesting guests were those who stayed in luxury suites No. 248 and No.266. On the scheme they were modestly marked as "girls." Reports say that "girls" were elite ones and were intended only for important guests.
Source: Obozrevatel (Ukraine), 26 August 2007

In 2008 Felix Yevtushenkov became a chairman of the board of directors of Sistema-Gals company. This decision was made by the board. Formerly Dmitry Zubov held the position of the chairman.
Source: E-Newz.ru, 30 June 2008

In 2011 Sistema public financial corporation rewarded nine board members with its shares, 764.4 thousand in number, in the value of about $ 1 million. Deputy chairman Dmitry Zubov was given 83 653 shares in the value of 103, 900 dollars. The total value of the shares he owned did not increase much, as he already was an owner of the shares that cost over $ 100 million. Nevertheless, Zubov's stake in the share capital of Sistema public financial corporation increased from 0.8798% to 0.8807%.
Source: Marker, 22 July 2011