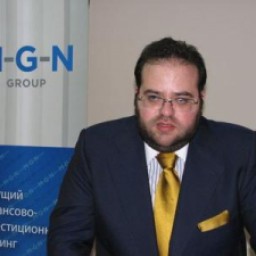 Biography:
Born in 1977, a U.S. citizen.
Former general director of ZAO MGN Group, a businessman who has business experience in management consulting, commercial and investment banking and asset management. Evgeny founded MGN Group in 2008. In April 2009, Evgeny was elected a member of the Board of Directors of OAO "International airport" Manas ", the largest company in Kirgizia providing air services, and OAO "Electric stations", a state monopolist of electricity production.
Prior to founding MGN Group, Mr. Gurevich created and managed several successful businesses. In 2001-2007 he was president and a founding member of the North American company Virage Consulting Ltd., providing management consulting primarily in emerging markets. He also co-founded several well-known investment funds managing assets worth over 200 million. Evgeny also launched a number of new businesses of high technologies. One of his last projects was the company Adotube Inc, which he supported by attracting financing on several stages.
Evgeny Gurevich held a bachelor in Business Administration from the University of California in Berkeley (Haas School of Business).
Sources: Mgncapital.com, who.ca-news.org
Dossier:
Gurevich's name was most often mentioned in the media in connection with the colossal fraud scandal. The Rome court issued a warrant for his arrest in March of this year. It is assumed that Gurevich has been involved in fraud due to which 2.7 billion dollars had been illegally transferred from the departments of Internet providers Telecom Italia Sparkle and Fastweb SpA in the period of 2003 and 2006.
Source: San Francisco Chronicle on 07/03/2010
In the case of fraud the Italian prosecutors issued arrest warrants for a total of 56 people. The statement implied that Fastweb and Telecom Italia Sparkle had been providing telecommunication services for fictitious companies, that had funds deposited on their accounts which were not supposed to be involved in the transaction by the law on VAT. Fictitious companies had been set up in the UK, Switzerland, Panama, Luxembourgor for purchasing services. Italian partners of Gurevich allegedly used bogus receipts for telephony services, so that they could require of the Italian authorities a payment of more than $ 400 million in a form of VAT through the so-called "carousel fraud" . It is assumed that Gurevich used his international contacts and financial expertise to help launder illicit profits.
Source: Vedomosti on 25/02/2010
The indictment of Gurevich states that he transferred and laundered huge sums of money through a number of companies. It was reported that Gurevich had opened a bank account in Vienna to launder money from the two companies - Planetarium Srl and Global Phone Network Srl.
Source: San Francisco Chronicle on 07/03/2010
In 2003-2007 Calabrian faction ndrangeta was implicated in financial fraud by Gurevich. Scheme of the fraud was as follows: money from abroad was transferred to the accounts of Fastweb and Telecom Italia Sparkle under the guise of payment for their services. These companies deducted a part of the amount as premiums and transferred the balance on the accounts of front companies, which in turn did the same thing and transferred money on the accounts of other fictitious companies. Prosecutor's office in Rome believed that the leadership of Fastweb and Telecom Italia Sparkle was aware of those operations. The Head of the Board of Fastweb Silvio Skalia was placed to the remand cell in frameworks of this case.
Source: Kommersant Ukraine # 54 from 10.03.2010
An international scandal involving Gurevich highlighted some of the activities of "AsiaUniversalBank"; Gurevich was member of the board of directors there from 2006 to 2009, and also cast suspicion of financial fraud. Head of the bank Michael Nadel turned it into the largest commercial facility of the Republic in a few years. Along with Gurevich there were former Senators of the U.S. Congress in the Board of Directors - Bob Dole and Jay Bennet Johnston. It turned out that Dole had been involved in the bank's activities nonrandomly: in 2008, Gurevich made a donation to the unsuccessful campaign of his wife Elizabeth Dole. Russia also became interested in the bank's activities - "AsiaUniversalBank" led large cash transactions with Russian banks. Central Investigation Department of the Moscow police carried out searches in the two companies associated with the largest Kyrgyz "AUB" in the frameworks of investigation on questionable financial transactions. The main Bank of Russia appealed to the banks working with AUB with estimation that behind its financial transactions payment of gray imports was concealed. However, Nadel said that neither the tax police, nor prosecutors, nor the National Security Service of Kirgizia had any claims against the bank's activities.
Source: www.centrasia.ru
Gurevich also denied in his statements on the Internet that he had laundered money through "AUB", as well as a revision of the National Bank of the Kyrgyz Republic and the international detective agency Kroll Associates had not confirmed that.
One of the accomplices of Gurevich was Gennaro Mokbel, who used his relations in the Calabrian mafia ndrangeta in order to vote Gurevich into the Senate.
The Italian press claimed that the criminal group had established friendly relations with the officers of the secret service, police and political leaders.
Mokbelya implied in intercepted telephone conversations that he had connections with the leadership of MIB, the British domestic intelligence service.
Source: San Francisco Chronicle on 07/03/2010
Prior to issue warrants for Gurevich's arrest being the head of the financial group MGN, he had become a leading international consultant under the leadership of Kirgizia. The company won the tender of the Development Fund of the Kyrgyz Republic as a financial advisor managing its assets. Under the management of Gurevich the government ofKurmanbek Bakiyev passed over $ 300 million loan from Russia.
Source: the Ferghana.ru on 09/03/2010
When the news of the arrest warrant of Gurevich appeared, Development Fund disowned of Gurevich and announced the termination of the contract with the company MGN. Kirghiz authorities said they had not used the services of companies involved in financial fraud. However, as announced, the official reason for terminating the contract appeared to be the fact that since the conclusion of the contract they had not used the services of the company as risk management policies had been reviewed, and they had been solving all the issues by themselves. However, that was quite doubtful, as it was known that the Development Fund was in trust of the Central Agency for Development, Investment and Innovation ("TsARIII"), headed by President Bakiyev's son - Maksim Bakiyev. Gurevich was the personal financial advisor to Bakiyev family, helped them to establish control over the most profitable sectors of the economy.
Source: the Ferghana.ru on 10/03/2010
In general, journalists assumed that the Maxim Bakiev together with MNG actually had made a financial seizure of the country. He did not manage to get to Russia's loan just because of the problems of Gurevich.
Source: Around the news "on 01/09/2009
The youngest son of President Bakiyev - Maxim and his friends from MGN Group actually carried out the seizure of financial Kirgizia. After Bakiev entered the office of President of the country in 2005, the holding MGN Group had gained new opportunities for the business, the top managers of MGN joined the boards of directors of a number of strategic enterprises of the republic, such as the international airport "Manas", "Kirgiztelecom", "Severelektro" , Kirgizgaz. In January 2009, a subsidiary of the holding MGN Asset Management won the competition for the asset management of shareholding companies of the Social Fund of Kirgizia. After that, no business in the country was possible to establish without substantial kickbacks and personal approval of Maxim Bakiyev. The company MGN also acted as an adviser to the Government on privatization of AO "Severelektro" and "Kirgiztelecom", the results of which caused a scandal in the Kirgiz society.
Source: the Ferghana.ru on 10/03/2010
As soon as Gurevich was accused of financial mismanagement, the loan from Russia had become the core asset of the Development Fund; and that was a sore point for the authorities of Kirgizia. Prime Minister of Kirgizia Daniyar Usenov said in the official statement that the government had no relevance to the holding of Gurevich.
Source: www.dw-world.de on 17/03/2010
Director of the Development Fund Igor Chudinov said that Gurevich and his company had not appropriated Russia's credit. He said the current Cabinet had no relation to MGN Group. It sounded strange considering the fact that the company managed all the assets of the Development Fund. Those attempts by Chudinov to justify were caused by the fact that the prospect for Bishkek to obtain the remaining part of the loan from Russia then seemed hazy.
Source: www.madein.kg on 18/03/2010
In response to the charges against him, Gurevich placed the statement in the media; then he categorically denied all the accusations, and drew attention to the fact that the charges were unrelated to his activities in the company MGN Group in Kirgizia, as they referred to the period of time when the company did not even exist. He noted that protection of his business reputation from accusations took a lot of time and effort, so he was forced to resign from all the management positions, including the post of general director in MGN Group, which he resigned on March 1, 2010.
Source: UZINFORM on 11/03/2010