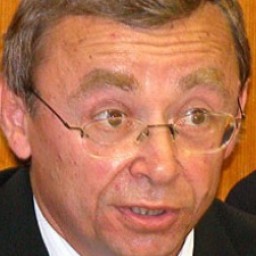 Bio:
Evgeny Olkhovik was born on 14 February 1955 in Moscow. In 1977 he graduated from Moscow Institute of Transportation Engineers.
In 1992 - 1996 he was the deputy director of strategic planning and operational management department of Renova closed corporation.
In 1996 he was appointed chief financial and economic management of Sual сompany.
In 1999 he was appointed Sual's deputy director-general responsible for corporation development.
From 1999 to January 2003 he was the director-general of Renova closed company.
In 2000 he became first vice-president of Sual-Holding company.
In 2003 - 2007 he was the first deputy president of Sual-Holding.
In 2007 he was appointed managing director.
He is a member of the supervisory board of Renova group of companies.
In 2010 Evgeny Olkhovik's wealth was estimated at 200 million dollars.
Source: official site of IES-Holding.

Dossier:
In February 2005 Viktor Vekselberg and most of other Renova's top managers quit the board of directors of Sual company that was an operational control centre of Renova aluminum corporation. Officially, they said that as top managers they did not want to waste time on settling local production issues. Evgeny Olkhovik had to do all their work at Sual. He was not afraid of the dirty work. When the workshop roof of Sual's Ural Aluminum Plant fell and killed four workers, it was Olkhovik who went to Kamensk-Ural to find out the cause of the accident and to help victims' families.
Source: forbes.ru, May 2005.
In May 2010 Olkhovik became director-general of IES-Holding. He managed utilities and gas distribution assets of Renova group. There were no even a position of the director-general at the company before Olkhovik's appointment. Renova's management said that Olkhovik had been appointed due to "significant task enlargement of the corporate centre" and the need for the strategic development of Renova's energy department. According to some, however, Olkhovik not only relieved manager of Renova holding Mikhail Slobodin of certain duties he was overwhelmed with, but also replaced him in areas that Renova's management deemed a failure, although the managers stated that Olkhovik's appointment had been planned. It is likely that Slobodin actually disappointed them, as after Evgeny Olkhovik had been appointed manager, funds of the company were rearranged, too.
Source: energyfuture.ru, 16 April 2010

Managers of Renova were evasive about Olkhovik's appointment but its actual reason became clear in February 2011. Representing Sverdlovsk Heat Supply Company, owned by IES-holding, Olkhovik announced that repair works on city infrastructure would substantially expand. Formerly the company was blamed for spending too little money on repair works and heating system replacement, which led to endless utility accidents in Yekaterinburg. Local authorities publicly commented on revenue growth of Sverdlovsk Heat Supply Company and its stinginess that led to 12-time increase in accidents. Evgeny Olkhovik assured the authorities that in 2011 everything would change, as repair expenditure would be 2.5 times larger than in 2010.
Source: datanews.ru, 7 February 2011