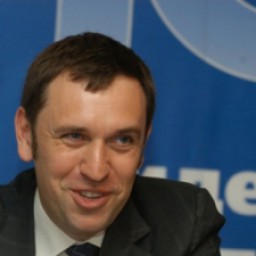 Biography:
Evgeny Yatsyshin was born in 1970 in Vitebsk (Belorussia). In 1993 he graduated from the faculty of economics of St Petersburg State University. He has been working for LSR Group since 1993.
1996 director general of GRST-6 JSC
1996 director general of Lenstroyreconstruktsiya JSC
2000 director general of Revival of St Petersburg development company JSC
2002 vice-president of LSR Group
2003-2004 chairman of the committee for development of the city council
2005 managing director of LSR Group, member of the board.
Awards:
Letter of commendation from the State Committee of the Russian Federation for Development and Public Utility
Source: Vedomosti
Dossier:
Key players harshly criticized Yatsyshin's work for the city's government. At the second conference of real-estate developers of St Petersburg and the Leningrad Region there was an attempt to pass vote of no confidence in him. Developers felt resentment with new policy pertaining granting land plots for development. Evgeny Yatsyshin was rumoured to lobby LSR Group in the city's administration.
Source: Delovoy Peterburg, 1 February 2005
In 2003 director of Soyuzpetrostroy union of developers Lev Kaplan expressed dissatisfaction with new investment and development policy: "We are concerned about inaccessibility of Evgeny Yatsyshin, a new chairman of the committee for development. He ignores both the officials of Soyuzpetrostroy union and the companies which form the union. He does not turn up at the meetings… I believe, the governor should pay attention, otherwise on behalf of all companies which form the union I will ask her to change the chairman."
Source: Delovoy Peterburg, 18 December 2003
In 2004 new chief city architect Aleksandr Viktorov said that he had doubts whether it was sensible to implement new height restrictions for the building in the historical centre. Modern architecture should be brought to the city centre, he claimed. Such statements indeed could give way to demolishing historic buildings and large-scale building works in densely populated city centre.
Viktorov's ideas were supported by the committee for development which drafted and passed new project regulations. Chairman of the committee for development Evgeny Yatsyshin said the document enabled developers to get approval for the project in shorter time (the process would take 1 year instead of a year and a half).
Source: Rossiyskaya gazeta, 28 July 2004
Earlier in 2005 chairman of the committee for development Evgeny Yatsyshin resigned. His deputy Roman Filimonov was appointed as the new chairman. "Year has passed. Yatsyshin fulfilled the tasks. He can quit with clear conscience," the governor said. Yatsyshin was grateful for "the opportunity to join wonderful team". But he was happy with resignation: "I wish you good luck with this ungrateful work. I have learned so far how ungrateful it is!"
Soon Yatsyshin returned to the post of vice-president of LSR Group.
Source: Kommersant, 2 February 2005
In April 2011 managing director and the member of the board of LSR Group sold his stake in the company, which included 0.31% of shares in authorized capital plus common stocks.
Source: Interfax, 4 March 2011