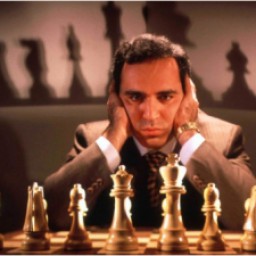 Biography:
Garry Kasparov (Weinstein) was born on April, 13, 1963 in Baku, Azerbaijan SSR. He is the 13th world chess champion, a chess writer, and politician. In 1999 Kasparov chess rating hit a record 2851 which still remains unbeaten.
Kasparov became world champion in 1985 when he won Anatoly Karpov. In 2000 Kasparov lost a world championship match to Vladimir Kramnik.
In 2005 Kasparov announced that he ended his chess career to devote himself to politics. He is involved in a number of opposition movements. He is the chairman of the United Civil Front, a co-chairman of All-Russian Civil Congress, and Russian Federation National Assembly deputy. In 2008 he became one of the founders and a member of the Federal Office of the United Democratic Movement Solidarnost (Russian for "Solidarity"). Kasparov is considered one of the leaders of opposition to the existing political regime. At the same time in Russia his political activity is not covered in mainstream media and does not enjoy broad support.
Awards:
International Grandmaster (1980), Merited Master of Sports of the USSR (1985), champion of the USSR (1981, 1988), champion of Russia (2004), winner of eleven Chess Oscars.
Chess Oscar is a prize awarded to the best chess player of the year. Kasparov won it in 1982-1983, 1985-1988, 1995-1996, 1999, and 2001-2002.
Order of the Red Banner of Labour (1987)
Keeper of the Flame (1991)
Order of Friendship of Peoples (1994)
There are chess programs created with the participation of Kasparov and which use his name:
Kasparov's Gambit for platform DOS was developed by Heuristic Software, markeed by Electronic Arts in 1993.
Virtual Kasparov for PlayStation and Game Boy Advance was developed and marketed by Titus Software in 2001.
Kasparov Chessmate for MS Windows, Palm OS, and Mac OS was developed by The Learning Company and marketed by Jamdat Mobile in 2003.
Kasparov appeared in commercials of Pepsi, AltaVista, and ING. In 2010, according to Kasparov, his main source of income was lecturing.
Kasparov was married three times and has a child from each marriage.
Kasparov owns real estate in Moscow, St. Petersburg, New Yorkm and New Jersey.
Source: Wikipedia
Dossier:
In 1984 Kasparov joined the Comunist Party. According to him, a candidate for the title of world champion in the USSR had to choose between joining party and emigrating.
Source: www.inosmi.ru, 04 August 2005
In 1984 Kasparov met actress Marina Neyolova when he was visiting Tatiana Tarasova, figure skating coach, and her husband, Vladimir Krainov, pianist. Kasparov is 16 years younger than Neyolova, but he won her heart. Their relationship lasted about two years, but they were not going to get married. Clara Shagenovna, Kasparov's mother, convinced him that for his career he must end the relationship. When they broke off their relationship, it emerged that Neyolova was pregnant. After finding out that Neyolova would keep the baby, Kasparov and his mother said a lot of bad things about the actress. Kasparov was not officially stated as father in the child's birth certificate. Neyolova never gave any comments on the matter.
Source: Criminal Russia, 05 June 2005
In 1990 Kasparov made his way into becoming one of the co-founders of Ekho Moskvy radio through buying up a large stake at a give away price. In the mid-90's he sold the shares of Ekho Moskvy at a premium to Vladimir Gusinsky, an odious media magnate. Around the same time Kasparov founded and headed Kasparov-Consulting headquarted in London. The company consulted Western investors and organized charter cargo flights.
Source: Companiya journal, 04 September 2006
In the early 1990s Kasparov's wife went to Finland where her parents lived, and in 1993 gave birth to a daughter named Polina. Kasparov stayed in Moscow. According to some reports, by that time the relationship between his wife and his mother became tense. After the game with Short, Kasparov offered his wife to divorce, terminate her registration at their Moscow apartment, and renounce all claims on his property. The process of divorce and property division lasted for one and a half years.
In 1995 in Riga Kasparov met Julia Vovk at the banquet after The Tal Memorial Tournament. In early 1996 they married, and in the autumn of that year their son, Vadim, was born.
Source: Moskovsky Komsomolets, 13 April 2003
In April 2006 Kasparov was taken off the world best players rating list by FIDE as he did not play a single game during the year.
Source: Regnum, 04 April 2006
In 1996, together with Max Dlugy, his friend, U.S. citizen, and world champion in rapid chess, Kasparov established an investment fund Russia Growth Fund (RGF) which became the majority shareholder (50.42%) of Solikamsk Magnesium Works JSC.
The project ended with institution of a criminal case against Max Dlugy, chairman of the board of directors of Solikamsk Magnesium Works. The prosecution of the Perm region accused him of attempted theft of the plant's funds in the amount of 9 million dollars and embezzlement of representative fund of the enterprise in the amount of 50 thousand rubles. The American tried to leave the country, but at the end of April 2005 he was detained at Sheremetyevo airport and transported to a Perm region remand prison. However, in December the same year Dlugy was acquitted by Solikamsk City Court. According to media reports, Kasparov used all his connections to free his accomplice from jail through convincing the judge by use of illegal measures.
Source: Parity-Media, 02 June 2010
In early 2003 First International Bank of Israel (FIBI) filed a lawsuit to a Delaware court demanding to return the loan of $ 1.6 million dollars, given by the company in 1998 to Kasparov Chess Online Inc.
It was an Israeli programmer Shay Bushinsky, responsible for the technological foundation of the project, who searched for investors. He managed to interest the Israeli holding company Poalim Electronic Communications, that FIBI is part of.
Total investment in the project amounted to approximately 9 million dollars. The guarantee of receiving the money back was to be the transfer to the bank of shares in the company operating the chess web portal. In late 2002 the website ceased to exist and Kasparov left the internet project. After that FIBI demanded through the court to cancel the decision to close the web page and to prohibit Kasparov the establishment of rival web sites.
But the court rejected the demands of the Israeli bank to reopen the web site. According to Dennis Bilunov, former head of the Moscow office of Kasparov Chess Online Inc., "the right to use the domain belongs to Kasparov," because "lawyers of the Israeli bank had to prove their accusations." The case was dropped.
Source: yoki.ru, 15 June 2007
In summer 2005 it came out that Kasparov had divorced his second wife and married Daria Tarasova, student at Saint-Petersburg University of Humanities and Social Sciences, whom he met in late 2004. According to Kasparov, stepping down from sports and into politics, he was forced to change "the whole algorithm for privacy."
Source: Facty, 04 January 2006
According to media, Marina Litvinovich, a political science expert who worked for him since 2005, strictly speaking, worked not for him, but for his sponsor, Leonid Nevzlin, former Yukos vice-president and partner of Michael Khodorokvsky. There is a criminal case instituted against Nevzlin in Russia. The investigation contended that Nevzlin was a murderer and that he contracted killers to eliminate objectionable people. So he fled from justice in Israel. Analysts assume that Nevzlin, was the biggest challenge for Kasparov. He was spotted as a pawn in the hands of Nevzlin and that became his stigma for life.
Source: Kompromat.Ru, 20 April 2005
In 2010 Vladimir Milov, an opposition activist, left the Solidarnost movement and explained it saying "I will not allow to play with me with marked chess so habitual to someone [Kasparov]." He also accused Kasparov that the grandmaster's bodyguards attacked Yalia Arkhipova, a member of the Association of Lawyers for Human Rights, who wanted to join Solidarnost. She was not allowed to join the movement because she was a suspected provocateur. "Kasparov's bodyguards treated the girl very tough, tougher than many police officers treat detained activists of opposition demonstrations" wrote Milov in his blog.
Source: Bryansk.ru, 21 April 2010