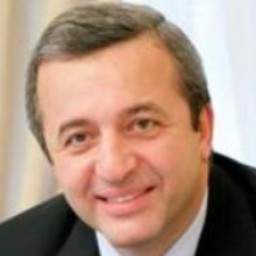 Biography:
Gavriil Yushvaev was born on 23 July, 1957 in Makhachkala. He moved to Moscow at young age.
In 1980 Yushvaev was given a long-term prison sentence for robbery.
In 1989 he was released and immediately went into business activity in different fields. Yushvayev along with businessman David Yakobashvili was actively engaged in gambling business, car trade, advertising and so on.
Since June 2005 he has been as a member of the Wimm-Bill-Dann board of directors.
Yushvayev was owner and member of the board of directors of many companies engaged in the agricultural and real estate business. He simultaneously managed RusAgroProject CJSC, Agrocomplex Gorki-2 CJSC, Eisk Port Elevator OJSC, as well as Cattle Farm Naroosanovsky OJSC.
Besides, Gavriil Yushvaev was president of RusAgroProject CJSC.
Source: GlobalMSK.ru
Dossier:
In 1980-s Yushvaev served 9 years in prison. Being released Yushvaev along with his partner David Yakobashvili was engaged in different business activities including gambling, car trading and outdoor advertising. In 1992 Yushvayev, Yakobashvili, Sergey Plastinin and Mikhail Dubinin founded Wimm-Bill-Dann company. His partners said that he had never been actively engaged in managing the company since he preferred to run real estate and farming business in the Moscow region, Kuban and Volgograd.
Source: Vedomosti, 27 April, 2005


8 February, 2002 was a great day for Wimm-Bill-Dann. Its shares were placed on the New York Stock Exchange. In a day the price of the WBD securities rose from 19.5 to 22.6 dollars a share and the company earned over 200 million dollars.
The triumph of WBD was added savour by the fact that during the emission the owners of the company gave fair warning to sales prospects: guys, we have an ex-convict on the board of directors . If you are not OK with it just don't buy the shares. Pragmatic approach prevailed over scrupulosity and the matter was settled then. Wimm-Bill-Dann shareholders were the first millionaires in the new history of Russia whose money was earnest even up to international standard. Yushvaev earned 16.4 million dollars.
Source: Vslukh.Ru, 1 June, 2004


In 2011 Medvedev stated that the capital of Russia needed expansion and annexed to the Moscow territory an area of Uspenskoe rural settlement situated in the bottomland of Moskva River between Novaya Riga and Uspenskoye highways. The eastern part of the land plot was occupied by Gorki-2 agricultural enterprise owned by Gavriil Yushvayev and David Yakobashvili. In the mid-2000s they purchased the land in Uspenski district as well as other land plots near Moscow.
Source: Vedomosti, 24 August, 2011