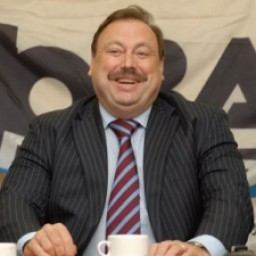 Bio:
Gennady Gudkov was born on 15 August 1956 in Kolomna, Moscow Region.
He graduated from a teachers' training school as an English language teacher. Then he graduated from the counterintelligence school and Andropov institute under the KGB.
Gudkov served in the Army. He also was a department head of the City Committee of Komsomol.
In 1982-1992 he worked for the KGB.
In 1992 he became president of Oskord security association and vice-president of the Moscow International Fund for Support to UNESCO.
Since 2001 he has been member of the State Duma.
Gudkov was the leader of People's Party. As a Duma deputy he joined United Russia faction but in 2007 he quit the party. He joined Just Russia – Motherland, People's Patriotic Union faction.
Gudkov is a member of the State Duma Security Committee. He chaires People's Party of the Russian Federation.
In December 2008 he proposed to authorize Russian media to advertise beer again despite the fact that beer advertising was banned formerly.
Gukov is the founder and the owner of Oskord security agency holding founded in the 1990s. Reports say that in 1996 more than half of three thousand employees were former officers of the intelligence and law enforcement bodies.
In 1997 - 2001 Gudkov was a member of the Advisory Council under the FSB chief. The Council consisted of directors of private security companies.
In 2001 Gudkov resigned as president of Oskord but still remained its owner. Reports say by that time the company had taken over leadership on the market of security services. At the present moment Gudkov is a manager of the company.
Gudkov's wife Maria Petrovna Gudkova chairs the board of directors of Oskord security association, while his eldest son Dmitri Gudkov is involved in politics as a co-founder of the Youth Public Chamber and the leader of Young Socialists of Russia youth movement supported by Just Russia party. Gudkov's youngest son Vladimir Gudkov is the director-general of Central Debt Agency collection agency.
Source: Wikipedia

Dossier:
In 1992 Gudkov voluntarily resigned from the Moscow department of the KGB with the rank of colonel. After his discharge he founded and headed Oskord security company. By 1996 the firm
had employed about three thousand people, of whom more than half were former officers of the intelligence and law enforcement agencies. In 1997-2001 Gudkov was a member of the Advisory Council under the FSB chief.
The Council consisted of directors of private security companies. In 2001 he
resigned as president of Oskord company but remained its owner. Reports say that by that time the company had occupied the leading position on the market of security services.
Source: Employment & Wages, 16 December 2005

Oskord detective and security bureau is Russia's major private security company. Its official owner was Gudkov's wife Maria. As she stated, the company successfully worked and made good progress. The Gudkovs even managed to take part in security arrangements for Queen Elizabeth II when she visited Moscow in 1994.
Source: solomin, 20 March 2007

In 2003 deputy chairman of People's Party Gennady Gudkov said that the scandal about Yukos was "politically motivated" and the main cause of it was financing political parties "not loyal to the Kremlin." Moreover, Gudkov criticized the Kremlin, saying that in Russia all the people and all the organizations were obliged to support Kremlin authorities, otherwise they would be prosecuted. "We have a sad expression here: ''there is always room for frame-up'', he said.
Source: Kompromat.Ru, 4 November 2003

When in 2004 presidential candidate Ivan Rybkin suddenly disappeared FSB lieutenant colonel Gennady Gudkov, a member of United Russia faction stated that he was competent to say that Rybkin had gone to Forest expanse suburban boarding house. However, later his words were not confirmed. Rybkin was in Kiev.
Source: Gazeta.ru , 9 February 2004

On 6 November 2006 Gudkov, party leader of Patriots of Russia Gennady Semigin, member of Revival of Russia party Gennady Seleznev and member of Social Justice Party Alexei Podberyozkin signed an agreement establishing a joint coordination council. On 13 November chairman of the Social Democratic Party of Russia Vladimir Kishenin joined the agreement. The Council was founded to join efforts before regional elections in March 2007. And in the long term the council was supposed be turned into a center-left party that could compete with Just Russia, a new left-wing party which was established through merger of Life Party, Motherland and Pensioners' Party. At that time Gudkov announced his position as a moderate social-democratic one. When interviewed, he repeatedly stated that he stood for a parliamentary republic where the main figure would be the prime minister elected by parliament, but not the president. At the same time he criticized current power system in Russia. In particular, he said that "even Catherine II did not have that broad powers as president of Russia Vladimir Putin does." Gudkov also called the existing system of government an "absolute monarchy of XVIII century"
Source: Novaya Gazeta, 13 November 2006

On 29 September 2011 at about 2 p.m. traffic police stopped Gennady Gudkov's Audi Q7 near Borovitskaya Square.
Policemen stopped the jeep that crossed a double solid line to get to Bolshoy Kamenny bridge to avoid a traffic jam. The driver opened the window and showed his driving licence card to the policemen. They told him to leave the car but were cursed and threatened instead. The driver demanded to give him the card back ''right away'' and ''on good terms''. All the witnesses and the policemen were surprised to see that the driver was deputy Gudkov. ''He said that he was in a hurry to get to the State Duma session and had no time to communicate with us'', a captain of the traffic police said. Gudkov was invited to the police car for drawing up a report, but he started the car and left there, having shouted on the run that the policemen ''themselves would bring him the card''.
Source: Izvestiya, 29 September 2011