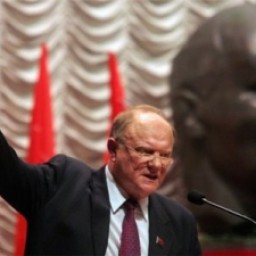 Biography:
Gennady Zyuganov (born 26 June 1944, Mymrino village, Oryol Region) finished Mymrino secondary school with honours in 1961. During a year Zyaganov worked as a teacher in this school. In 1962 he was accepted to Oryol Teacher Training Institute. In 1969 he graduated from the faculty of physics and mathematics with honours. In 1963-1966 he did his compulsory military service for the Soviet Army in radiation and chemical intelligence unit of the Soviet Forces in Germany (he is a Colonel of chemical forces in reserve). He taught physics and mathematics in a higher school. While teaching he started his career in the party, komsomol and trade unions. In 1966 he joined the CPSU. Since 1967 he was repeatedly elected to different positions in the regional, city and local branches of the komsomol.
1972-1974 first secretary of the Oryol regional komsomol
1974-1983 secretary of a local branch of the Oryol city party organisation, second secretary of the Oryol city party organisation, later - chief regional party leader for ideology (head of the department of propaganda and agitation of the Oryol regional committee of the CPSU)
In 1978-1980 he did his postgraduate research in the Academy of Social Studies within the CPSU central committee. In 1980 he obtained an external degree of PhD after defending thesis titled Key Directions of Development of Socialistic Way of Life in the City based on the Example of Large Cities of the Country.
1983-1989 trainer, head of the trainers' unit in the department of propaganda and agitation of the Central Committee of the CPSU
1989-1990 deputy head of ideology department of the Central Committee of the CPSU
September 1990 secretary of Central Committee of the Communist Party of the RSFSR
12 December 1993 member of the 1st State Duma, elected from the party list of the communist party
He has been the leader of the communist faction in the State Duma since 1994
In the presidential elections, which took place on 16 June 1996, Gennady Zyuganov won 32.03% of votes. In the second round of the elections (3 July 1996) he lost to Boris Yeltsin with 40.31% of votes.
On 19 December 1999 he was elected member of the 3rd State Duma from the party list of the Communist Party of Russia
In the presidential elections in 2000 he gathered 29.21% of votes, coming distant second after Vladimir Putin
2003 member of the 4th State Duma
2007 member of the 5th State Duma
In the presidential elections of 2008 Zyuganov came the second after Putin's chosen candidate – Dmitry Medvedev.
Zyuganov authored a number of monographs. He holds the title doctor of sciences – highest academic degree in Russia. His doctoral thesis entitled Key Trends in Social and Political Development of Russia in the 80-90s and Mechanisms of This Development was defended in the Moscow State University. Zyuganov published a book About Russians and about Russia (2004). In the book he calls upon communists and all left-wingers for defending interests of the Russian nation. He is the author of social and economic programs of left-wing opposition. Since 1993 his articles have regularly appeared in Sovetskaya Rossiya newspaper.
Awards:
Honorary citizen of Oryol.
Sholokhov prize in literature (Writers' Union of Russia)
He is reported to often spend his days out in the state dacha in the Moscow Region at the territory of presidential rest house Snegiri. Since 1994 he has rented cottage no.29 – a small pink house with two chimneys. He likes to spend his summer holidays in Kislovodsk (Caucasus).
He lives in Moscow in 54, 2nd Tverskaya-Yamskaya Street. Before the 1990s it was the block of flats for party bosses, including Boris Yeltsin and others.
Zyuganov is married. He met his wife in school. Nadezhda Zyuganova (nee Amelicheva) is a housewife. She used to work as an engineer at the 2nd Moscow watch manufacture. His son Andrey (born in 1968) graduated from N. Bauman Moscow State Technical University (MGTU). He lectured Robotics in the MGTU. His daughter Tatyana (born in 1974) does not have higher education. She was trained as a secretary. Tatyana is rumored to be an astrologist for her father. His sister Lyudmila (born in 1937) worked as a lecturer at Oryol Teacher Training Institute.
Source: Russian Wikipedia
Dossier:
At 1995 elections to the State Duma the oligarchs had already been included in the party list of the Communist Party. That was the way, how billionaire Vladimir Semago became a communist. There were Aleksandr Afanasyev and Igor Annensky – the letter was the head Alba-Alliance bank – on the party of the communist party during at elections of 1999. Recently the police opened a number of criminal cases against Annensky. He has fled the country.
About 20 oligarchs and their frontmen found themselves on list of the communist party in 2003. $20-30m was reported to be "a compensation". Here are the candidates-"communists": Aleksey Kondaurov, Sergey Muravlenko, Oleg Cherkovets, Evgeny Nikulishchev, Aleksandr Nagorny, Semen Bagdasarov (all – Yukos), Aleksandr Afanasyev (owner of Farmakor chain of drugstores), Igor Annensky, Sergey Batchikov (Inerros), Kim Batyrov (Interneftegazstroy), Boris Strekalov (TNK), Nikolay Lugovskoy (Kremlevsky firm, citizen of British Honduras offshore), Sergey Gavrilov (Vneshekonombank), Vakha Agayev (Yug-nefteprodukt), Boris Khramovskikh (officer of TNK oil company), Igor Linshits (chairman of the board of Neftyanoy bank) etc.
Source: Rodnaya Gazeta, 15 April 2005
Berezovsky was reported to cooperate with communists from long ago. In 1995 BAB (Boris Abramovich Berezovsky) supervised financial relationships between the Kremlin and opposition. In 1997 at the instance of Valentin Kuptsov, second man in the Communist Party of Russia, BAB tried to buy out controlling holding in Pravda newspaper that had been bought by the Greeks. The communist party divided over union with Berezovsky. Gennady Seleznev, Svetlana Goryacheva and Gennady Khodyrev were against. Zyuganov, Valentin Kuptsov, Viktor Vidmanov and Aleksandr Prokhanov were in favour of the union. This resulted in the war between Berezovsky-Zyuganov alliance and the Kremlin. Berezovsky was reported to plan to spend $100m on financing opposition in 2002-2003.
Source: Pravda.Ru, 25 September 2003
The classified report of the Federal Service for Financial Monitoring leaked in the newspapers in 2004. According to the document, there was evidence (dated 2002) that Zyuganov's relatives and his close circle had accounts in Swiss banks and used it to transfer money in the banks of Libya, Syria, Saudi Arabia and Qatar. Saudi Arabian banks Saudi American Bank, Saudi al Faran-si Bank and others are involved in financing terrorists, including Chechen militants.
It emerged that Zyuganov, Vidmanov and other high-profile communists own assets in the Middle East – either directly or through frontmen. They own a hotel in Qatar allegedly bought by a frontman in spring 2001. At that time emir of Qatar Hamad bin Khalifa Al Thani invited Zyuganov to visit Qatar for 10 day. There is evidence that the Zyuganovs may own $850,000 worth villa on the shore in Qatar. Another hotel, allegedly owned by Zyuganov and Vidmanov, is situated in Syria. There is evidence that the Zyuganovs also own an oil refinery in Syria and cement plant in Lebanon. Zyuganov owned a yacht (home port is Tripoli, Libya). His son Andrey Zyuganov purchased an expensive cutter through a frontman (it might have been his partner in the construction business); the vessel's home port is Latakiyah, Syria. Oleg Vidmanov also owns a cutter.
Zyuganov and his close circle has accumulated property and assets worth estimated $19m.
Source: Kompromat.Ru, 23 June 2004
In January 2005 Charles A. Duelfer, deputy executive chairman of the UN Special Commission on Iraq and Head of Iraq Survey Group, has published the report, uncovering bribes in the Oil for Food program. Among the organizations mentioned in the report was the Communist Party of the Russian Federation. The report says, that Zyuganov's personal quota was 1.5m barrels of Iraqi oil. Tariq Aziz, former vice president of Iraq, was reported to have testified that Saddam Hussein had financial relationships with a number of Russian politicians, including high-profile members of the communist party.
Source: kofr.org, 03 April 2006
In 2008 candidate to the post of president of Russia Gennady Zyganov published information about his income. According to it, Zyuganov earned 3,445,291 roubles ($119,000) over last 4 years (sources: salary of a member of the State Duma, state pension and interest income). He did not own a land plot, cottage, garage or any other type of immovable property. He had no car, shares or securities. He rented a dacha in Moscow Region.
He had 3 bank accounts (152,500 roubles) and a flat (167,4 square metres, collective ownership with his wife). Besides a share in the flat, Zyuganov's wife Nadezhda had 4 bank accounts (247,989 roubles). She eared 145,376 roubles during last 4 years (sources: pension, interest income).
Source: FLB.ru, 2 January 2008
In July 2011 Russia's Investigative Committee opened criminal case against Vladislav Myasin and Leonid Karagod on charges of fraud attempt. Myasin and Karagod were volunteering advisors to Konstantin Beschetnov and Aleksandr Burkov, both -members of the parliament from Just Russia faction.
Myasin and Karagod were accused of extorting 7.5m euros from a Chernikov for "inclusion of his candidature in a party list for the State Duma elections."
Myasin testified that he wanted to hand over the money to a person within the presidential staff through the mediation Communist Party of Russia (it should have secured Chernikov's name on the United Russia party list). Konstantin Shirov, member of State Duma from the Communist Party, was in National hotel at the moment when money was handed over.
Source: Vedomosti, 17 July 2011