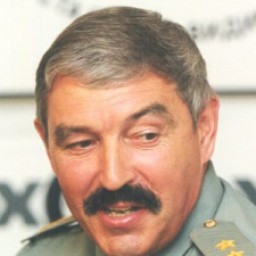 Biography:
Georgy Shpak was born on September 8, 1943 in Osipovichi, Mogilev region of the BSSR in the family of a railway worker. He graduated from the Minsk railway technical school becoming an assistant engineer of locomotives. Half a year he was a soldier in 137 Parachute Regiment in Ryazan, and then entered the Ryazan Higher Airborne Command School, which he graduated from in 1966 and was appointed commander of a military school platoon. In 1970 he became a company commander at a military school, and in 1973 he became a teacher of tactics. Then, six months later he was appointed commander of a battalion in the 44th training Airborne Division in the Baltic states.
After graduating from, the Military Academy named after Frunze in 1978, he commanded Airborne regiment, was chief of staff, deputy commander of the Airborne Division, the commander of the 76th Airborne Division. He participated in combat operations in Afghanistan as commander of 350 Airborne Regiment, in Yugoslavia, and Chechnya.
In 1988, after graduating from the Military Academy of the General Staff, he was appointed deputy commander of the Combined-Arms Army in Odessa Military District.
From 1989 he was commander of the 6th Army of Leningrad Military District, chief of staff, first deputy commander of Turkestan Military District, and since 1992 he was chief of staff, first deputy commander of Volga Military District.
In 1996-2003 he was commander of the Airborne Troops.
In September 2003, after retiring, he joined the party Rodina in which he remained until October 2004.
In December 2003 he was elected to the Federal Assembly of Russia.
In March 2004 he was elected governor of Ryazan region and remained in office until 2008.
On April 14, 2008 he was dismissed from his post as governor of Ryazan region.
Awards:
Order of Merit for the Fatherland, IV degree
Order of Military Merit
Order of the Red Banner
Order of Merit to the Motherland in the Armed Forces, III degree
Medal of Military Merit
Order of St. Vladimir, III degree (Russian Orthodox Church)
Order of the National Glory of the 19th National Trademark Exhibition
Quality mark of XXI century (Moscow)
Order for the revival of Russia. XXI Century of the International Competition "Pilar"(Fund" Union of leaders in domestic production in small, medium and large businesses, Moscow)
Medal for Faultless Work (non-commercial partnership Coordination Centre for the leaders of the security-detective agencies, Ryazan)
Order of Holy Emperor Nicholas II, 2nd degree (League of reviving the traditions of the Russian monarchy, Moscow)
Order of St. Peter and Fevronia, I degree (regional public organization of strengthening of family and marriage Folk Club Family)
Honourary Citizen of Osipovichi
Honourary graduate of Samara State Aerospace University
He is married to Alla Grigorievna. His son, Oleg, was a Guard lieutenant and was killed in Chechnya in 1995. His daughter, Yelena, is lieutenant colonel of medical service. He has a grandson called Oleg, and two granddaughters, Anna and Aleksandra.
Source: Wikipedia
Dossier:
A significant breakthrough occurred in the military career of Shpak in 1996 when he was appointed commander of Russian Airborne Troops. Russian officers who were trying to improve his financial situation through the service contract in Yugoslavia had to pay a toll to the first commander of the Airborne forces. Such tolls for Shpak were received by Gennady Dedikov who was his deputy. Since then Dedikov did not leave his benefactor, performing the function of a mediator between Shpak and Samara criminal groups. Dedikov became head of the governor's administration in Ryazan government. Dedikov endorsed all documents Shpak was to sign.
Even assistants to the first commander of the Airborne forces could not put up with corruption of the man. At one time, two of his deputies, Aleksandr Chindarov and Aleksey Sigudkin, deputy chairman of the Duma Defense Committee, having found out the extent of criminal activities of their chief, left their posts. And those, who tried to stop the general, are dead. In December 2001 Major General Vladimir Kazantsev, the deputy commander of airborne troops for combat training, who learned about Shpak's criminal activities and informed the prosecutor, died under strange circumstances (allegedly fell from the balcony),.
Source: Vsluh.Ru, 27 March 2006
In May 2004, Shpak, who was elected governor of the Samara, helped businessman Andrey Ishchuk to become member of the Council of Federation of Ryazan. According to the media, that way he thanked the head of Volgaburmash-MTL holding for financing his election campaign. The new senator immediately admitted that until recently he saw Ryazan only from the train window.
Source: Gazeta, 05 May 2004
In February 2005 a scandal erupted in Ryazan region. It was unprecedented by Russian standards and involved shady financing of gubernatorial elections. Natalia Suchkova, CEO of Krotbers holding located in Kasimov in Ryazan region, filed a lawsuit against Shpak on his default on the agreement concluded during the election campaign to the Soviet District Court of Ryazan.. According to documents, Shpak received 48 million rubles from Suchkova and promised to appoint her vice-governor and to discuss all appointments with her. But after winning the elections, he refused to act as he had undertaken to, and Suchkova hoped to get refund on the money through court.
Source: Kommersant, 15 February 2005
On February 25, 2005 at a press conference Igor Morozov, Shpak's rival for the elections and a State Duma deputy, released documents sent to him by former confidants of the governor. According to the Duma deputy, the paper showed that Shpak collected 84 million rubles during the election campaign, 75 million of which were shady funds of his electoral staff. Morozov handed the documents over to the Prosecutor General's office. After a check they initiated a criminal case under article 141.1 of the Criminal Code ("Violation of campaign finance of a candidate or electoral association"), which provides for a penalty of up to 300 thousand rubles, or community work, or imprisonment for up to one year. The prosecutor's office staff emphasized that "as of right now there are no suspects in the case, and so far no one faced charges."
Source: Kommersant, 17 March 2005
Since April 2004 Georgy Shpak and his family lived in the so-called House of the Governor. Maintenance costs in 2005 amounted to 245,000 rubles, in 2006 to 352,000 rubles, and for the first quarter of 2007 reached 94,000 rubles. Dishes, linens, towels, bathrobes, slippers, household cleaning sponges and wipes were bought on budgetary funds for a total of 176 thousand rubles. Regional administration allocated funds to buy the governor a Seiler 122 konsolo piano worth 520 000 rubles and a foreign-made solarium worth 207 rubles. In total, the House of Governor has valuables worth more than 7 million rubles.
Source: Kommersant, 23 May 2007
The last nail in the coffin of the governor's career was a crisis in local government. United Russia won the elections to the city Duma in Ryazan with only 33% of the vote. Another 26% was for the Communist Party, Liberal Democratic Party received 13%, Just Russia had 9%.
Source: Gazeta.ru, 14 April 2008
On April 14, 2008, when the Armorial Hall of the former Nobility the final preparations for the inauguration of new Ryazan Governor Oleg Kovalyov were under way, Georgy Shpak opened a memorial to Saltykov-Shchedrin, Vice-Governor of Ryazan, who later became head of the Ryazan Treasury.
During the years of his governorship, Shpak opened 3 'horse' monuments in Ryazan: one to St. George (who by some reason looks towards Moscow), the epic hero Evpaty Kolovrat, and to knyaz Oleg of Ryazan (made by Zurab Tsereteli). Bust commemorating a satirist was the first and the last horseless monument in the governor's career.
Source: Novye Izvestia, 14 April 2008