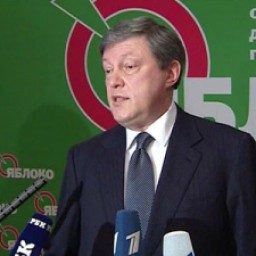 Biography:
Yavlinsky was born on April, 10, 1952 in Lviv, Ukraine. Up to the ninth grade he studied at an elite secondary school № 4 with intensive English language course. In the ninth grade he went to a night school to gain work experience to facilitate moving to Moscow and entering into a prestigious institute. He combined his studies with work. In 1969 he entered the general economic department at the Moscow Institute of National Economy named after Plekhanov and moved to Moscow. After graduation, until 1976 Grigory Yavlinsky was a postgraduate student at Moscow Institute of National Economy. Leonid Abalkin was one of his professors. Yavlinsky got his Ph.D. in 1978 after defending his thesis on "Improving the division of labour in chemical industry".
In 1976-1977 he worked at the All-Union Scientific Research Institute of Management of the coal industry (VNIIUugol).
Since 1980 he was head of the heavy industry Research Institute of Labour of the State Committee for Labour and Social Affairs.
Since 1984 he was deputy head of the consolidated department, then head of social development and population department of the State Committee for Labor and Social Affairs.
From 1985 to August 20, 1991 he was member of the Communist Party.
Since 1989 he was head of the Consolidated Economic Division of USSR Council of Ministers.
In 1993-2008 he was leader of the Yabloko party.
Since 2008 has been was member of the political committee of the Yabloko party.
Married to Elena Anatolievna Yavlinskaya (nee Smotryaeva), an engineer-economist. She worked at the Research Institute of Coal Engineering Giprouglemash. The eldest son from his wife's first marriage, Michael Smotryaev, was born in 1971. He graduated from the Department of Theoretical Physics at the Moscow State University and has a degree in nuclear physics. He works as a journalist. The youngest son, Aleksey, was born in 1981. He has a PhD and is a research engineer in computer systems.
Source: Wikipedia
Dossier:
Since 1991, the year of establishment of Inter-Republican Centre for Economic and Plotical Research (EPI-Centre), Gusinsky began to financially support Yavlinsky. Epi-Centre was located in the Moscow City Hall on Novy Arbat and paid for the lease of the premises to Most-Bank. In all election campaigns Yavlinsky was officially sponsored by businesses owned by media tycoon Vladimir Gusinsky. He was constantly on TV channels and in the media owned by holding Media-Most.
Source: APN, 16 October 1999
In summer 2000 after the economic forum in Salzburg, Austria, was over, Michael Friedman, personal representative of the President of the World Jewish Congress, met with Grigory Yavlinsky on behalf of Edgar Bronfman, the President of the World Jewish Congress. At the meeting also attended by Alexksandr Tsimaylo, deputy chairman of the board of directors of Media-Most holding, they discussed issues of funding and coordination rightwing liberal coalition in Russia which opposed Putin's reforms. According to independent Western media, Yavlinsky was empowered to dispose of 15 million dollars, which were transferred by the Bronfman group to financial accounts of Yabloko in the U.S. As pay back Yavlinsky undertook to misinform European public opinion through the rostrum of the Parliamentary Assembly of the Council of Europe (PACE), as well as through some other non-governmental structures of the West.
Source: GAP, 16 July 2000
In early 1997 the eldest son of Yavlinsky, Michael Smotryaev, who is correspondent of Radio Svoboda (Russian for "liberty"), bought a house on Derby Hill Street in Forest Hill. This is one of the most respected neighbourhoods in south-east London. Experts estimated the cost of such house at 400 to 700 thousand dollars.
According to information provided by the law firm CMS Cameron McKennas regarding the property and bank accounts of Yavlinsky's sons, they were quite well-off people and kept money in the account at one of the most respected British bank Barclays Bank.
Source: Skandaly.ru, 05 September 2003
In mid-April 2011 Sergei Mitrokhin, the leader of Yabloko, said that the party would probably nominate Grigory Yavlinsky as candidate in the presidential election in 2012. "If the Duma elections come out at least relatively honest, this will be a serious argument to take part in the presidential elections", he said.
Source: Interfax, 27 April 2011