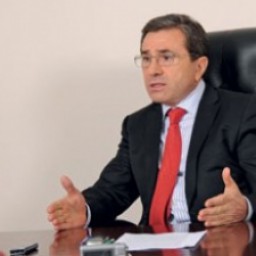 Biography:
Igor Babaev was born in August 1949. In 1971 he graduated from Krasnodar Polytechnic Institute receiving the diploma of an engineer. In 1976 he finished his post-graduate studies at Moscow Technological Institute of Meat and Dairy industries. After graduation he worked as a shift engineer and then as a senior engineer at Essentukovsky cannery.
In 1976 he headed Anapa meat processing plant.
In 1978 - 1985 he worked as CEO of Armavir cannery.
In 1885-1988 he served as head of industrial engineering department at the meat processing factory in Nalchik an then as chief engineer of Stavropol meat-packing plant. Later he became a senior engineer at Simferopol poultry processing plant and chief engineer at Complex NGO of poultry and gelatine industry in the State Agricultural Committee of the USSR.
In 1988 he was appointed chief engineer of Cherkizovsky meat factory and in 1989 hewas elected as its director
Since 1998 he has been president of Cherkizovsky AIC
He has a Ph.D. in Science. He is member of the Russian Academy of Engineering and has the title of Honoured Worker of the food industry in Russia."
His wife is Lydia Mikhailova. Babaev has two sons, Yevgeny and Sergey Mikhailov, in addition, he raised his niece Lyudmila.
According to Finance magazine, list in 2010he ranked 305th in the list of the richest men in Russia, his fortune amounting to 97 million dollars.
Source: Vedomosti
Dossier:
Babaev began working at Cherkizovsky meat processing plant back in Soviet times. Then he took part in the privatization of the enterprise and in 2005 created Cherkizovo JSC, combining AIC Cherkizovsky and APC Mikhailovsky. Three whales of Babaev's well-being and commercial included meat processing, poultry farming, and pig breeding.
Among domestic farmers Igor Babaev was the first ever to bring to unergo IPO. Babaev decided to use IPO as a tool for consolidation of the market. He set out to become the full owner of at least 10% of Russian agriculture. For that matter, it was necessary to increase the company's turnover to $ 2.5 billion a year.
Source: Aksakal Media Group, 05 October 2010
In 2008 the family of Igor Babaev was the sole shareholder of UIT Renaissance-Zemelny, the largest land fund in Russia, its the net asset value at 458 million dollars; area at 3530 hectares. On those land plots the Babaevs, who own more than 200 thousand hectares across the county, could build up to 2 million square meters of real estate. The family was forced to go into development business by overdue debts of Cherkizovo. In 2007 the group's net debt was equal to 5.6 EBITDA.
Source: Kommersant, 12 May 2008
Polish developer Platinum Properties Group (PPG) announced the purchase of Svetlye Dali Ltd. that owns 98.76 acres of land in Moscow region for 100 million dollars. Earlier, the Russian company was part of the holding Mikhailovsky Development Group, controlled by the main shareholders of Cherkizovo, namely Igor Babaev and Sergey Mikhailov. Since 2007, Svetlye Dali designed a cottage village in the district of Krasnaya Polyana in Lobnya. PPG planned to use the land to construct over 7-8 years housing with total area of ​​600-700 square meters. The Polish media stipulated that as a result Babaev and Mikhailov could become co-owners of the developer. The owner of PPG is a Polish entrepreneur Peter Wisniewski.
Source: Marker, 05 January 2011