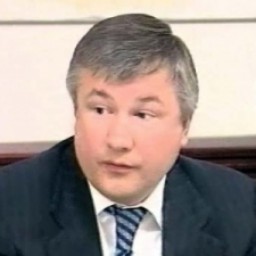 Biography:
Igor Izmestiev was born on January 28, 1966 in Salavat. He is a graduate of Ufa Aviation Institute.
In 1988-1990 he served in the Soviet Army.
In 1990-1991 he was electrical engineer of Bashneft JSC, electronics engineer in Vostok-Service and the commercial director of the Ufa trading house.
In 1991-1993 he was deputy head of Foreign Economic Relations department at Novo-Ufa oil refinery.
In 1993-2000 he worked in senior positions in Moscow joined stock companies, in particular, as head of Corus Holding JSC.
From September 2000 he was chairman of the board of directors of shipping company Volga Shipping Company (Volga-Flot JSC, Nizhny Novgorod). At the same time in 2000 he was assistant to the chairman of the State Council of Bashkortostan Republic.
In 2001 he was appointed representative in the Council of Federation.
In April 2003 he was confirmed as a representative of the Council of Federation by the new composition of the State Council of Kurulta, Bashkortostan Republic.
On November 30, 2006 at a State Council of Bashkortostan meeting deputies decided to terminate the term of Igor Izmestiev as the Council of Federation representative of the Bashkir parliament.
On January 16, 2007 Izmestiev was arrested by National Security Service of Kyrgyzstan and handed over to their counterparts from the Russian FSB.
On January 18, 2007 Basmanny Court of Moscow sanctioned the arrest of Izmestiev.
On December 28, 2010 Moscow City Court sentenced Izmestiev to life imprisonment.
Source: Wikipedia
Dossier:
In 2005 the investigative committee at the Ministry of the Interior took up the case initiated by the investigation department of the Moscow police over tax evasion by subsidiaries of Corus Holding by means of two firms, namely Korus-Baikonur and Bort-M, registered in the offshore zone of Baikonur.
According to investigators, tax evasion was carried out using the same scheme through which Yukos optimized taxes through offshore companies. In early 2006 Izmestiev was questioned as a witness. In summer 2006, three of his friends, namely Aleksander Papakhin, former deputy chief of investigative department of the Moscow police, Aleksander Bakanov, retired Lieutenant General of Tax police, and Dmitry Krivenko, FSB Major, were arrested for giving bribes in exchange for a plan of the investigation of Korus Holding case.
Source: Kommersant, 20 November 2006
On November 30, 2006 State Council of Bashkortostan decided to dismiss Izmestiev from the Council of Federation for combining entrepreneurship with being a senator. Izmestiev called his dismissal illegal and vowed to defend his opinion in the upper house of parliament. He was supported by Sergey Mironov, Speaker of the Council of Federation, who brought into attention that the State Council of Bashkortostan had no right to initiate the dismissal of the Council of Federation member.
According to one version, the scandal could have been initiated by Ural Rakhimov, the son of the president of Bashkortostan. Izmestiev unveiled version stating that the public campaign against him had been launched by entities wanting to take control over Korus.
Source: Expert Online, 30 November 2006
On January 16, 2007 Izmestiev was arrested at the airport in Bishkek and escorted to Moscow. He was charged with the murder of a notary Galina Perepelkina, the wife of Yuri Bushev, who was his former business partner, president of auditing firm Promfin Ltd and founder of the Bashneft MPK CJSC.
Source: Gazeta.ru, 18 January 2007
On March 12, 2007 Sergey Finagin, who was arrested in the framework of the case against Yuri Vasiliev and Denis Pinchuk, former operations officers of the Federal Service for Drug Control in St. Petersburg, accused of involvement in activities of Kingisepp criminal group. Finagin pointed to Izmestiev as a customer of the murder of Oleg Bulatov, employee of Roneks Company. In addition, Finagin said Izmestiev provided money for killers to buy weapons and rent apartments. Subsequently Izmestiev was mentioned in the case as a customer or manager of murders and assassination attempts committed by the group members. In addition to the notary Perepelkina and Bulatov, among victims were named Salavat Gainanov, production director of the Novo-Ufa oil refinery, Valery Speransky, former chief accountant of the Bashkir Petrochemical Company, and Mikhail Orlov, head of financial services company Corvette.
Source: Kommersant, 05 March 2008
At the end of April 2008 final charges were brought against Izmestiev. However, in May the Investigative Committee of the Russian Prosecutor's Office reclassified one of the counts in the charges previously brought against Izmestiev from terrorism to attempted murder. Ural Rakhimov, who was not a victim in this case, was called a possible victim of the senator.
Source: Kommersant, 04 May 2008
In May 2010 Moscow City Court dismissed jury in the case against Izmestiev. The jury was set on acquittal, but security officials applied psychological pressure to some jurors, after which the court was dissolved. Izmestiev was charged with terrorism, and the Duma passed a law to withdraw cases of terrorism from ordinary courts and hold such litigations in professional jury trials.
Source: New York Times, 15 November 2010
In July 2011 human rights activists handed over to Dmitry Medvedev Izmestiev's statements. According to Izmestiev, he disposed of irrefutable evidence that the Rakhimovs stole 5 billion dollars. The money was stolen by Ural Rakhimov, who held control of the fuel and energy complex of the oil region. In 2003 the Audit Chamber found that there were some irregularities in Bashkortostan, but the investigation was never completed.
At present Ural Rakhimov owns a modest fortune of 500 million dollars and lives in Austria. Murtaza Rakhimov, who was head of Bashkortostan for 20 years, received the Order of Merit for the Fatherland and lives a quiet life of political retirement.
Source: Neva24, 08 July 2011