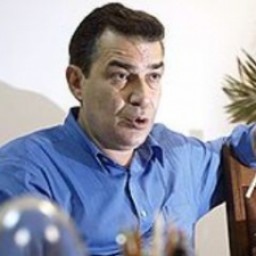 Bio:
Igor Rudinsky was born on 18 April 1954 in Novosibirsk.
In 1977 he graduated from Moscow Aviation Institute, having majored in aircraft engine construction.
In 1977 - 1981 he worked as an engineer at Salut machine building plant in Moscow.
In 1981-1989 he worked at the Cinema and Photography Research Institute and was engaged in scientific work.
In 1990 he founded Rink company that produced iridology devices.
In 1993 Rudinsky and his Hungarian partners co-founded SIA International pharmaceutical distribution company
.In 1995 he became the sole owner of SIA International.
In 2008 he reduced its stake in SIA International company to 50% .
He has more than 60 published works and inventions on film equipment.
Rudinsky is married to Yelena Rudinskaya. He has two adult daughters. One of his daughters has worked for SIA International for some time, first as an assistant manager and then as a manager.
In 2011 Rudinsky's wealth was estimated at 900 million dollars.
Sources: Lobbying.ru, personalities, 3 May 2011; Forbes.ru, 15 April 2011
Dossier
For a long time Rudinsky's partner and co-owner of SIA International had been Shabtai Kalmanovich, known for his criminal connections. Kalmanovich was acquainted with Vyacheslav Ivankov also known as Little Japanese and partnered with member of a New York crime family Marat Balagula. In 1996 Kalmanovich was mentioned in FBI reports as "a powerful member of Solntsevskaya crime group." Besides, he was a friend of famous singer Iosif Kobzon well- known for his criminal connections. In November 1997 Liat Pharmaceutic company jointly owned by Kobzon and Kalmanovich was sold to SIA International. In 1998, when interviewed by Pharmaceutical Bulletin, Igor Rudinsky said that Liat Natalie and SIA International would be merged under the name of the latter. " The merger will be formalized in1999", he said. Since then Rudinsky had been considered as the owner of SIA International. However, in 2003 Rudinsky said that the company abandoned the merger. Nevertheless, SIA International owned most of the assets of Liat Natalie, while former employees of Liat Natalie indicated in their CVs that after the merger they worked for SIA International. It is known that in the late 1990s Kalmanovich quarreled with Kobzon, perhaps just because of their disagreement on pharmacy business. Since the merger Kalmanovich himself had not almost cared of the company.
On 2 November 2009 Kalmanovich was shot down in the centre of Moscow. Investigation of the case was suspended.
Source: Slon.ru, 11 August 2009


On 8 April 2008 it was announced that TPG Capital investment company, the USA, was going to purchase 50% of shares of SIA International. However, later TPG Capital company refused to buy the stake and paid a $ 50 million fine to Igor Rudinsky.
Source: Expert Online, 7 September 2009

In 2010 Rudinsky purchased a 25% stake in 36.6 Network of Pharmacies and joined the board of directors of the corporation.
However, in October 2011 he was not nominated for election to the board which took place in June 2011.
Source: Pharmvestnik.ru, 10 June 2011