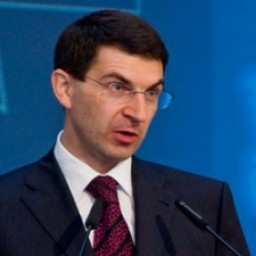 Biography:
Igor Shchyogolev was born on November, 10, 1965 in Vinnitsa, Ukrainian SSR.
In 1982-1984 he studied at the Translation Faculty of the Maurice Thorez Moscow State Institute of Foreign Languages. Then in 1984-1988 he studied at the Faculty of German language (according to other sources, he was then student of the Faculty of Journalism) at the Karl Marx University of Leipzig. In 1988 he graduated from both the universities and was qualified as a philologist.
In 1988-1991 he was the editor of the editorial board of the Americas, a major revision of foreign information Telegraphic Agency of the Soviet Union (TASS). Some sources say that he worked at First Chief Directorate of KGB (foreign intelligence).
In 1992 - 1993 he was editor and senior editor of the joint European countries editorial board.
In 1993-1997 was a correspondent for a regional center of ITAR-TASS news agency in Paris.
In 1997 he became deputy editor of foreign information services, head of the European editorial board, and then deputy editor of the news service ITAR-TASS.
From June till September of 1998 he was deputy head of the federal information unit of the Russian government.
From September till October 1998 he was the press secretary to the Prime Minister of Russia, Mr Yevgeny Primakov.
Mass media speculated that the appointment was influences by the presidential press secretary, Mr Dmitry Yakushkin, who was head of the Komsomolskaya Pravda newspaper in Paris when Mr Schegolev worked there.
From October 1998 till May 1999 he was head head of the federal information unit of the Russian government.
In November 1998 he joined the board of state representatives of ORT TV network.
From June till August 1999 he was adviser to Prime Minister, Mr Sergei Stepashin, and later to Mr Putin.
Since January 2000 he was head of the press service of the Acting President of the Russian Federation, Mr Putin. And when Mr Putin was elected head of state, in June 2000 Mr Shchyogolev was appointed head of the presidential press service.
In March 2001 Mr Shchyogolev, Mr Vladislav Surkov (who was head of presidential administration) , and a famous designer, Mr Artemy Lebedev, joined the jury of the contest for developing the concept and design of President Putin's Web page.
On December, 29, 2001 Mr Shchyogolev was appointed Chief of Protocol of the President.
In March 2004, after the reorganization of the presidential administration, was reinstated as Chief of Protocol.
On May, 12, 2008 in Mr Putin's office Mr Shchyogolev was appointed minister of communications and mass media.
In July 2010 he became member of the board of directors of Svyazinvest. On August, 20, 2010 was appointed chairman of the board of directors.
Mr Shchyogolev is considered to be an expert on European countries. He speaks French, German, and English. Several inspectors called him a tough manager and a "powerful hand".
Mass media stipulates that Mr Shchyogolev could have met Mr Vladimir Putin in German Democratic Republic, where Mr Putin worked for national security agencies in 1985—1990 and was head of Soviet-German House of Friendship in Leipzig.
Source: Lentapedia
Dossier:
In June 2008 a competitive bid was held for biometrical passports manufacturing. Open technologies -98 closed JSC won the bid. This is the company Mr Dmitry Severov, the then deputy of Mr Igor Shchyogolev, used to work at. Open technologies offered the most money, 495 million rubles compared to 197 million rubles, offered by Federal State Unitary Enterprise scientific research institute Voskhod.
Federal Antimonopoly Service canceled the results of the bid. President Dmitry Medvedev had to intervene and issue a decree to reinstate the rights of Voskhod. Several months later Mr Shchyogolev managed to bring Voskhod under control of his ministry. By the end of 2008 the research institute became a subordinate of Ministry of Communications and Mass Media. In April 2009 Mr Leonid Yukhnevich, who opposed the ministry's policy, was made redundant from the Voskhod for labour legislation violation. The position was filled by a FSB general Mr Leonid Borodinov, former deputy CEO of Ruselectronics holding company.
Source: Novaya Gazeta, 06.28.2010
At the beginning of November 2008 Russian delegates were present at an international telecommunications exhibition in Geneva. Sixty people had accommodation at the Grand Hotel Kempinski Genève, the cost of an average room there being 600 francs per day. Head of the delegation, Mr Igor Shchyogolev, stayed in a presidential suite which cost 4000 francs per day.
Source: Moskovskaya Pravda, 10.30.2008
During his vacation in France in 2008 Mr Igor Shchyogolev had to fly out to Moscow urgently. Through the Valentur company , which provided services on business trips for Rostelecom employees, a Cypriot company Skayton Inc was ordered an aircraft for the flight on July 27-28. The route was as follows: La Rochelle - Moscow - La Rochelle. The 12-seat business aircraft Learjet-60 cost 47 thousand euros.
Source: The Moscow Post, 08.11.2009
In 2009 Mr Igor Shchyogolev spent his New Year holidays in Paris. Witnesses say that Mr Shchyogolev, who is usually modest, drastically changed in the French capitol, where he spent the holidays with his family.
The minister's family stayed at a suite at the Plaza Athene on avenue Montaigne. The hotel is famous for its Alain Ducasse restaurant, where Mr Shchyogolev and his family were seen by other guests of the hotel. By the entrance of the hotel there always was an Audi A8 awaiting the minister.
Source: The Moscow Post, 01.23.2009
For the Winter Olympiad 2010 in Vancouver team of the Ministry of Communications and Mass Media led by Mr Igor Shchyogolev was accommodated at the Georgian Court hotel. For several days they stayed in five rooms including a suit for Mr Shchyogolev at the price of 8, 600 US dollars per day and four rooms at the price of 4, 100 dollars per day. Coverage of the costs was managed by head of the Administrative department of the ministry, Mr Oleg Dukhovnitsky, and finance director of the Rostelecom JSC, Mr Anton Khozyainov. Among those who went to Canada with the minister there were Mr Dukhovnitsky, assistant to the minister Mr Goryatchev, Mr Sergey Sitnikov, Federal Supervision Agency for Information Technologies and Communications who was invited by Mr Shchyogolev, and a member of the board of directors of Svyazinvest JSC , Mr Konstantin Malofeyev and his family.
Source: The Moscow Post, 02.18.2010
At the end of 2008 Ministry of Communications and Mass Media threw a rich New Year celebration for the staff. The celebration was held at the VIP-room of GUM Trading House. The VIP-room manager announced the costs for such celebrations in the VIP-room. On New Year's Eve only room rental is 25 to 30 thousand euros. Music is charged separately and costs about 300 to 500 thousand rubles. Catering is 200 euro per person.
Source: Moskovskaya Pravda, 12.23.2008
During 2008—2010 Mr Igor Shchyogolev's ministry paid:
3 million rubles to InfoTechnoProject ltd. for "regulatory improvements in human resources management of the Russian Federation"
3 million rubles to Park-Media Consulting ltd. for elaborating amendments to the bill on self-regulatory organization in information technology and 3 million rubles for studies of Russian legislation " to identify opportunities and expediency of introduction of self-regulatory organizations in communication";
17.5 million rubles to SvyazTelecomExpert for amendments to federal law project draft "On Postal Communications" and "introduction of changes to legislation on digital signature".
3.1 million rubles to Cros for "elaboration and conduction of awareness campaign on improving state employee reputation and status of civil service" and 700 thousand rubles for the concept of the mentioned campaign;
14.8 million rubles to API for "elaboration of the core government policy line in mass media" and "studies of interaction mechanisms within information space of the Russian Federation", and another 9.1 million rubles "to raise effectiveness of state policy in mass media";
9.8 million rubles to I.T. Co closed JSC for introduction of digital document flow via free ware programs.
Source: Regions.Ru, 07.28.2010
In 2009 a State Duma member with the Just Russia patry, Mr Mikhail Emelianov, asked the Ministry of Finance in a written address to review a project drafted by a group of investment banks. The project was on the set up of a managing company for the Skolkovo innovation centre in form of a joined stock company headed by Marshall Capital Partners bank.
The official head of Marshall Capital Partners, Mr Konstantin Malofeyev, was the godfather of two children of Mr Igor Shchyogolev. In May 2008 Mr Mikhail Leshchenko, close associate of Mr Malofeyev, became a trusted advisor on Svyazinvest holding reform to Mr Igor Shchyogolev. Within a very short period of time Mr Leshchenko became member of the board of directors of Rostelecom, Central Telegraph, Giprosvyaz JSC and many other communication companies. Another subordinate of Mr Malofeyev, Mr Anton Khozyainov, became Rostelecom deputy CEO on economics and finance .Another business partner of Marshall Capital, Mr Sergey Provotorov, was appointed advisor to minister of communications and mass media on property and equity issues.
Source: igolkin,12. 25.2009
In summer 2009 Scartel (Yota brand) filed a lawsuit against Rostelecom. The service provider appeals against the decision of the agency that canceled the license for frequency 2.5-2.7 gigahertz. Experts claimed that Federal Supervision Agency for Information Technologies and Communications and its head organization, ministry of communications and mass media of the Russian Federation, promoted the interests of business entities, linked to the ministry. The business entities mentioned are Mr Vitaly Yusufov's Osnova Telecom and Mr Gregory Berezkin's Rusenergo Telecom.
Among those behind the Federal Supervision Agency for Information Technologies and Communications attack on Scartel , Mr Stanislav Belkovsky , the president of the National Strategy Institute, named Mr Konstantin Malofeyev, former executive partner of the Marshall Capital Partners fund and member of the board of directors of Svyazinvest holding company.
Source: Rosbalt, 08.09.2010