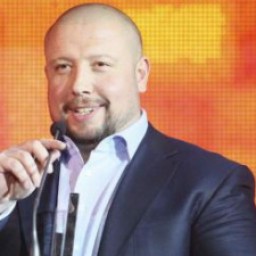 Bio:
Yurov was born on 15 August 1971 in Moscow. He graduated from the faculty of economics at
Ordzhonikidze Aviation Institute in Moscow and TRESOFI business school, France, having majored in money markets and treasury management.
He started his career as a bank manager at Compagnie Parisienne de Reescompte,
the largest investment company in France.
In 1996 he was appointed treasury head of Menatep bank in Moscow.
Since 1999 he has been the first deputy chairman of the board of Trust Investment Bank.
Since 2000 he has been chairman of the board of directors of Trust Investment Bank.
Since October 2003 he has been the chairman of the board of Trust investment bank and Trust National Bank.
Yurov is married and has six children.
Source: Forbes
Dossier:
Major shareholder of Trust and Menatep St.Petersburg banks Ilya Yurov has been engaged in banking since 1996. He started his career as treasury head of Menatep bank. In 1999 he became the first deputy chairman of Trust and Investment Bank later renamed as Trust bank. By the end of 2002 Menatep IFI had increased its stake in Menatep St. Petersburg bank up to 80%, so managers of Trust and Investment Bank suggested director of Menatep IFI Platon Lebedev that they would buy out Menatep St.Petersburg bank. However, management of Menatep IFI rejected them as it was decided to merge the two banks and establish a holding company. But in December 2004 the Bank of Russia endorsed the deal on sale of Menatep IFI that owned 99.35% of Menatep St. Petersburg bank and 68.38% of Trust bank to TB Holdings Co. And this holding, in turn, was controlled by Ilya Yurov, who owned 27.28%, and four board members of Trust bank Sergey Belyaev, Oleg Kolyada, Nikolai Fetisov and Artashes Terzian, who owned 18.18% of shares.
Source: Kommersant, 10 January 2005

In 2009 the Prosecutor General and FSB officers launched an investigation of activities of Trust investment bank owned by Menatep IFI. The day before managers of Trust got the documents on registration of a new name of the bank. And the next day officers of law enforcement agency came to the office of Trust and had questioned the banker for about an hour. Reports say that the banker was told to provide information on accounts and financial transactions of certain customers, and he disclosed this information to the police.
Source: Kommersant, 31 July 2009

On 26 March 2009 bailiffs arrested property of the Far East branch of Trust natonal bank as recovery of a 2.5 billion debt to Rosneft. The bank went bust because of Yukos. In 2004 Yukos entrusted to the bank bills and securities in the total value of 1.5 billion rubles. When Yukos met financial problems the bankers secretly wrote off the bills by forged documents. Later Yukos filed a lawsuit against the bank and after the bankruptcy of Trust the claim was bought out by Rosneft state-owned oil company. In 2008 total amount of the debt reached 2.5 billion. By court decision property of the Far East branch in the amount of this sum was arrested.
Source: National News Agency, 16 November 2009

By that moment Trust met troubles in other areas as well. Major part of the bank's capital was placed in various securities, whose value dropped dozens of times, and their real ownership was difficult to identify. The network of branches in the regions of Russia hastily founded during a couple of years had no chance to recoup for initial investment and, considering the crisis, will not get the chance in future. In 2008 Trust bank was reported to delay payments. Then, it was informed that Rosneft and Trust had arranged an agreement. Rosneft agreed to accept a blocking stake in Trust national bank for the debt. So, it turned out that Ilya Yurov and his partners had just managed to shake off their own debts as repayment of their other debts, having kept their own money safe.
Source: Parity-media, 30 March 2009
In 2010 former owner of Incom-Auto Dmitry Kozlovsky complained about raiding activities of Trust. He also said that Trust used police officers to put pressure on witnesses of his bankruptcy case.
Dmitry Kozlovski was arrested in Moscow by Dagestan police. On 7 September he was brought to Derbent city. On the same day Derbent City Court considered an application of investigator Ismail Mardanov who damanded preventive detention of Kozlovsky under suspicion of serious fraud. At a press conference Kozlovski made it clear that the legalized kidnapping was ordered by his creditors, as he owed to them a considerable sum. Kozlovski mostly told about his relationship with Trust bank, his major creditor. ''It is Trust bank I have the most strained relationship with. Managers of the bank are very aggressive towards me and we conflict a lot <...> The bank seized every thing that was laid under the bank credit line.'' It is worth saying it was $ 100 million of which only $ 37.5 million was chosen.
'' The bank took a 75% stake in the parent company that owned real estate. They took buildings and cars. They took construction projects in Moscow and the regions. Nevertheless, the bank did not reduce the debt by a penny. The debt only grew, and grew, and grew ... For instance, shares of the parent company were evaluated either in 5000 or in 6000 Euros. Do you think the company that owns dozens of buildings and premises can cost that little? Trust bank estimated these shares at 6000 euros. Moreover, even these 6000 euros were not reckoned towards payment of the debt.
Source: Kommersant, 13 September 2010
In 2011 the Arbitration Court of Appeal confirmed the collusion between Trust National Bank and Aviv insurance company which intentionally impeded activity on life and health insurance market when lending. When making loan agreements for urgent needs, the bank imposed on clients insurance contracts with the only insurance company, Aviv closed corporation. The period of insurance was equal to the term of the loan contract, insurance premium was to be paid as a lump sum, while in case of early termination of the contract it was not returned to the borrower. Perm office of the Federal Antimonopoly Service of Russia found that Trust bank and Aviv insurance company violated the law on protection of competition.
Source: Klerk.Ru, 12 December 2011