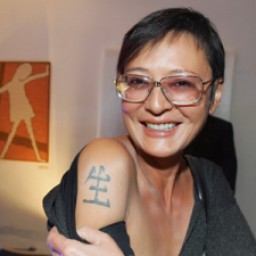 Biography:
Irina Hakamada was born on April, 13, 1955 in Moscow. Her father, Mutsuo Hakamada, was a Japanese Communist who immigrated to the Soviet Union after World War II. Her mother was Nina Iosifovna Sinelnikova. Shigeki Hakamada, another son of Mutsuo Hakamada, is an Aoyama University of Tokyo professor of Sovietology.
Irina Hakamada has a degree of the University of Friendship of Peoples named after Patrice Lumumba. She defended her PhD in economic sciences at the economic faculty of Moscow State University named after M.V. Lomonosov. In 1983 she became an assistant professor specializing in political economy. Until the early 1990s she was engaged in research and teaching at the higher education institution under ZIL Car Factory (literally "factory named after Likhachev"). She was among heads of the cooperative Systems + Programs, director of the Information Analytical Centre, the Chief expert and member of the Exchange Council of the Russian Trading System Stock Exchange (RTS).
In 1980 she was Junior Researcher at Research Institute of Gosplan of RSFSR.
In 1984-1989 Irina Hakamada joined the Communist Party.
In 1992 she established the Party of economic freedom.
In 1993 she was elected to the State Duma from a single-seat constituency.
In 1994 he stepped back from the position of the Secretary General of the Party of economic freedom.
In 1993-1995 she was deputy of the State Duma of the Russian Federation.
In 1995 she was reelected to the State Duma.
In 1997 Irina Hakamada was appointed chairman of the Russian Federation State Committee for support and development of small businesses. She was a member of the Russian Government Commission on Operational issues, a member of the Russian Government Commission on Economic Reform, and the chairman of the advisory board for support and development small business in the CIS countries.
In 1999 she was elected to the Duma of the third convocation from East electoral district of St. Petersburg. She was the Deputy Speaker of the Duma (2000-2003). She was a member of the State Duma Budget and Tax Committee and Chairman of the Committee for Investor Protection.
In 2003 she failed to make it to the parliament both through Union of Right Forces (SPS) lists and through a single-seat constituency.
In 2004 she ran for presidency of Russia, receiving 3.84% of votes.
In 2004-2005 she was Chairman of the Russian Democratic Party Our Choice which subsequently entered into a public movement People's Democratic Union.
In 2006 she set up and headed the Inter-Regional Public Foundation for Social Solidarity Our Choice within the movement.
In May 2008 Irina Hakamada withdrew from politics and from the Russian People's Democratic Union.
She was member of the 57th session of UN General Assembly in 2002.
In 1995 Time magazine named her Politician of the XXI century among 100 prominent women in the world. According to the results of opinion polls in 1997-1999 and 2001-2005 she was named Woman of the Year, and in 1999 and 2002 she was the winner of this award. In 2005 she was nominated for the Nobel Peace Prize among thousands of women in the world.
She is author of a number of scientific articles and publications in the mainstream media.
Currently she is actively engaged in writing books. In 2006 she published a book SEX in the big politics. In 2007 she released a political love story LOVE. OUTSIDE OF GAME. The history of a political suicide. She intends to shoot a feature film based on the novel and to be its director. She also wrote a play based on this novel. Director Andrey Zhitinkin is going to put on a performance joining the play by Irina Hakamada with Safari in the Rublevka, a play by the avant-garde playwright Michael Volokhov. Irina Hakamada holds master classes about being successful and remaining free in modern Russia. She teaches at the Moscow State Institute of International Relations, at a training company City-class, and at International Business School at the Finance Academy under the Government of the Russian Federation. She also teaches through video courses at the Modern Humanitarian Academy and the MBS. In 2008 she published a book SUCCESS in the big city based on her master-classes. She hosts SUCCESS in the big city TV show on the TV channel Park Razvlecheniy (Russian for "amusement park") and a radio program Smart aikido on Rusnovosti FM. She is the inspiration for a collection of clothes brand HakaMa by the fashion designer Lena Makashova.
Irina Hakamada is in her fourth marriage. Her husband, Vladimir Sirotinsky, is a financial consultant and manager. Irina Hakamada has two children. Daniel, a son from her first marriage, is a graduate of Faculty of Economics of Lomonosov Moscow State University and has a master's degree of Moscow State Institute of International Relations. Her daughter Maria was born in the fourth marriage.
Source: Wikipedia
Dossier:
Starting with 1989 Hakamada worked with Konstantin Borovoy, a politician and businessman, general manager of the RTS. According to some sources, it was Borovoy who insisted that she changed her surname after the second divorce from her husband's surname Zlobina to her Japanese-sounding maiden name that is catchy and more memorable. Some media called the setting up of the concept of the Russian Trade System one of their biggest joint projects. After its establishment in 1990, Hakamada was a member of the Exchange Council, Chief Expert and director of the Information Analytical Centre.
Source: Kommersant-Vlast, 24 November 2003
In 1991 Hakamada and Borovoy participated in the organization of the Russian National Commercial Bank and the Agency of economic news. Furthermore, until 1993 Hakamada worked as a scientific expert of the Russian investment company Rinaco which was at the time headed by Dmitry Sufinenko, her husband.
Source: Kommersant, 02 November 1993
In February 2003 the Russian Central Election Commission registered Irina Hakamada as a self-nominated candidate for presidential elections in Russia.
Source: Vesti, RTR, 08 February 2004
When answering a question about the role of Boris Nemtsov and Anatoly Chubais, members of the same party, in her campaign, Hakamada said "If the party does not support me, I will have to withdraw from SPS".
Source: Kommersant, 15 January 2004
In January 2004 Hakamada announced that her election campaign would be funded by Leonid Nevzlin, largest shareholder in Yukos. According to Hakamada, Yukos co-owner urged his colleagues from the Open Russia to join her campaign.
Source: Vremya Novostei, 15 January 2004
Hakamada's campaign headquarters was headed by Anatoly Yermolin of Yukos, who had served in the unit Vympel. In Yukos he oversaw the so-called New Civilization children's project. Marina Litvinovich, who was expelled SPS for incompetence and "spying" for Apple party, was in charge of creative approach in the campaign headquarters. She was an old friend of Gleb Pavlovsky and Vadim Malkin, who headed the Centre for Strategic Communications. All the time after the expulsion from the party, Litvinovich was hiding out in Yukos and in Open Russia.
Source: Stringer, 13 January 2004
After the 2004 presidential election campaign numerous claimants from the regions came to Hakamada's headquarters demanding their pay for the collected 4.5 million signatures in support of Hakamada. Residents of Novgorod region told the media that representatives of Hakamada had assured them that for every signature they would receive 25 rubles. At the same time Hakamada's representatives comforted people by the fact that the campaign was funded by Yukos and that the money had already been transferred. However, this never happened. And when people were finally able to successfully push for the transaction, they were told that they would receive only 30%. A similar situation was the case in many regions of the country.
Source: Stringer, 09 February 2004
In the midst of the election race in 2004, Hakamada acquired two flats at number 5 on Petrovsky Pereulok, near Tverskaya Street in Moscow. They cost her and her husband, Vladimir Sirotinsky, a pretty penny. Hakamada's campaign was financed from abroad, primarily from the accounts of Leonid Nevzlin, one of the heads of Yukos. The media reported the sum of these investments to have reached 10 million dollars. Part of this money was supposed to go to the INDEM Foundation, which was headed by Georgy Satarov. However, the foundation never received the funding necessary to fight corruption better. Six months later Satarov decided to clarify what had happened to the money, and he was told that the funds weere spent on campaigning.
Source: Versiya, 15 November 2004
In 2004 Hakamada and her husband Sirotinsky decided to get rid of children's Musical Drama Theatre which had been operating for 14 years in the basement of 5, Petrovsky Pereulok. As soon as the couple moved into two apartments on the top floor, they decided to implement two large-scale plans, that is, to build a loft of 200 square meters and to rid of the children's theater, which would not let the spouses live happily and work.
Source: Zhizn, 01 March 2004
In May 2008 Hakamada announced her decision to withdraw from politics and her intention to engage in creative activities. "My time is over," said Hakamada. In her opinion, it was time for young opposition politicians, who would "correct all mistakes."
Source: RIA Novosti, 19 May 2008