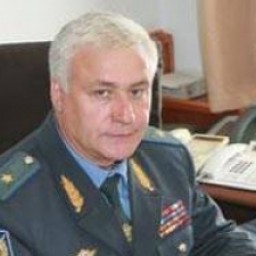 Bio
Ivan Glukhov was born on 13 September 1955 in Glukhovka village in the Pichaevsk district of the Tambov region. After doing military service, he moved to Moscow. In 1976, Glukhov began his service in the police. In 1980, he finished Higher School of Investigation, a part of the USSR Ministry of Interior, with a degree in Jurisprudence. Since 1983, he has held various positions within the Ministry.
Awards and titles
Order of Honour (1998)
Three Medals for Distinguished Service (2002)
Medal for Bravery On Service (2003)
He has earned rewarded weapons (2001 and 2003) and holds a title of the RF Distinguished Jurist (2006).
As of autumn 2011, Glukhov was a Major General of Justice.
Ivan Glukhov has a son, Denis Glukhov.
Source: Lentapedia

Dossier
In 2007, Glukhov tried to open a criminal case against Pavel Astakhov, a famous writer and lawyer. Glukhov accused the author of a novel called Raider of tarnishing the reputation of Russian Ministry of Interior. In the novel, Astakhov spoke about "rogue cops from the Main Investigative Directorate" who were involved in corporate wars, and "ready to begin criminal prosecution, carry out searches and destroy the defense of a victim-company" for a certain sum of money. However, the prosecutors found out that there was no corpus delicti in Raider, and a criminal case was not opened.
Source: Kommersant, 6 October 2011
In April 2010, Commission on Security and Cooperation in Europe, chaired by US Senator Benjamin L. Cardin, issued a list of Russian officials allegedly involved in the plight of Sergei Magnitsky, a lawyer of Hermitage Capital Management, who had died while in pre-trial detention in November 2009. The names on the list include General Glukhov, along with senior officials from the Russian Interior Ministry.
Source: Radio Liberty Russia, 27 April 2010
In 2011, Chief Directorate for Investigations under the Russia's Investigative Committee opened a criminal case against senior officials in the Moscow police accused of accepting bribe for dropping a major case of embezzlement of public funds aimed at procuring CAT scanners. The investigators believed that Denis Glukhov, son of the chief of the Main Directorate for Investigations of the Moscow police, Ivan Glukhov, was business partner and close friend of Maxim Kagansky, suspect in CAT scanners case. Ivan Glukhov was in power to carry out investigation into Kagansky's fraud and allegedly accepted bribe for dropping the proceedings. However, the Investigative Committee did not find sufficient evidence to prove that the bribe had been aimed for either Ivan Glukhov or Denis Glukhov. Therefore, the case was opened under Articles 159.4 and 30.3 of the RF Crime Code, namely attempted fraud.
Source: MK, 29 September 2011
In October 2011, the police arrested investigator Nelli Dmitrieva, reporting to General Glukhov. She was suspected of corruption.
Dmitieva denied any guilt, saying she had been made a scapegoat and had been pushed to testify against his boss, General Ivan Glukhov.
Source: Kommersant-Online, 5 October 2011
On 25 January 2012, chief of the Moscow police Vladimir Kolokoltsev said to the journalists, that interior minister Rashid Nurgaliev had reprimanded Ivan Glukhov for "serious drawbacks in the work of the Main Directorate for Investigations" and ordered him "to act accordingly". After the reprimand, Glukhov was reported to take a month's holiday. He was expected to retire. But on 22 February Glukhov returned to work as if nothing had happened.
Source: Interfax, 22 February 2012