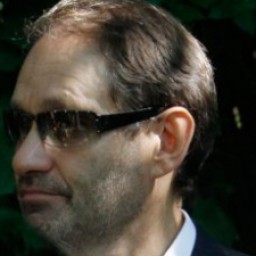 Biography

Leonid Boguslavsky was born on June 17, 1951. The son of the writer Zoya Boguslavsky, wife of the poet Andrey Voznesensky. In 1973, he graduated from the Moscow Institute of Railway Transport (MIIT), where he specialized in applied mathematics. Then he worked at the Institute of Control Sciences of the USSR and at the University of Toronto until the early 90's, doing scientific research. Doctor of Technical Sciences.
In 1989-1992 - Deputy General Director of the joint venture
From 2000 - headed the board of directors of ru-Net Holdings
In 2001-2005 - Vice-President of the Ru-Net Russian Internet Investment Holdings Limited
In 2001-2007 - Member of the Supervisory Board of the Ozon Holdings Limited Company, Supervisory Director of the Supervisory Board of the Yandex Technologies Limited Company
From 2001- Member of the Board of Directors of the Internet Search Investments Limited Company (formerly - Ru-Net Holdings Limited, renamed on May 14, 2008)
In 2007-2008 - Supervisory Director of the Supervisory Board Yandex. N.V.
From 2008 - Chairman of the Board of Directors of Sistematika Group JSC
He is a shareholder of the coupon service Biglion and owns shares of the Mail.ru Group. In May 2011, during the IPO, he sold his shares of Yandex for $ 67.7 million. After the transaction through the offshore Roth Advisors, Boguslawski still had 6% of the voting shares of the company.
In 2011, he started in the USA a new venture capital fund called RTP Ventures, the capital of which was $ 100 million.
He received his share (20%) in the group of companies Sistematika in 2007 as a result of its merger with the group TopS BI, of which he was a shareholder.
Source: TADVISER

Dossier

The General Director of the Triumph LogoVAZ Fund Zoya Boguslavsky, the wife of the poet Andrey Voznesensky , was a typical representative of the Soviet culture. She worked as an editor at the Soviet writer publishing house, where she headed the department of literature at the Committee on Lenin and State awards. Her public activities left little time for creativity. Her cycle of the essays Unfabled stories,that describes her numerous trips to the West and meetings with Marc Chagall, Julio Cortázar, and others, is more or less known.
By the end of the 80s, Zoya Boguslavsky received a crushing blow from an unexpected side - from the fall of the Communist Party and the coming of market relations. At the same time, the wild capitalism became a springboard for Boris Berezovsky. Berezovsky "privatized" the son of Boguslavsky - Leonid. He put Boguslavsky at the head of Sikventor LLP (limited liability partnership) founded by LogoVAZ, he and his odious friends - Samat Zhaboyev and Nikolay Glushkov. The company had to trade computers. Berezovsky also found a foreign partner to Boguslavsky - a certain Casey Powell.
Powell led a small U.S. company – the Sequent Computer Systems. In 1991, he came to grief in his commercial projects, could not return loans and wisely left the U.S., for what he got into the card file of Interpol. In 1992, Powell emerged in Moscow. Using the contacts of BAB (Boris Abramovich Berezovsky) Boguslavsky and Powell were able to conclude million contracts on delivery of computers with the Central Bank, Vnesheconombank, the Ministry of Emergency Situations, the Ministry of Internal Affairs, the State Statistics Committee - Goskomstat, customs and other reputable customers. They began to supply Russia with morally obsolete hardware of "Asian" production. The prices in the supply contracts were 2-3 times more than usual world ones.
Berezovsky became a close friend of the Voznesensky-Boguslavsky family. His wealth was founded in the period of the Triumph. The capitals, obtained by bribing high-ranking government officials, intrigues, tax evasion and just outright theft, were circulating and being washed out in the cobwebs of companies, banks and businesses.
Source: FreeLance Bureau, January 19, 2000

In 2000, a whole convoy was registered in the name of Zoya Boguslavsky: a blue VAZ-2106 (1985), a red VAZ-21093 (1990), a white VAZ-2107 (1996) and two black Volvo S-40 (1996 and 1997).
Source: Express-Gazeta, July 19, 2001

The Russian non-governmental charitable foundation Triumph - LogoVAZ, which presented its large sum premium to art and cultural workers during more than ten years, can be attributed to Berezovsky's media empire.
The coordinator of the jury in the Triumph and its CEO at the same time was Zoya Boguslavsky. She never tired of repeating that "this award became possible only thanks to the board of trustees headed by Boris Berezovsky". Recalling with what heat the creative intelligentsia rose to the defense of the ORT (the Public Russian Television, the first Russian Channel) upon the call of Berezovsky, one might think that the Triumph is not so charitable. Award winners (in the amount of $ 50 million) are prospective signers of letters in defense of the criminally persecuted Boris Berezovsky.
Source: Profile, February 18, 2002

The Systematika of Boguslavsky was a key supplier of IT-support for energy management systems. The price of this product is still a concern. One work-bench setup with the SAP software can cost from five to ten thousand Euros. The Russian counterparts cost two order reductions cheaper - $ 50-100. Thus the German diamond software is overloaded with unused functions and requires special training to work with.
However, just this expensive and feature-rich software was chosen and bought under the guidance of the former CIO of FGC UES (Federal Grid Company of the Unified Energy System of Russia) Alexander Chernov. The leaders of the FGC UES Andrey Rappaport and his first deputy Alexander Chistyakov agreed with these purchases. In total, it was spent about 30 billion rubles for the introduction of the new systems, and the kickback of these projects could be up to 30-40%.
Boguslavsky has been practicing IT supplies at inflated prices long ago. For example, hardware and software for the FGC UES (Federal Grid) were delivered with a margin exceeding the market one by 20 %, and for some individual projects - up to 50%. All of the "cream", of course, turned out to come into the hands of Boguslavsky and those people who struggled for the budget – the CIO Alexander Chernov.
Moreover, due to close ties with the leadership, the suppliers were not subjected to financial control. As a result, at the best, the equipment wasn't delivered in proper time; there were serious difficulties with its implementation at the local level. For the actualization of these schemes, in 2009, the new leadership of FGC UES asked Chernov to leave the company. The contract with the firms of Boguslavsky was terminated.
Boguslavsky managed to settle the fired friend on another cushy job. Naturally, on a profitable basis. Currently Chernov is working for the Transneft company as the Deputy Vice President.
Source: The Moscow Post, October, 1, 2010

According to the Finance magazine, Boguslavsky's capital was $ 0.78 billion, he ranked the 141st in the Russian Top 500 rating.
Source: Finance, February, 14, 2011