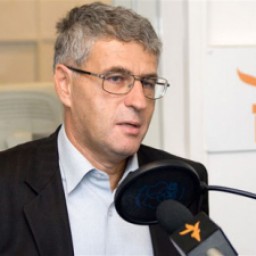 Biography:
Leonid Gozman (born July 13, 1950, Leningrad) graduated from the faculty of Psychology of Lomonosov MSU and was lecturing interpersonal relationships and political psychology at social psychology department. In 1983 he became PhD in psychology and a head of laboratory for political psychology research in the MSU.
1992 He met Yegor Gaidar and worked for him as an advisor. Since 1993 he is a member of Choice of Russia movement.
1993 He worked for Dickinson college (Carlisle, Pennsylvania, USA) and Woodrow Wilson International Centre for Scholars (Washington)
1994 He joined Democratic Choice of Russia party
1995 He took part in the State Duma elections as a candidate from Democratic Choice of Russia — United Democrats block.
1996-1998 advisor to the head of the Staff of the President and first deputy prime-minister Anatoly Chubais
1999 advisor to chairman of the board of directors of RAO Unified Energy System of Russia Chubais
August 2000 he campaigns for the Union of Right Forces block
2000 member of the board of RAO UES of Russia
2001 He is elected member of the political board of the Union of Right Forces
28 May 2005 he is elected the deputy head of federal political board of the Union of Right Forces. At the elections to Moscow's city council (of the 4th convocation) he was against the coalition with Yabloko party
26 September 2008 Gozman replaced Nikita Belykh as the head of the Union of Right Forces
October 2008 he is appointed an advisor to Anatoly Chubais, the director general of Russian nanotechnology corporation Rusnano
16 November 2008 at the founding conference he was elected co-chairman of the Right Cause political party.
Gozman is an assosiate professor for the social psychology department of the faculty of Psychology of Lomonosov MSU. He authored 8 books, including Psychology of Emotional Relationships (1987) and Political Psychology (1996, together with psycologist Yelena Shestopal)
Gozman is married and has a daughter and a granddaughter.
Source: Wikipedia
Gozman combined political activity with work for RAO UES of Russia. In early 2000-2002 he was elected to the board of Khabarovskenergo JSC, Dalenergo JSC, Lenenergo JSC.
Source: RBK, 24 March 2001
In 2003 Gozman ran for the State Duma as a representative of the Union of Right Forces, but the party failed to reach the threshold and Gozman did not become MP. After the defeat party leaders, including Anatoly Chubais, Yegor Gaidar, Boris Nemtsov and Irina Hakamada, resigned from their posts, leaving the presidium of political board to govern the party. In 2004 Gozman became member of the board, responsible for ideological issues. Gozman was pushed through by Chubais who wanted to have the party afloat after the defeat.
Source: Kommersant, 12 February 2004
In 2006 Gozman was the only high-profile politician who publicly supported gay-parade in Moscow. Gozman addressed Cyril, Russian Orthodox metropolitan, with an open letter, saying that "banning gay parade is a threat to the society".
Source: Rodnaya gazeta, 22 November 2007
In 2007, Gozman as a candidate at the State Duma elections tried to conceal (from central electoral commission) the income of 448,130,750.85 roubles ($16m) he received from Uralsib Capital LLC.
Source: Antikompromat, 19 November 2007
On 26 September 2008 Belykh said that he retired as the head of the Union of Right Forces once and for all. It emerged the same day that Gozman replaced him. Soon Belykh revealed reasons of his resignation: the Union of Right Forces was very soon to merger in a new party, formed by the Kremlin. "There is no other way to save the party", Belykh said. "But I don't want to take part in that affair". Gozman said that participation in the Kremlin project was "disgusting", but he accepted the offer to "preserve the Union of Right Forces".
Source: RIA Novosti, 26 September 2008
In autumn 2009, when the election campaign was in full swing, Gozman asked president of Russia Dmitry Medvedev to sack Moscow mayor Yury Luzhkov, who was no.1 on the party list of the United Russia, in an open letter posted on netlujkovu.ru. On September 22, Luzhkov filed a libel suit againts Gozman and Ren-TV, accusing Gozman of defamation in a statement aired by the channel in July 2009. By turn, Gozman filed a libel suit against Luzhkov, asking Moscow's Tverskoy Court to oblige Luzhkov to pay him Rub642 m ($22.5m), his family's monthly income as reputational indemnity.
Source: Interfax, 29 September 2009
In Autumn 2009 Gozman launched an internet site which gathered signatures in support of resignation of Moscow mayor Yury Luzhkov. After the first day 100,000 people left their signatures, Gozman claimed. The inquiry, organised by Yabloko party, found out that almost all signatures were fake. Unique visitors counter (provided by liveinternet.ru) was just a picture laid upon the true counter: the picture showed 120,000 visitors, while the real number was just 3. Soon after the inquiry liveinternet.ru excluded Gozman's site from its rating.
Source: Pravda-info, 30 September 2009
In December 2009 Boris Titov resigned as co-chairman of the Right Cause. He said he was not going to leave the party, but resigned due to the conflict with Gozman. Titov considered the Right Cause as the party of middle class, formed to represent its interests, whereas Gozman's approach was to focus on political activities, not business lobbying.
Source: RBK, 24 December 2009
In May 2011 co-chairmen of the Right Cause Leonid Gozman and Georgy Bovt said to the journalist they would resign as the party leaders. "I have made up my mind. I will not stand for a member of a new political board". Gozman said he would not leave the party, but did not want to meddle in the business of a new party boss Mikhail Prokhorov.
Source: RIA Novosti, 20 March 2011