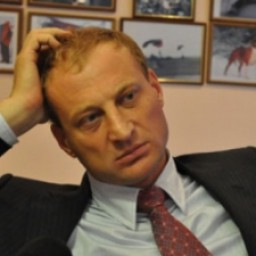 Boigraphy
Leonid Kazinets was born on 30 November 1966 in Moscow. In 1989 he graduated with honours from Applied Cosmonautics faculty of Moscow Institute of Geodesy and Cartography. In 2008—2009 he attended a course for executives and top-managers in INSEAD world-famous business school in Paris. He has a PhD in Economics.
He has worked in construction since1989
In 1993 Kazinets founded Barkly Corporation which is one of the leading construction and development market participants. Barkly Corporation participated in reconstruction of about
300 real estate objects in Moscow and finished over 30 objects as developing investor.
Source: Wikipedia
Dossier
In 2007, when interviewed by Ogonyok magazine, Kazinets said,"Moscow will grow into a comfortable, green and beautiful place, as long as the city refuses paternalistic policies. As soon as people abandon an idea that one can live on $ 300 dollars a month here. Let's be honest, you have nothing to do in this city if you earn less than a few thousand dollars a month. You must admit that accommodation and parking in Moscow is expensive.Drivers must pay a fee to enter the city centre or to use Moscow Ring Road. If you are ready to earn a lot, just do it. If you are not, then move to some other city. Visiting your Moscow relatives is not a big deal and will take only 3 hours by a suburban train, not that much, considering that in Moscow you spend two hours in traffic jams wherever and whenever you go.
Source: Ogonyok No.24, 11-17 June 2007

In summer 2008, And Now It's an Office documentary by famous journalist Andrei Loshak did not go on air, although it was announced on NTV channel and on its webpage. Official explanation was that a documentary on the city historical heritage needs to be submitted to lawyers for a check before being broadcast. Loshak's documentary shows the story about eviction of tenants who had suffered from the construction boom. "The price for a square metre in the city centre has reached several thousand dollars, and it is changing the city face,'' the author says. ''The changes begin in St. Petersburg as well, where there are 2000 objects of UNESCO World Heritage which represent a coherent ensemble." Besides the eviction, Loshak tells about British journalists who are fighting for the preservation of Moscow original look and shows shots of attempted interview where Kazinets bluntly refuses to talk.
Source: Novaya Gazeta, 3 July 2008

On 18 October 2010, co-investors and apartments owners of Dominanta residential complex on 2 Shchukinskaya St. posted an open address to the management of Barkley Corporation (http://jk-dominanta.ru//index.php?option=com_content&task=view&id=27&Itemid=31). In the address they demanded to bring the complex into a state fit for use. The buildings had been under construction for over seven years, and were still in poor condition: there were slants, cracks in the facade, and so on. Barclay Corporation had not submitted repeatedly requested documents justifying the service prices to customers, as well as the permission to enter the building in operation issued by Moscow Construction Directorate (Mosgostroynadzor), registration certificate of the buildings, etc.
Source: Dominanta residential complex, 19 October 2010

On 12 July, civic activists of several Moscow movements for protection the cuty historical heritage suspended the implementation of a new project in Pervy Zachatievsky Pereulok in Moscow downtown. The construction project was invested by Barkley Corporation.
"When we arrived at Zachatievsky, we saw that the excavator was destroying the whole building and its fragments were falling thick and fast on the roadway, which was a security threat to passersby", Artyom Khromov, an organizer of the activists' raid, said. As a result, as he said, the activists called the police, members of the Association of the administrative and technical inspections, and technical service representatives. "We went to the construction site, and a foreman showed us the papers. Eventually, we found out that they, first of all, had no project plan, just like in Kadashi. Secondly, they had no warrant for demolition, that is, an excavator had just arrived and started demolishing the building without a warrant. That was all illegal. We have stopped this construction, and we will demand initiation of administrative and criminal proceedings", he added.
Source: RIA Novosti, 12 July 2010

In 2011, Kazinets said in an interview "All the historic buildings in Moscow must be preserved. But there must be a special programme that can separate "the goats from the lambs" and determine the actual value of certain objects. The assertion that everything inside the Third Transport Ring or the Garden Ring should be retained in its present form, seems overkill to me. "
Source: M2.RU, 27 January 2011