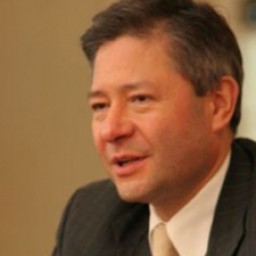 Bio:
Leonid Reiman was born on 12 July, 1957 in Leningrad. His parents were doctors of philology.
In 1979 he graduated from the The Bonch-Bruevich Leningrad Institute of Communication Engineers.
In 1979-1983 Reiman worked as an engineer and shop superintendent at the Leningrad Long-distance telephone exchange.
In 1983-1985 he served as a liaison officer in the Soviet Armed Forces.
In 1985-1998 Reiman worked for Leningrad City Telephone Network - in1991 it was renamed Petersburg Telephone Network, since 1996 it has been Petersburg Telephone Network public company - as an engineer, senior engineer, chief engineer, development director, foreign-relations director and first deputy director-general.
On November 1994 Reiman was cofounder of Telecominvest public company.
On September 1998 he was first deputy director-general and commercial director of PTS public company.
On July 1999 he was appointed secretary of state , first deputy chairman of Russian State Telecommunications Committee. On August 1999 he appointed chairman of the Committee.
In 1999-2008 he took a position of the Minister of Communications and Information. But at the second convocation of parliament under Putin Reiman did not get portfolio.
In 2000-2010 Reiman was chairman of the board of directors of Svyazinvest public company, the largest telecommunications company in Russia.
In 2008-2010 he was President's Adviser for Information Technology and Communications.
In May 2011 he headed Mandriva company supervisory board.
Since June 2011 Reiman has been director-general of Angstrem scientific production association producing integrated circuits and telecommunication equipment.
Awards:
Order For Merit For The Fatherland 4th Class (2005).
Order For Merit For The Fatherland 3rd Class (2007).
Commemorative and ministerial awards:
Title of Merited Worker of Communication of
Russian Federation
Government Award for Merits in the field of Education and Science and Technology
Laureate of the Person of the Year annual international award (2005)
Winner of the Themis higher juridical prize (2003)
Reiman has had two marriages. He has a son and a daughter by his first wife. Now Reiman is married to Olga Stepanova known for her affair with the owner of Russian Standard holding when she was under-age. Now Olga is president of charity foundation. In 2009 she gave birth to a son by Reiman. Olga Stepanova has a daughter by her first husband as well.
Reiman was revenue "silver champion" of Putin's cabinet. In 2009 he declared 93.26 million rubles as annual income.
Leonid Reiman owns five land plots located in Russia that have total area of ​​25,500 square meters, a dacha and a garage and a 50% share in an apartment that has an area of ​​227.2 square meters. Reiman as well owns GAZ 21 R, Mercedes S 500, Mercedes G 500 cars, a jet ski, a boat and a snowmobile.
Source: Wikipedia


Dossier:
Reiman is being given credits for establishment of Telecominvest company in 1994 while in fact it was a tangled scam. Reiman & Co. and Commertsbank arranged that a subsidiary of First National Holding SA bank had issued a loan for founding of a holding company in Petersburg and had been included in its shareholding. Despite the pressure of Svyazinvest management opposing to its partners' activity Reiman kept on raising development credits from the foreign bank as if nothing were wrong. Telecominvest management started negotiations and was about to sell the controlling stake of the company to a large foreign company yet inviting a tender as a blind. But the case became known and public sales were cancelled by special decree of president Boris Yeltsin.
Source: Profil, 11 September, 2000

In 1999 three weeks after Vladimir Putin had been appointed prime-minister Reiman as a member of the "Petersburg team" was appointed chairman of the State Telecommunications Committee. On November 1999 the State Committee was transformed into the Ministry of Communications and Information and Reiman became a minister. Due to his position he managed to promote his former immediate superior at PTS company Valery Yashin to position of Svyazinvest director-general. On July, 2001 Alexander Nyago who formerly operated on Telecominvest public company in St.-Petersburg became president of TVEL company that owned state share package of nuclear industry enterprises.
Source: Politkom.Ru, 23 August, 2002


While being a minister Reiman violated the law as he in fact ran Megafon, major Russian mobile operating service company, through front companies, e.g. P. Galmond & Co. Reiman withdrew assets of Megafon through his Danish friend Jeffrey Galmond who owned 26.6% of Megafon shares. Galmond gradually transferred the shares to foreign foundations while Reiman was beneficiary of those foundations.
Source: The Moscow Post, 17 June, 2011

On April 2005 pensioner rally took place at Pushkin Square in Moscow. Pensioners were protesting against the policy of the Ministry of Communications and Minister Leonid Reiman. It was the first time when minister's activity entailed people's protest action. The accusation was quite serious: State Duma deputy Igor Morozov, when speaking at the rally, called Reiman "the true culprit of anti-social policy". Morozov claimed that the delays of retired payments made through postal money orders had been caused by Svyaz-Bank that in 2004 was sold to Jeffrey Galmond at Reiman's suggestion. Svyaz-Bank served bank accounts of Post of Russia Federal State Unitary Enterprise and thus was able to benefit from getting pensioners' money turned over.
Source: Vebplaneta, 4 December,2005


Reports say that on June 2011 Reiman was behind the attacks of VTB Capital plc bank against Nutritek and Konstantin Malofeev, the managing partner of Marshall Capital Partners, a company that owned 75% of Nutrinvestholding shares. Fair $ 230 million repayment claim of VTB Capital plc was used by Reiman to put pressure on Malofeev to make him transfer his 7% stake in Rostelecom to Alternative Capital Investments, Reiman's foundation.

Source: The Moscow Post, 3 June, 2011